Great Value Mayonnaise For The Frugal
Condiments is a great way to dive into the world of off brand products. For the most part, they taste identical to the name brand and will consistently save you money. My fridge is full of off brand ketchup, off brand mustard, off brand barbeque sauce, and most importantly off brand mayonnaise. Lately, I have been using the Great Value Mayonnaise from Walmart. I typically get the large 30 oz container of this stuff for only $1.94. Because I was camping, this time I paid a premium for the squeeze bottle version. The total on this came to $2.74 for an 18 oz bottle. With the squeeze bottle you are paying a premium for convenience!
Great Value Mayo
Great Value is an off brand I can trust. I don't have to shop around and wonder if I am getting the best deal. For something simple like a condiment or dressing it is helpful to see the Great Value option and know without a doubt that I am getting the lowest price.
Lately, I have been putting on some pounds with off brand cookies. Check out my analysis of Off Brand Walmart Oreos and Knockoff Girl Scout Cookies. Both products from the Great Value family!
Great Value Mayonnaise Ingredients
Mayonnaise is something to be used sparingly. It is fatty and the calories will add up over time. I see people glob it on bread to make a sandwich and this grosses me out. Just spread on a little bit, and you will get the same benefit of texture and taste. For those of you who care about the ingredients…
Soybean Oil
Whole Eggs
Egg Yolks
Vinegar
Salt
Sugar
Lemon Juice Concentrate
Paprika
Who Makes Great Value Mayonnaise?
This is always the mystery with knock off products. Sometimes we know the manufacturers and other times it is only based on speculation. It isn't logical for a name brand food manufacturer to admit that they make one of the off brand products. If this was the case then everyone would buy the off brand version to save money. So it will forever be clouded with a sense of mystery. There is speculation online that Kraft makes the Great Value Mayonnaise. Based on my extensive research, I was not able to confirm this.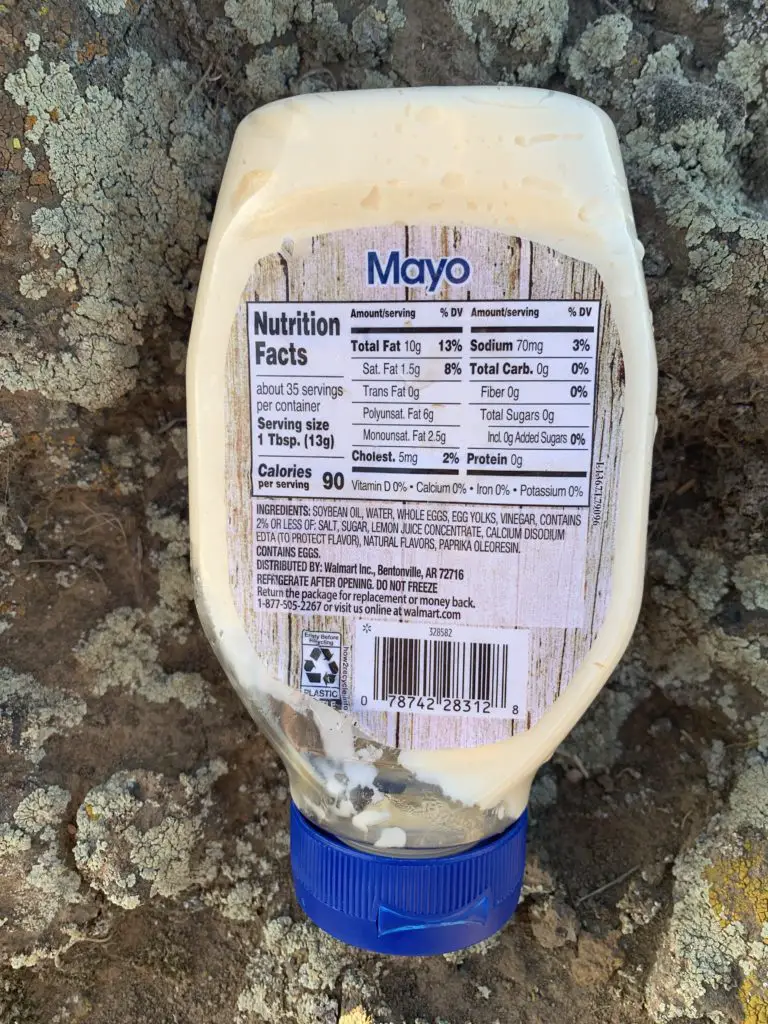 What About The Taste? – Walmart Mayonnaise
According to the experts at Consumer Reports, the taste and texture of Walmart Great Value Mayo was judged to be about just as good as Hellmanns. A friendly reminder, Hellmanns makes the name brand mayo. And the due to the fact that off brand mayonnaise is about 20% less, it is an easy way to save a couple of bucks each month. If you don't trust us here at the Off Brand Guy, listen to Consumer Reports!
Mayonnaise Price
A large 30 oz container for only $1.94 is a really good deal. To put it in perspective, a 30 oz container of the Best Foods brand at Safeway can cost upwards of $5.99 if it is not on sale. Percentage wise, this is some serious savings.
Great Value Condiments
The savings are just getting started with Great Value Mayonnaise. Make sure to fill up your fridge with all of these other cheap condiments. I have listed my favorites below:
Great Value Honey Djon Mustard
Great Value Classic Ranch Dressing
Great Value Djon Mustard
Great Value Tomato Ketchup
How To Use Cheap Condiments?
Web chef, Kimberly Turner, takes mayonnaise as seriously as the Off Brand Guy. Well serious enough to make a video about a specific brand of mayonnaise from Walmart. She recommends the Great Value Mayo more for bulk use. Like salad dressing and that type of stuff.