Kroger French Vanilla Ice Cream Review – Tastes Great!
I am very serious about ice cream. Despite my frugal tendencies I have been known to trash talk cheap Walmart Ice Cream and even those who support it (sorry not sorry, Krazy Coupon Lady!) That's why I was shocked by this game-changing cheap ice cream that tastes great. Read below to find out about Kroger Brand Ice Cream passing The Off Brand Guy taste test.
Best Kroger Ice Cream – So What Is This "French" Vanilla, Anyway?
I'm quite certain that France would lead the first charge of World War 3 if they knew that Americans associate them with a vanilla dessert item that doesn't actually contain real vanilla extract. With it's sweet cream-forward flavor profile, this so-called "Magnifique" Deluxe French Vanilla is very much an American style ice cream. There are two attributes that land this budget ice cream in the French Vanilla category:
It contains egg, but not enough to qualify as "Frozen Custard"
An increased density due to less injected air (more for your money!)
The end result is a luxurious and creamy texture that is perfect alone, or in a root beer float, or in a sundae. Perfect for when you have a hungry family to feed.
Kroger Deluxe Vanilla Ice Cream – Good Taste, Bad Marketing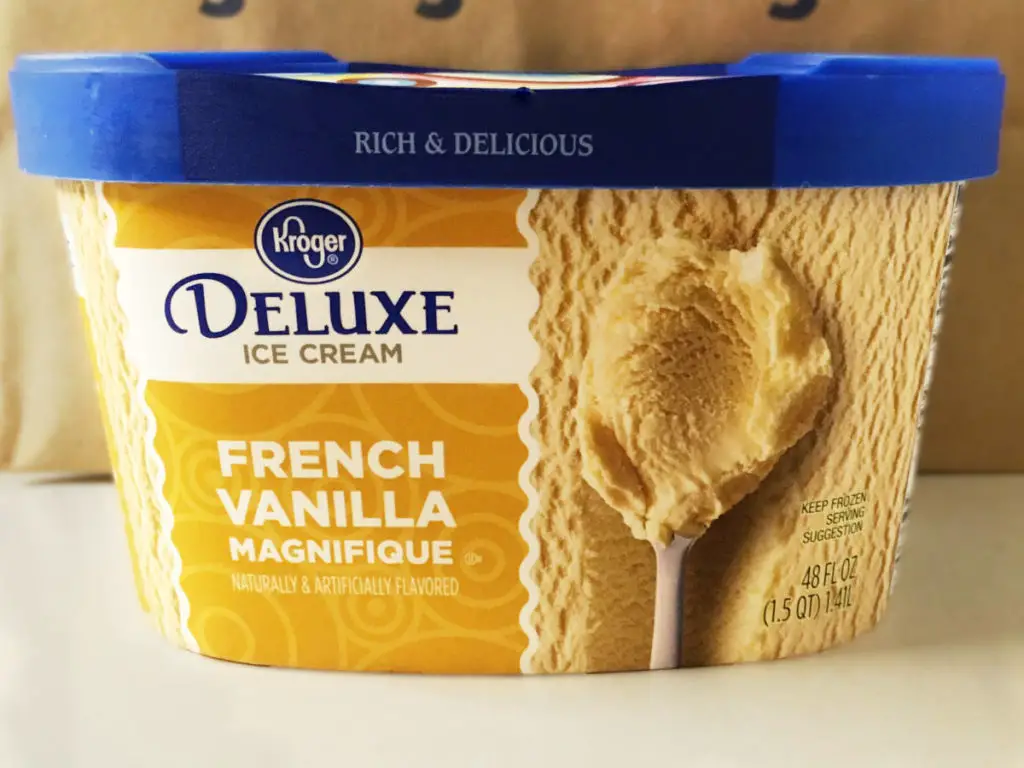 The hilarious thing about this Kroger Vanilla Ice Cream is the comically bad packaging. My photos barely do it justice — the ice cream depicted on the label is a bizarre burnt yellowish color that looks absolutely nothing like real ice cream.
To be honest I almost didn't do this review. Looking at this ice cream next to all the beautiful cartons of Tillamook, Breyers, Häagen-Dazs, and even other Kroger variants, I could barely bring myself to put the French Vanilla Magnifique in my shopping cart, even though it was on sale!
Fortunately the label is a lie. The ice cream inside is a luscious mouth-watering cream color that is sure to delight kids and adults alike. It's so good that I like to eat it plain. It also goes great with chocolate sauce.
Kroger French Vanilla Ice Cream Nutrition: Ice Cream Without High Fructose Corn Syrup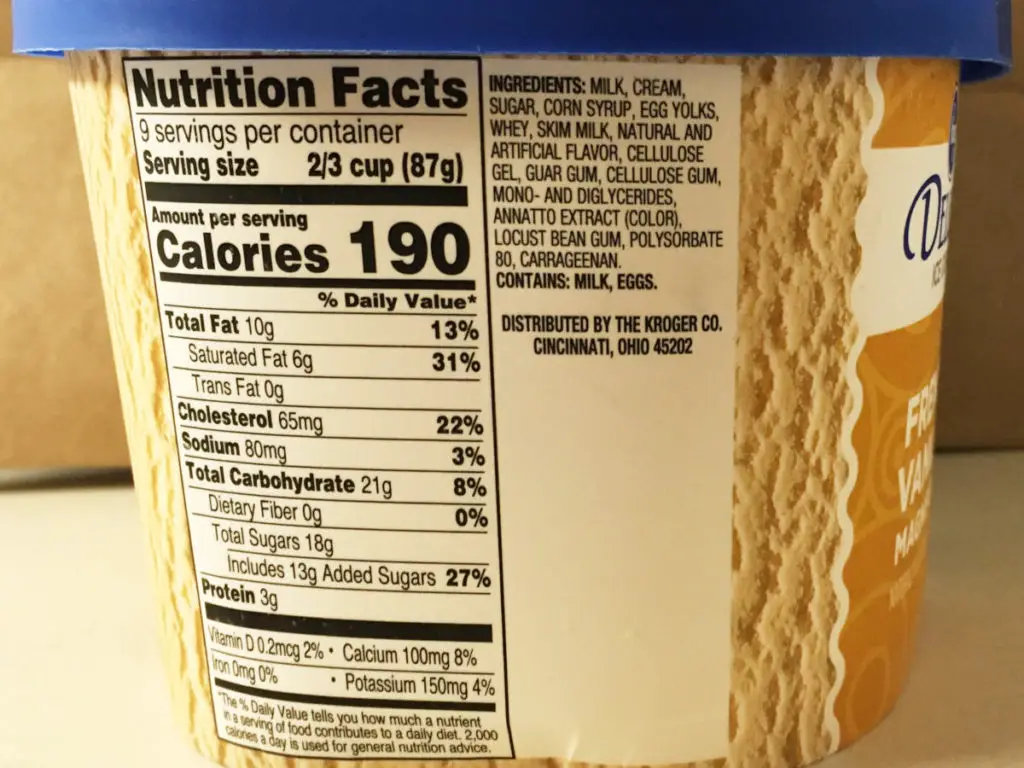 When I took my first bite, I knew instantly that I had finally found the best budget vanilla ice cream. Reading the ingredients confirmed my suspicious: Unlike many other cheap ice creams, this one does not contain any high fructose corn syrup (HFCS).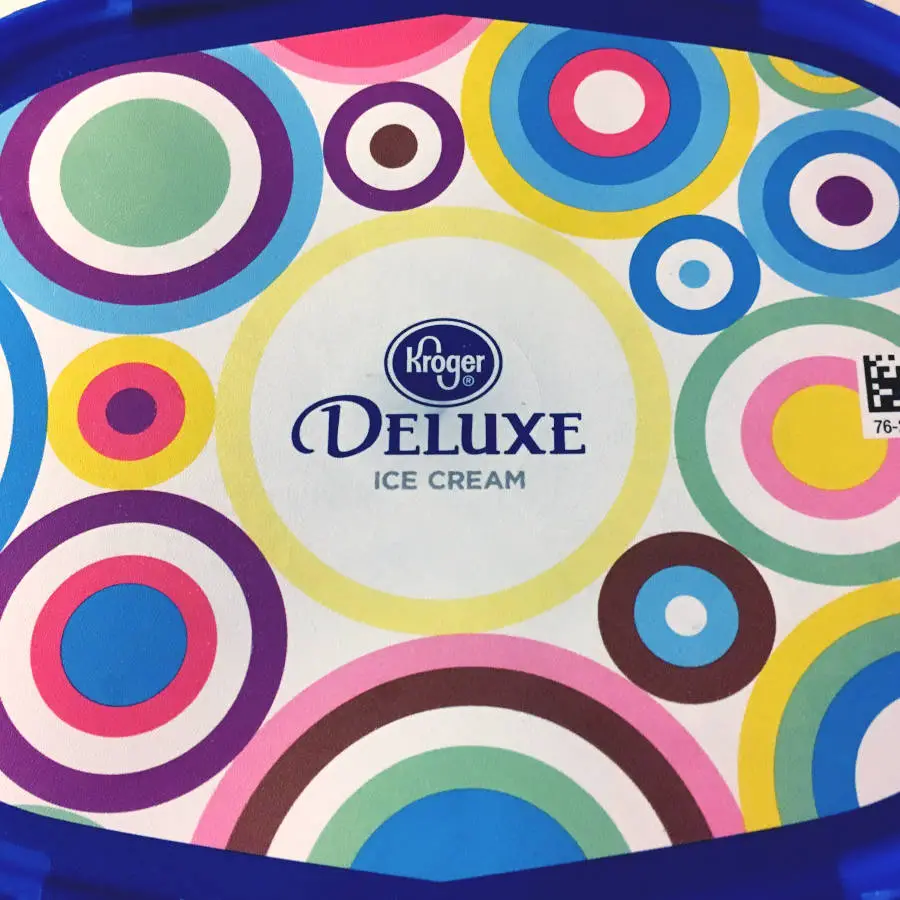 The first four ingredients are milk, cream, sugar, and corn syrup (the regular kind).
High fructose corn syrup, also called HFCS, is responsible for the "off" flavor of many other inexpensive ice cream products. It is also responsible for that weird chemical taste in many sodas and other sweetened beverages. Nobody likes the flavor of HFCS. It is used only because it is even cheaper than sugar.
Containing the costlier regular corn syrup instead of HFCS, Kroger Deluxe Ice Cream tastes how ice cream should. Delicious!
Kroger Deluxe French Vanilla Magnifique Review – An Off Brand Product Done Right
As a quick recap of this delicious Kroger Deluxe Ice Cream:
Despite the name, this is a rich and creamy American-style ice cream
The marketing is awful, a common theme among off brand products
Sweetened with sugar and regular corn syrup instead of HFCS, this is the best budget ice cream available
Kroger Deluxe French Vanilla Magnifique is the best ice cream at QFC, Fred Meyer, King Soopers, Metro Market, and all other Kroger family stores
Kroger Vanilla Ice Cream Price
Priced at $2.79 for 48 fl. oz of dense and flavorful ice cream, Kroger Deluxe French Vanilla Magnifique is the only budget ice cream I buy. Do you have any leads on other kinds of value-oriented ice cream that tastes good? Please leave a comment below!