KaleidOs – Kroger Off Brand Oreos
Chocolate Sandwich Cookies are one of those staples of American life. As a child, I remember the sheer disappointment I felt when my parents came home with off brand Oreos. They just weren't as good as the real thing.
Well, the year is 2021 and a few things have changed since my childhood. In particular, manufactures have gotten serious about store brand goods. Indeed, it is not uncommon to find a cheaper product that tastes better than the name brand. Is that the case with knockoff Oreo cookies? I stopped by my local QFC to find out.
Kroger Oreos Flavors
I was amazed at the sheer number of flavors available. I tried the original flavor. However next on my bucket list is "Unicorn".
Kroger KaleidOs Original Chocolate Sandwich Cookies
Kroger KaleidOs Unicorn Sandwich Creme
Kroger KaleidOs Original Double Filled Chocolate Sandwich
Kroger KaleidOs Chocolate Double Filled Chocolate
Kroger KaleidOs Golden Double Filled Vanilla Sandwich
Kroger KaleidOs Mint Double Filled Chocolate Sandwich
Chocolate Part – Kroger KaleidOs Original Chocolate Sandwich Cookies
This type of cookie has two parts. The outer chocolate wafer layer, and the inner creme stuffing. Good chocolate is expensive, and some off brand cookies struggle to compete with the name-brand product.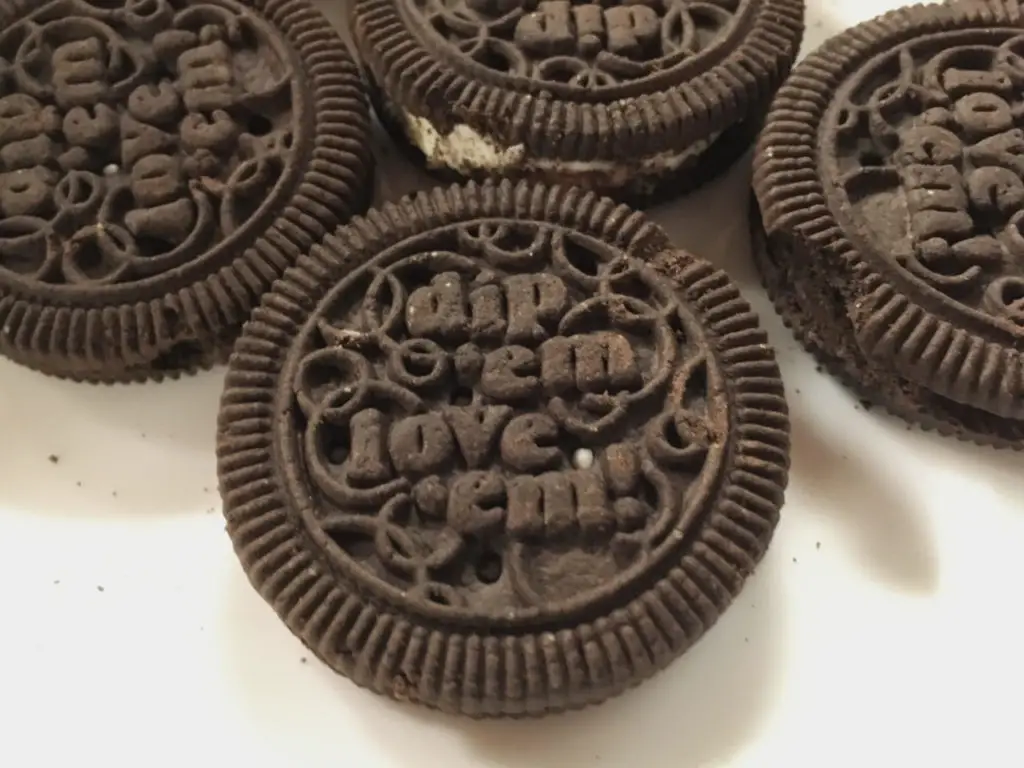 I took a taste of the Kroger KaleidOs chocolate wafer. And… it's great! Compared to Oreos, the KaleidOs are lacking some of that unique artificial Oreos flavor and instead have more of a "chocolate milk" flavor.
The other function of the chocolate wafer is to maintain the structural integrity of the cookie during transportation. None of the cookies I tried were broken. A great win for Kroger!
Stuffing Part
Between the chocolate wafers is the all-important creme filling. The filling is what really makes this style of cookie stand out from the rest.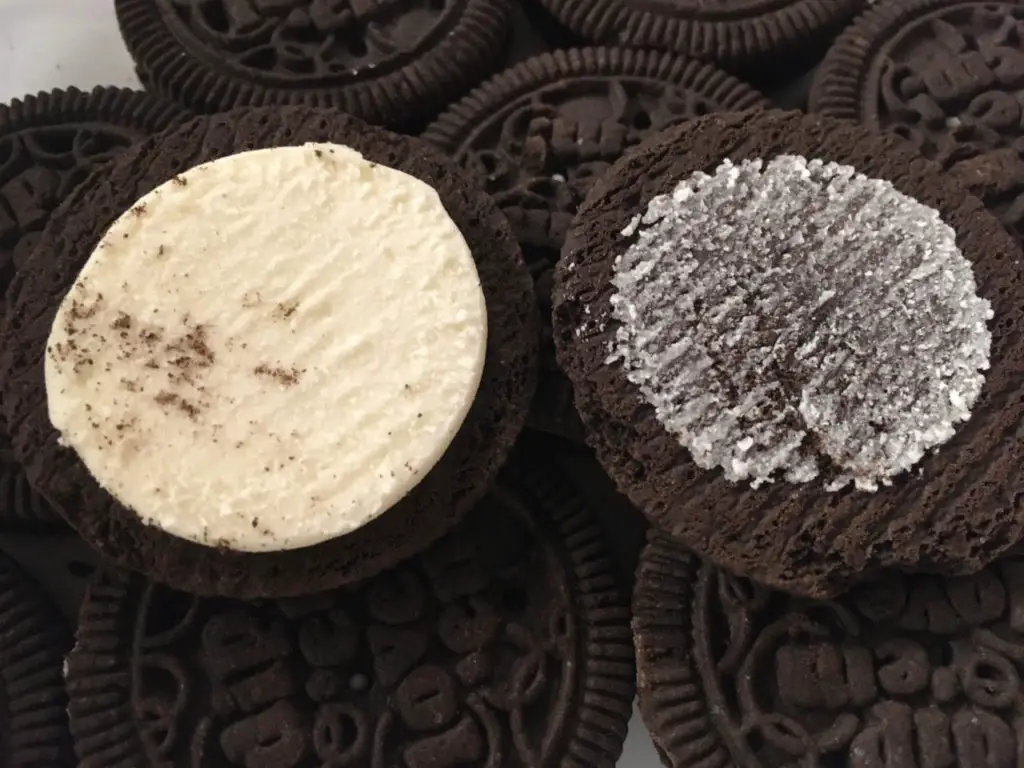 I found the KaleidOs filling to be denser and slightly sweeter than that of the Oreos. By itself, it was a little bit too dense. After dunking the cookie in milk, the filling softened and mellowed out. It is clear that these cookies were designed for dunkage.
Kroger Off Brand Oreos Dipped In Milk
Along with my discount cookies I purchased half a gallon of Kroger whole milk. I like to get the ultra-pasteurized ones because they have a good price and a consistently good flavor. This milk is inexpensive and great for dipping!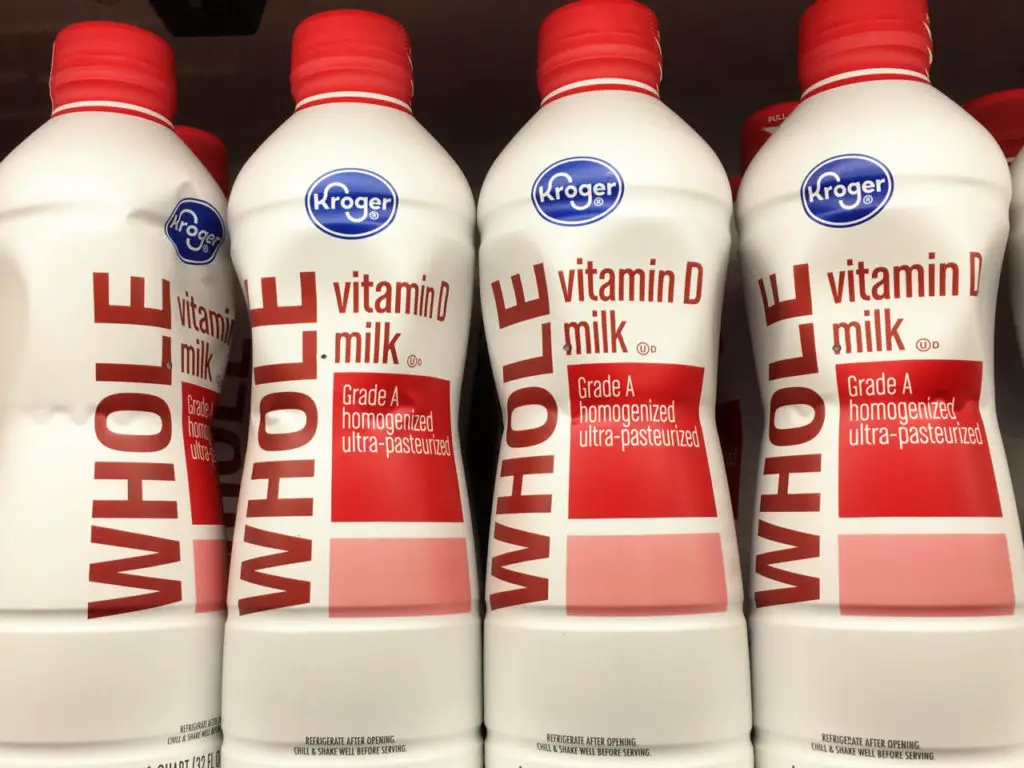 I was amazed by how well these cookies took to milk. The milk quickly permeated both the chocolate wafer and the creme filling. And, the cookie stayed in one piece after becoming saturated with milk. It didn't fall apart at all.
After dunking the offbrand Oreos, I fell in love with Kroger KaleidOs. The texture and flavor is fantastic. The chocolate is more natural, and the filling becomes a creamy delight after being dipped. I don't know if I'll ever but the name-brand product again.
Kroger Brand Oreos Nutrition
According to the Nutrition Facts label on the back of the package, one serving is 3 cookies and contains 160 Calories.
Personally I don't ever eat any less that a full "stack" of creme sandwich cookies. For KaleidOs that's 12 cookies, weighing in at 640 Calories.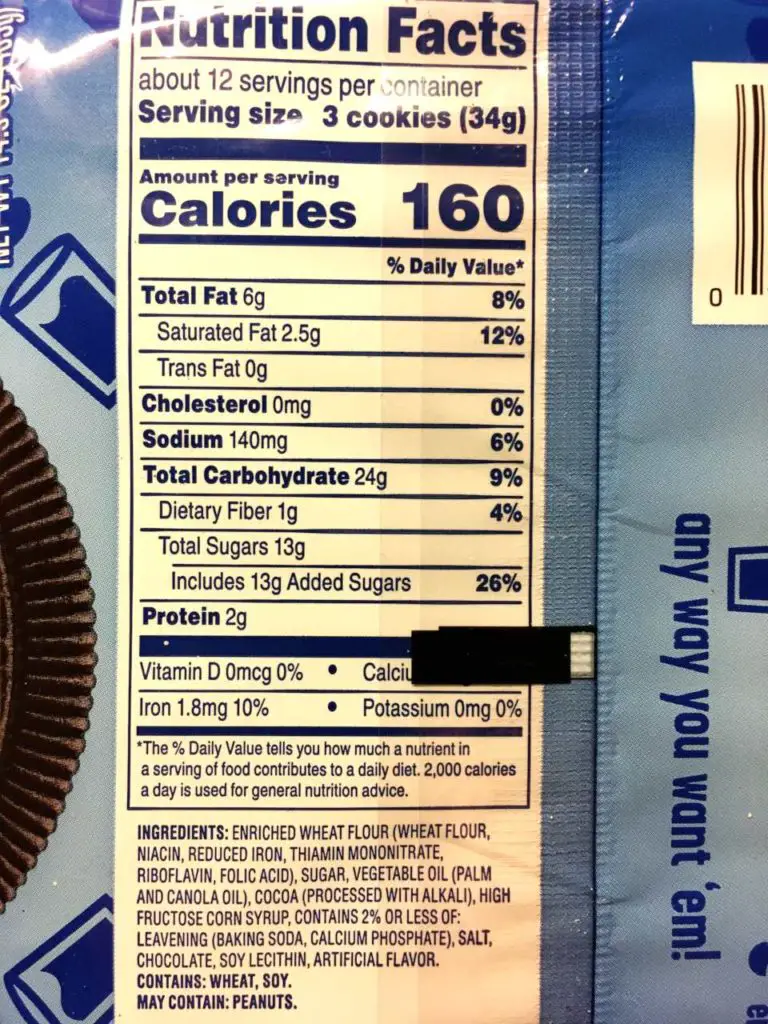 Looking through the ingredients, it's clear that this is a high-sugar food. On the plus side, KaleidOs have more sugar than high fructose corn syrup. So they may be healthier than some other desert items. However they are best enjoyed in moderation.
Kroger KaleidOs Cookies Resealable Closure
Sometimes off-brand products make compromises with packaging. We know that is the case for inexpensive store brand bagged cereals.
Surprisingly, KaleidOs have the same type of high-quality resealable closure that the brand-name cookies have. This is necessary in order to maintain the freshness of the cookies after the package is opened.
As far as I can tell the packaging on the Kroger cookies is equally as good as that of Oreos.
Kroger Off Brand Oreos Are Just As Good As Oreos, If Not Better
In conclusion, off-brand cookies have gotten a lot better in the past 20 years. Nowadays the Kroger store brand cookies are just as good as Oreos. The chocolate wafer tastes better. The vanilla creme absorbs milk better. The packaging is the same. The price is lower. Your kids (probably) won't hate you if you buy these cookies. And you're likely to enjoy them yourself. Dunk away!