Is Patagonia Worth The Price? – The Patagonia Paradox
Patagonia clothing has a reputation for being expensive. I live here in the Pacific NW and this stuff has a cool factor. It is what the outdoor types like to wear. It is what you wear if you have a mainstream fashion sense but still want to appear a bit edgy. It shows that you live an active lifestyle. You can even get away wearing a pull over Patagonia fleece in a professional setting. The items have a casual, but elegant vibe. But is Patagonia worth the price? My experience says yes and here is why.
Related: Why I Love Cheap Gildan T-Shirts
The Price Of Purpose: Why Is Patagonia So Expensive?
Patagonia is a premium outdoor clothing and gear brand that is known for its high quality, durability, and sustainability. However, it also comes with a higher price tag compared to many other outdoor brands.
If you value sustainability and ethical practices, and are willing to pay a premium for products that reflect those values, then Patagonia may be worth the cost for you. Their clothing and gear are made from eco-friendly materials and they have a strong commitment to social and environmental responsibility.
Additionally, if you frequently engage in outdoor activities that require high-performance gear, such as hiking, climbing, or skiing, then Patagonia's high-quality and durable products may provide a better value in the long run than cheaper, lower-quality alternatives.
Related: Sweat Proof Undershirts? Check Out Office Undershirt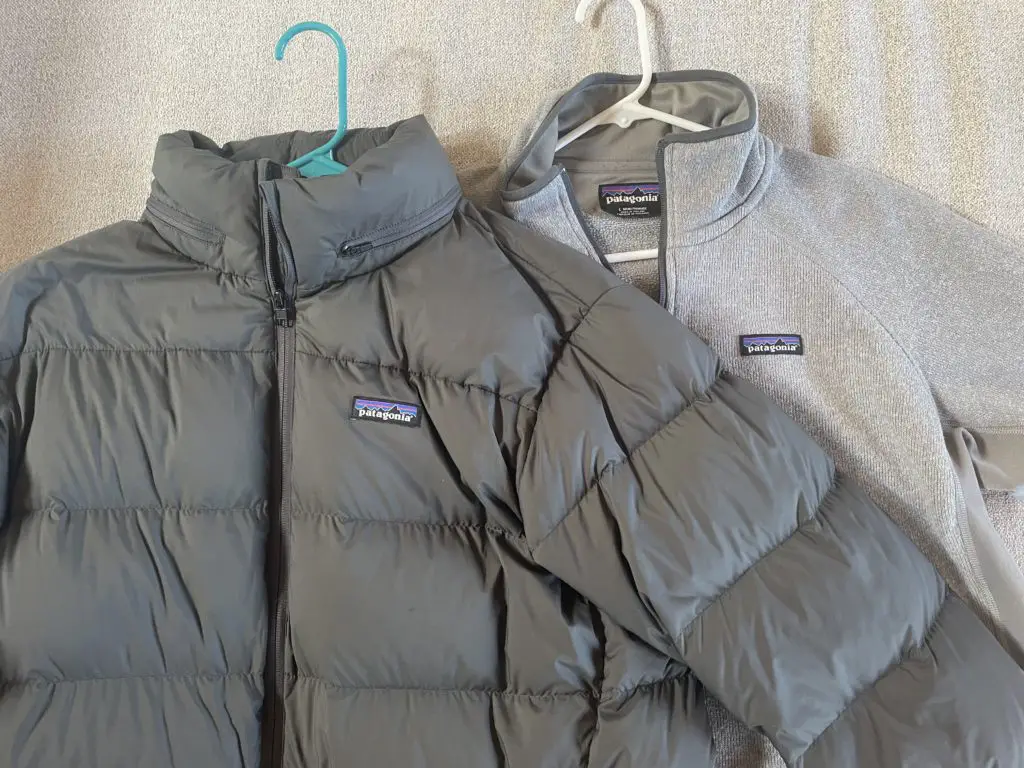 Is Patagonia A High Quality Brand? – The Patagonia Difference
Here is the thing. I don't buy Patagonia because of their ethical practices and values. I pay for these expensive pull overs and jackets because they last. I bought a Patagonia and a Columbia Sportswear jacket at the same time. Now, fast forward two years. The Columbia Sportswear jacket is pilling and beat up. It looks old. I mean I got good use out of it and it didn't cost much. But the Patagonia jacket still looks brand new. And even if there was an issue, I know they would stand behind it.
The Patagonia Repair Process: Where Quality Reigns Supreme and Justifies The Expense
According to the Patagonia website, "If your item isn't working for you, send it in for a return or repair, hassle free, anytime". This is amazing!
Assessment: You can bring your damaged or worn-out Patagonia item to a Patagonia store or visit the Patagonia website to initiate a repair. The Patagonia team will assess the item to determine if it can be repaired.
Repair Options: Depending on the type of damage, Patagonia offers various repair options. They can fix issues like rips, tears, broken zippers, or replace buttons and snaps. If the repair is covered under their Ironclad Guarantee (defects in materials or workmanship), it will be repaired for free. If it's not covered, there may be a charge for the repair.
Repair Process: Patagonia employs skilled repair technicians who specialize in fixing their products. They use high-quality materials and follow meticulous repair procedures to ensure the item is restored to its best possible condition.
Communication: Patagonia will keep you updated throughout the repair process. If any additional issues or costs arise during the repair, they will contact you for approval before proceeding.
Return or Store Pickup: Once the repair is complete, you can choose to have the item shipped back to you or pick it up from the store where you initiated the repair.
So is Patagonia worth the price? Absolutely.
Beyond The Price Tag: Is Patagonia Still Trendy?
Patagonia is still considered trendy and popular among most people. Patagonia's commitment to activism and advocacy on issues such as climate change and environmental conservation has helped to further elevate its profile and appeal to socially conscious consumers.
Related: The Best Backpack On Amazon
Is Patagonia Clothing Worth The Money?