Sweat Proof Undershirts? Check Out Office Undershirt
Hyperhidrosis (also know as HH) is abnormally excessive sweating that's not necessarily related to heat or exercise, and it is more common than you think. A condition best addressed with a dermatologist. While the hot summer months roll around, having sweat proof undershirts is top of mind at the Off Brand Guy offices.
Thompson Tee Alternative
As you may know, I have previously posted about Thompson Tees sweat proof men's undershirts. But I was wrong about one thing. You do not need to overpay to get a quality sweat proof undershirt!
Recently, I have discovered the brand Office Undershirt. After reviewing many sweat proof undershirt companies and technologies, I can assure you this is an excellent value.
Save Money On The Best Sweat Proof Undershirts
Click here to save 10% on Office Undershirt products by using this special Off Brand Guy link or use the coupon code "theoffbrandguy".
Hyperhydrosis Reddit
To learn more about hyperhidrosis and Office Undershirt, please check them out on Reddit.
What Is A Sweat Proof Undershirt?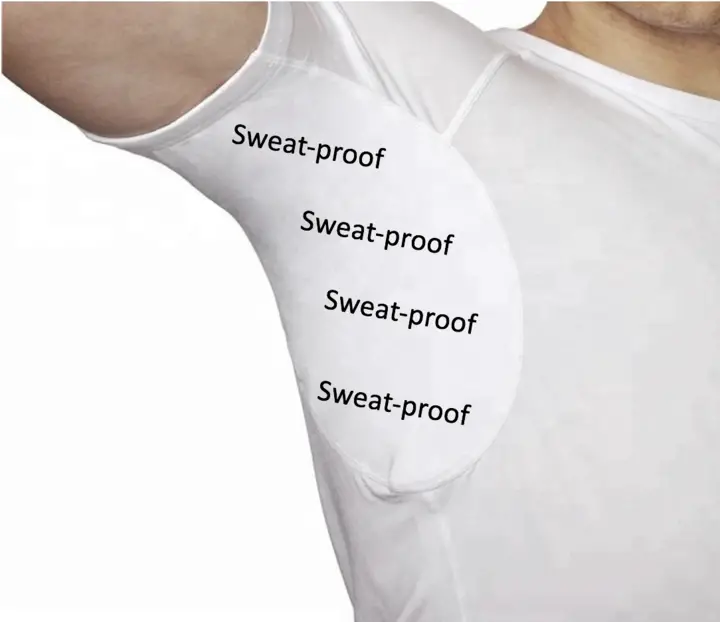 A sweat proof t-shirt has layer of proprietary padding in the armpit region that prevents sweat from soaking through. These are most typically worn as undershirts, but also can be worn without. The design and material has to be just right for this technology work. As you do not want a heavy wet pad accumulating, and at the same time you do not want residual sweat leaking through. Office Undershirt has nailed this balance. The sweat-proof armpit layer is less bulky than other competitive products in this space, giving the shirts a more athletic appearance. Because no one wants their undershirt to look like their grandpa's diaper.
Reasons To Consider Office Undershirt
You are tired of changing you shirt multiple times a day
You are having to spend extra money on dry cleaning due to sweat stains
Excessive sweating is impacting your dating and professional life
Sweat stains reduce your confidence in social situations
Sweat stains are ruining your expensive dress clothes
You have tried other methods to reduce sweat with limited success
You feel you can not lift you arms up in social situations due to excessive sweating in armpit region
Simply sitting at your desk causes sweating
Sweat Proof Material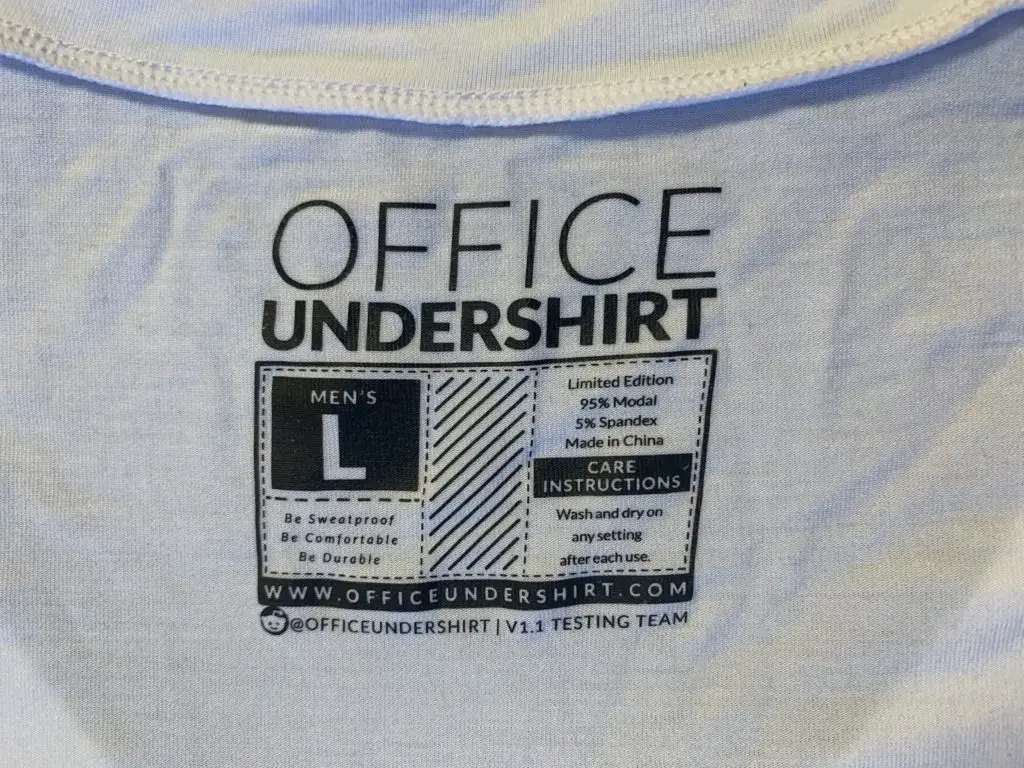 The shirts from Office Undershirt are 95% modal and 5% spandex. This combination was a home run. As I said, other brands that are 100% or 90% cotton have a tendency to be more bulky especially in the armpit region. The athletic fit due to the modal and spandex materials made me feel like I was Russel Wilson getting ready for a big game, rather than someone trying to avoid sweating through my shirt in public.
Sweat Resistant Shirt
Everyone knows what spandex is. But how about modal? Modal fabric is a semi-synthetic fabric made from beech tree pulp that can be used for clothing. It is commonly used in athletic wear. The strong fibers of modal fabric make it is far less prone to shrinking and wrinkling. Because I wear my undershirts everyday, I need a material like this.
Sweat Proof Black Shirt
I was intrigued by the black shirt offering. I ended up going with a white shirt because I was going for a typical undershirt for work. But next time, I think I will snag the black one as that looked pretty sharp.
Sweatproof Shirt Fit
The spandex material provided a natural athletic or slim fit which is exactly what I was looking for in a sweatproof t-shirt. It can go under any type of casual or dress shirt naturally, without any bulkiness. In terms of sizing and fit, I went with a large size and this worked fine for me at 5 feet 11 inches with an average build. I probably could of even got away with an XL without issues because the athletic fit and light weight material.
Sweat Proof T-shirt Review – Office Undershirt
Overall, I was extremely impressed with the sweat proof undershirt from Office Undershirt. The modal and spandex material. The athletic fit. The fact that armpit padding was discrete, and worked well keeping back my sweat even when I was on vacation in Mexico in the 100 °F sun. And last but not least, the excellent value. The $28.99 price point is the best deal available in this space. The biggest differentiator was the armpit region. With other products the sweat seems to accumulate, and the armpit region gets bulky. This is not the case with Office Undershirts. You would think it was a normal workout shirt!
Partnership With Dermadry
Office Undershirts is the real deal in the Hyperhidrosis community. They are actively trying to help those suffering from Hyperhidrosis find solutions and live betters lives. Recently, they have partnered with Dermadry. Dermadry is a prescription anti-sweat device. The machine works by directing a mild current through the skin, working to neutralize the connection between the nerves and the sweat gland. As I have discussed previously, sweatproof shirts work great in conjunction with other treatments for Hyperhidrosis.
Buy Sweat Proof T Shirt