Save With DIY Promo Pens: Cheapest Promotional Pens Ever
Have you ever wanted a promotional pen for your blog, small business, or student group? Branded pens are a fun and useful way to get your name out there. There are many suppliers of quality promotional pens but for small groups it's hard to hit the price breaks and minimum order sizes.
I'm all about saving every penny that I possibly can. I'm happy to roll up my sleeves and get my hands dirty if I can save a few dollars. So I made my own promotional pens using print-at-home stickers and the cheapest pens available.
The final unit price is less than 13 cents per pen. That's cheaper than any other promotional pen. And there is no minimum quantity. More importantly it was a fun weekend project and I'll never run out of pens again.
Cheap Dollar Tree Pens: Jot and Cello
I love the dollar store. Dollar Tree is the best place to pick up all sorts of everyday necessities at a discount. They sell pens in packs of 10 for a dollar. That's 10 cents each. They're the cheapest pens I've ever seen and they work great.
Best of all there's no minimum quantity. You can stop by your local store and grab exactly as many packs as you want. Or for larger quantities, consider putting in an order online. They'll send you a whole case, or you can pick it up at the store to avoid shipping costs.
I stopped by my local Dollar Tree and found some "Cello" brand pens in black ink. They look nice and write well. They come with a dab of wax on the tip to prevent them from drying out in storage. A thoughtful touch.
Also check out the "Jot" brand pens and don't forget to grab a $1 tape measure or five while you're there.
DIY Promotional Pen Logo Design
First, pick your size. I found that a one inch tall label wrapped perfectly around a standard stick-type pen. Larger pens will need a larger label. For the width, I chose 1.5 inches. These labels are also available in the 2.625×1" size if you want some more room to work with.
Next, think about spacing. You need to leave room around the edges to allow for imperfect printer alignment. Even with a bit of space I did have to discard a few labels where the text went over the edge. Not a big deal — they're cheap.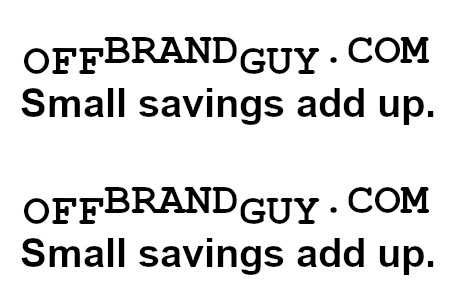 Third, pick your font. If you're using a laser printer consider using a bold font. When I tried a lighter font my laser printer struggled to stick the toner onto the thick label paper.
Finally, a word about color. This project will be easiest if you use pens with a white body and labels with a white background or border. This will hide any misalignment and you won't have to worry about color matching. The logo or text itself could have color, although for my project I kept it simple with black text. (I'm also too cheap to own a color printer.)
Printing: Templates and Adjustments for Cheap Promo Pens
I chose the 1×1.5" Kenco brand labels. I had great results using the Word template from the Kenco website. You can just search the part number on your labels to find the right template.
I designed my logo in an image editor and pasted it into the template document. You can also type directly into the template. It's incredibly convenient.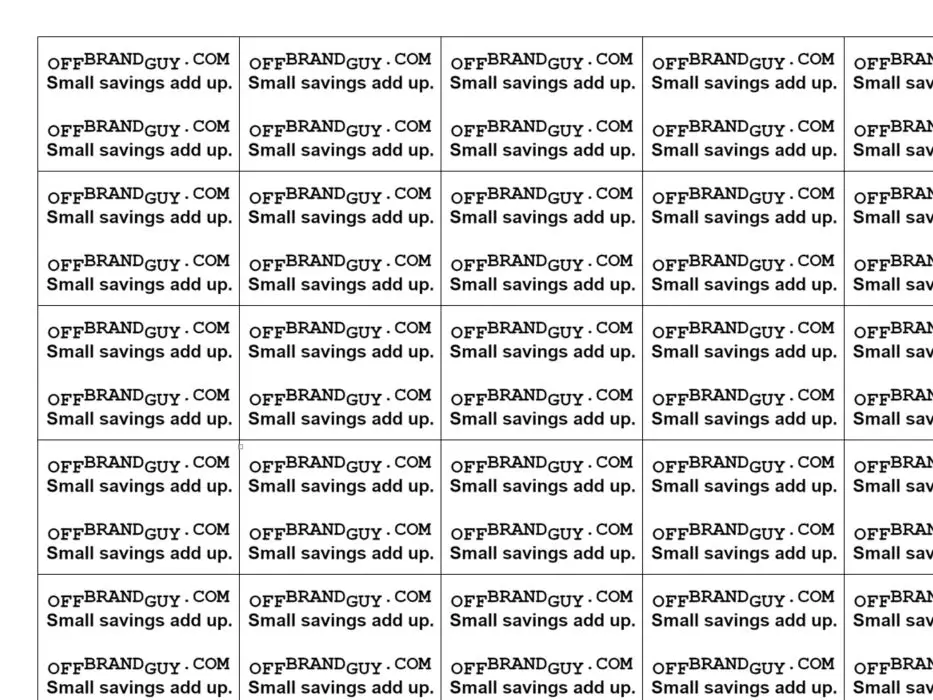 It took a bit of effort to make the labels print right on my laser printer. On the first attempt, the text came out light and fuzzy, and half of the toner came off when I tried to apply the label. It was easy to fix:
Use bold text.
Check if your printer has a setting for label paper. Most do.
Try setting the highest printer resolution available.
Look for a setting like "improve toner fixing" or "density adjustment".
Folks with regular inkjet printers probably won't have to worry as much. Just be sure to let the ink dry for a minute after printing.
Applying the Stickers to Dollar Tree Pens
Applying stickers is fun! To help with alignment, simply line up the edge of the sticker with the manufacturer's logo on the pen. Or if you have better eyesight than I do, look for the subtle seam in the plastic material.
After a bit of practice you'll be able to crank out a hundred of these in an hour, maybe more if you rush. I put on some music and cracked open a Simple Times Pilsner to help pass the time.
Dollar Tree Off Brand Pens Video Review