Tillamook Mountain Huckleberry Ice Cream Review
Welcome to the Tillamook Mountain Huckleberry ice cream review. This stuff is different from any other ice cream you may have eaten. First off, it is creamy and smooth. Because the taste is so good I almost want to describe the texture as fluffy. I don't know if that is really true. The product is mostly a white creamy ice cream with minimal patches of sweet mountain huckleberry. One thing you will notice about premium ice cream is the fillings are not overdone. If this was Walmart ice cream if would be stuffed to the gills with huckleberry flavoring.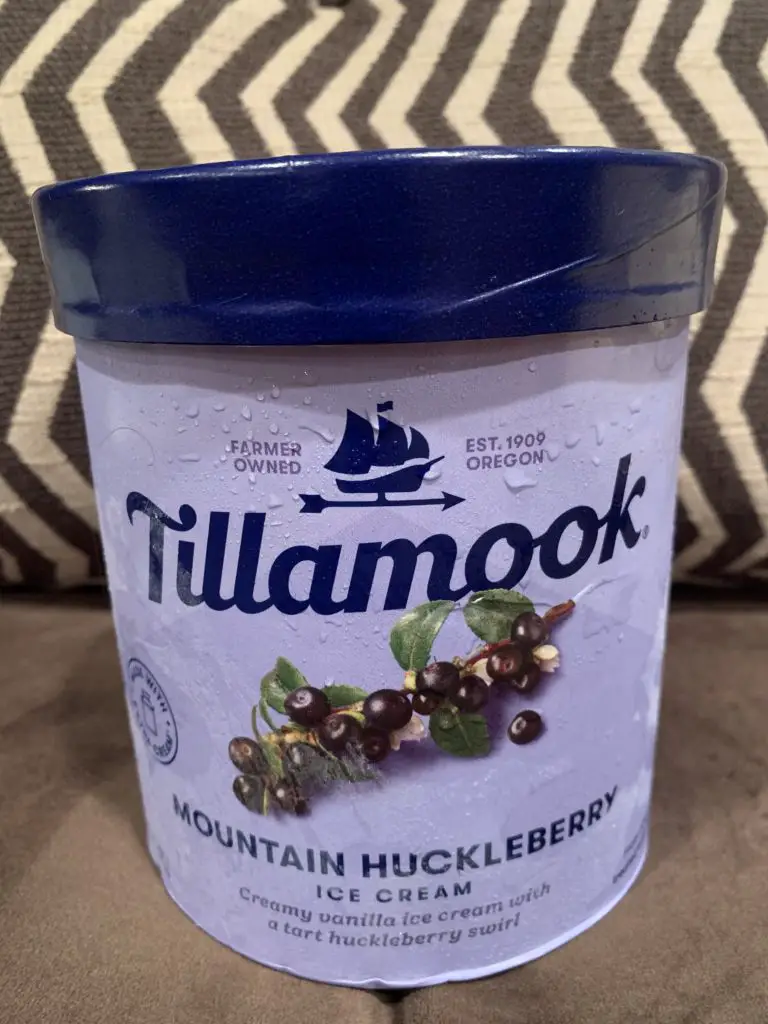 What Does Huckleberry Ice Cream Taste Like?
This is not my everyday ice cream. But boy is it a nice way to break up the standard chocolatey flavors I am typically inclined towards. Tillamook ice cream in general is known to be extra creamy and this flavor is no exception. Tillamook describes it best as a "creamy vanilla ice cream with a tart huckleberry swirl".
Why Is Tillamook Ice Cream So Creamy?
Tillamook ice cream is so creamy because it is made with extra cream sourced from local Oregon dairies, using all natural ingredients.
Tillamook Mountain Huckleberry Ice Cream Review
Huckleberries have a mostly sweet flavor with a little bit of tart edge. This makes it the perfect filling for a rich, creamy ice cream. This variation of flavors takes my taste buds on a journey. Tillamook does a great job with making sure the different ingredients complement each other well.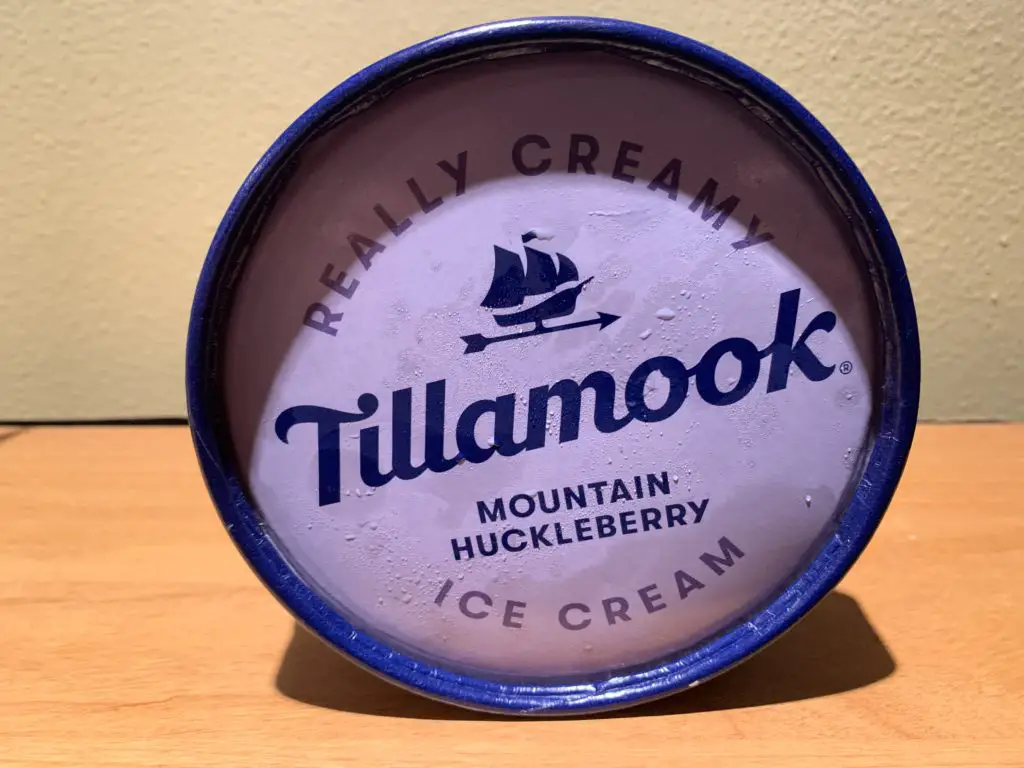 Mountain Huckleberry Ice Cream
Huckleberry ice cream in some ways is a specialty item. A quick google search only brings up the Tillamook brand. If you dig deeper you will see that Blue Bunny also produces a huckleberry flavor. The problem is that Blue Bunny is not a national brand. So availability of huckleberry ice cream will be based on your geographic location.
Where Do Huckleberries Come From?
Western huckleberries are the variety that grows in the Pacific Northwest. They come in during April and May and thrive in acidic soil. Only a trained eye can usually make out the difference between a huckleberry and a blueberry at first glance. According to Garden Guides, huckleberries have 10 large seeds so they will crunch when bitten. This is how you distinguish between a huckleberry and blueberry!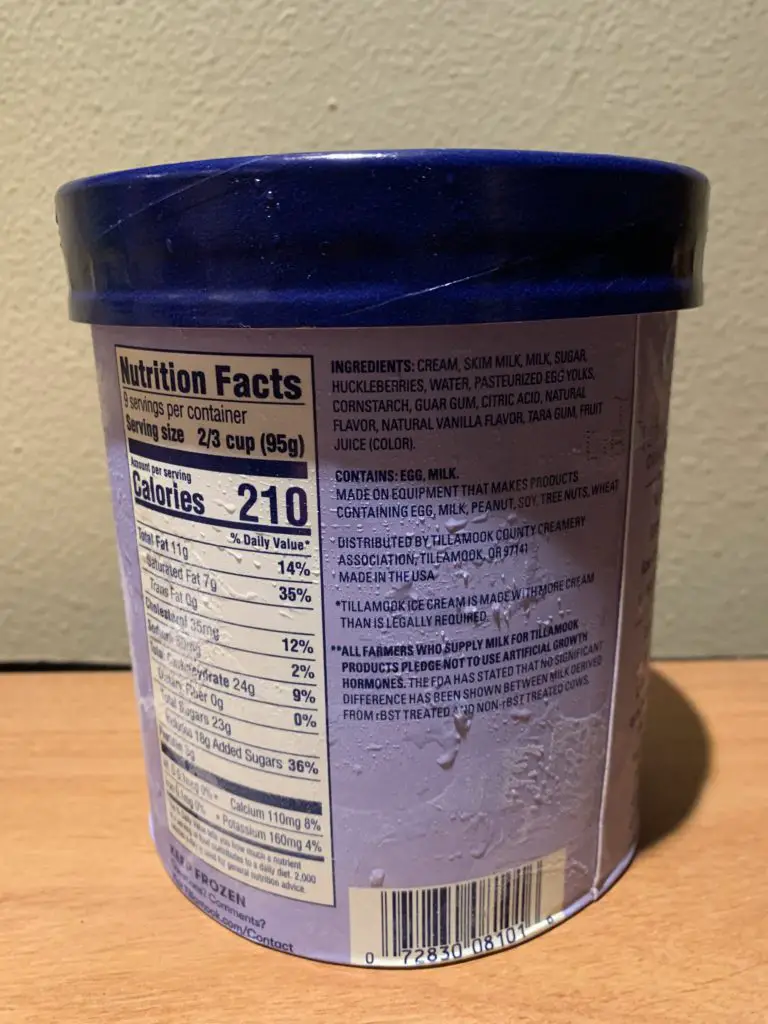 Tillamook Ice Cream Size
I only have one complaint. Tillamook Ice Cream recently changed the size of their containers. Of course this occurred without a reduction in the price. It was sort of a sneaky move, as the containers showed up one day looking suspiciously smaller. The website states this was due to a increase in costs for the all natural ingredients such as locally sourced berries. I do understand this aspect. The problem is Tillamook ice cream is already on the expensive side. Check out the Reddit discussion below:
Deceptive Marketing Campaigns
In reality, the suit says more than two-thirds of the co-op's milk comes from one massive farm in Eastern Oregon." – Oregon Public Broadcasting
I love Tillamook dairy products so much that I feel bad going down the rabbit hole of negative news. But did you know the Animal Legal Defense Fund filed a class action lawsuit "accusing the association of tricking consumers into thinking their products are sourced from small, local dairies within Tillamook County". I am not sure what I think on the issue.
Boozy Huckleberry Ice Cream Float 
Do you like hard seltzer and creamy ice cream? Check this out!