A Safeway Ice Cream Review
Vanilla ice cream is a classic. Regardless of all the new whacky flavors and add ins Big Ice Cream comes up with nothing will over shadow classic vanilla ice cream. The Off Brand Guy has been no stranger to tackling ice cream reviews. Today, we dig deeper to taste test two more name brand vanilla ice cream varieties. We will look at a Safeway ice cream review in comparison to the competitor Kroger Deluxe.
For those wanting to spend a little more, Off Brand Guy has named Tillamook Ice Cream as the best ice cream brand.
For those on budget, Kroger Deluxe French Vanilla Magnifique is not a bad option.
Safeway Signature Select Homestyle Vanilla Ice Cream Vs. Kroger Deluxe Vividly Vanilla
First off, Safeway clearly wins in terms of the packaging. The top of the Kroger container looks like it is 1983. Not only that, but the color scheme is less pleasing to the eye.
Safeway Signature Select does a good job with a modern, minimalistic packing and design. But really matters is what brand tastes better?
Safeway Vanilla Ice Cream Review
The slogan on the Safeway ice cream packing is so off brand. "It's a simple pleasure than can be enjoyed on its own or as the perfect complement to your favorite sweets treats". Wow! What a generic and unexciting way to describe a product. It just gives off that feeling of being written by some uninspired person in a corporate board room. You gotta love it!
Signature Select Ice Cream Review
Signature Select is proud to bring you Homestyle Vanilla Flavored Ice Cream, rich and creamy with a hint of custard flavor" – Safeway
For those unfamiliar with Safeway, Signature Select is Safeway's private label. They have everything from Seltzer Water to Cereal.
So what makes homestyle vanilla ice cream different from regular old vanilla? Let's see what the experts at Tillamook have to say.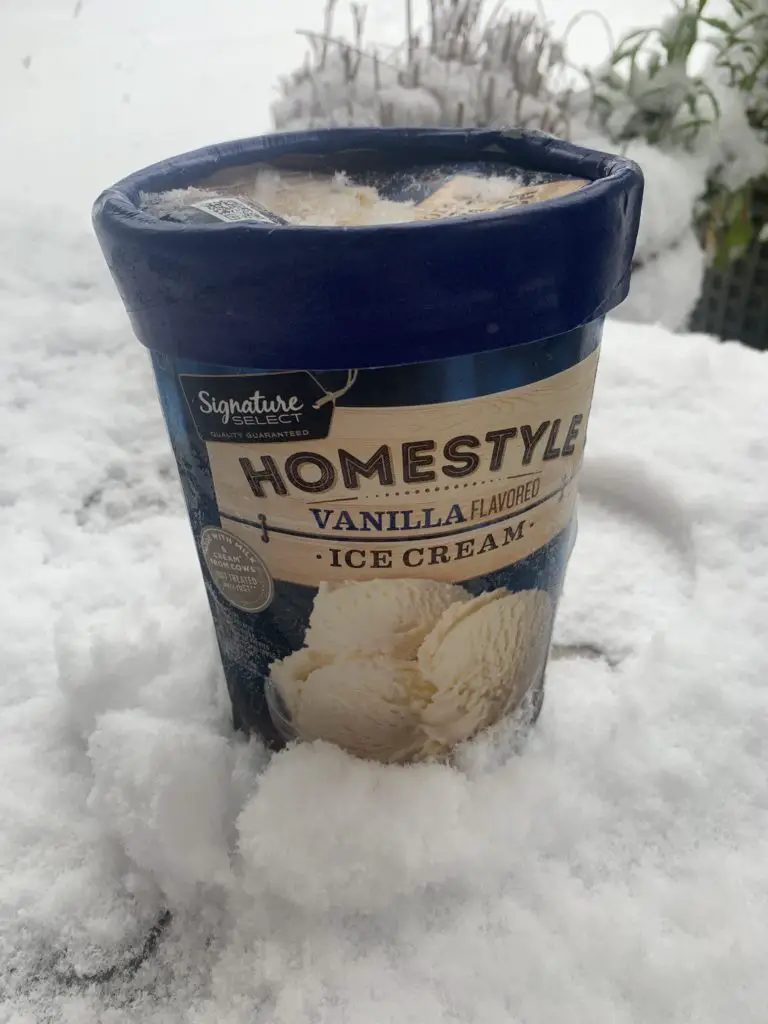 Vanilla Vs. Vanilla Bean Vs. French Vanilla
It is all about the vanilla bean. Vanilla beans are grown all over the world.
Old Fashion Vanilla
Vanilla Bean
French Vanilla
Old Fashion is the classic American vanilla flavor. Vanilla Bean is a little bit lighter taste and features vanilla bean specks. French Vanilla includes egg yolks for additional creaminess and is technically a custard.
Signature Select Ice Cream Flavors
So the Safeway name brand offers a ton of flavors. When you go to the Safeway website and search "Signature Select Ice Cream" you will see 101 results. That is something I have always noticed about store brands. They are shameless in the variety of offerings. A solid name brand will go with quality over quantity. But the off brand mentality is give as much mediocre options as possible, and maybe something will stick (no pun intended).
I am no vanilla expert but I do think the "Homestyle" flavor is an attempt at the old fashion vanilla. I like how they have to clarify that is is vanilla flavored. I assume that this is because they do not use real vanilla? If you look closely you will see that the packing indicates it is now made with real cream. Well, that's a plus.
Sugar Free Ice Cream Safeway
I mean really, what's the point? But if this is what you are after Safeway does offer a Signature Select Low Carb "no sugar added" ice cream. To be specific, this is available in a vanilla bean flavored ice cream.
Click here to find at your local Safeway.
Who Makes Signature Select Ice Cream?
"Our Signature family of brands aren't like your parents' store brands anymore" – Geoff White, President of Albertsons Companies Own Brands
Well first off, as of 2014 Albertsons Grocery owns Safeway.
According to Albertsons, "the Signature family of brands help shoppers share and enjoy all of life's moments with high-quality products throughout the store".
Click here to view the full press release.
Kroger Private Selection Ice Cream Review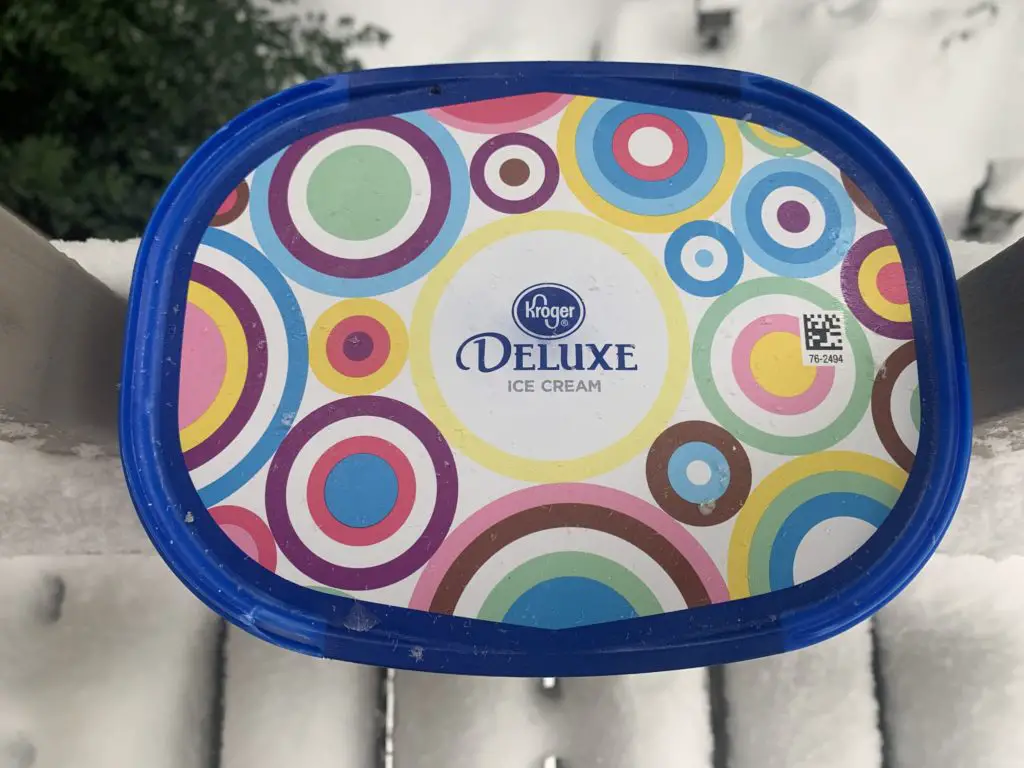 I do have some good news! Kroger offers a Kroger Deluxe Churned Vividly Vanilla Light Ice Cream. For those who can't get enough of this Vividly Vanilla stuff, but want to cut back on a few calories, this is the answer.
Okay, so I understand the "light" part of the naming. But why did Kroger add in the "Churned".
The general definition of churned is to agitate or stir (milk or cream) in order to make butter. In my mind this would be applicable to all ice cream. I don't see how this would be more relevant to light ice cream. Frankly, I think they are just trying to make it sound better. The word "light" makes it sound worse, so they throw the word "churned" in.
Kroger Vanilla Ice Cream
Kroger also offers a ton of flavors. But maybe not as much as Safeway. Again, taking a stab at this whole vanilla thing I believe Vividly Vanilla is an attempt at the classic old fashion vanilla. The classic American flavor. I say this because I see no vanilla bean specks or any mention of egg yolks.
Best Vanilla Ice Cream
These are both off brand ice creams. While the header may read best vanilla ice cream, what I am really after is what ice cream offers the best value. As let's be honest, if you wanted the best ice cream available you would not be purchasing these brands. So let's get to it.
The list price for the Safeway Signature Select Homestyle Vanilla Ice Cream is $4.99. But we all know no one is paying full price at Safeway. With a club card or by using the app this typically can be picked up for $3.50.
Kroger Deluxe Vividly Vanilla is a different story. First of all, the Kroger website is horrible. Maybe they just don't want to be transparent with their prices. But seriously, I can't find the latest price anywhere. I can't remember what I paid because this stuff has been sitting in my freezer forever.
After serious effort, I see that with a clip coupon you can get this Kroger stuff for $2.99 for a 1.5 QT container.
Best Store Bought Vanilla Ice Cream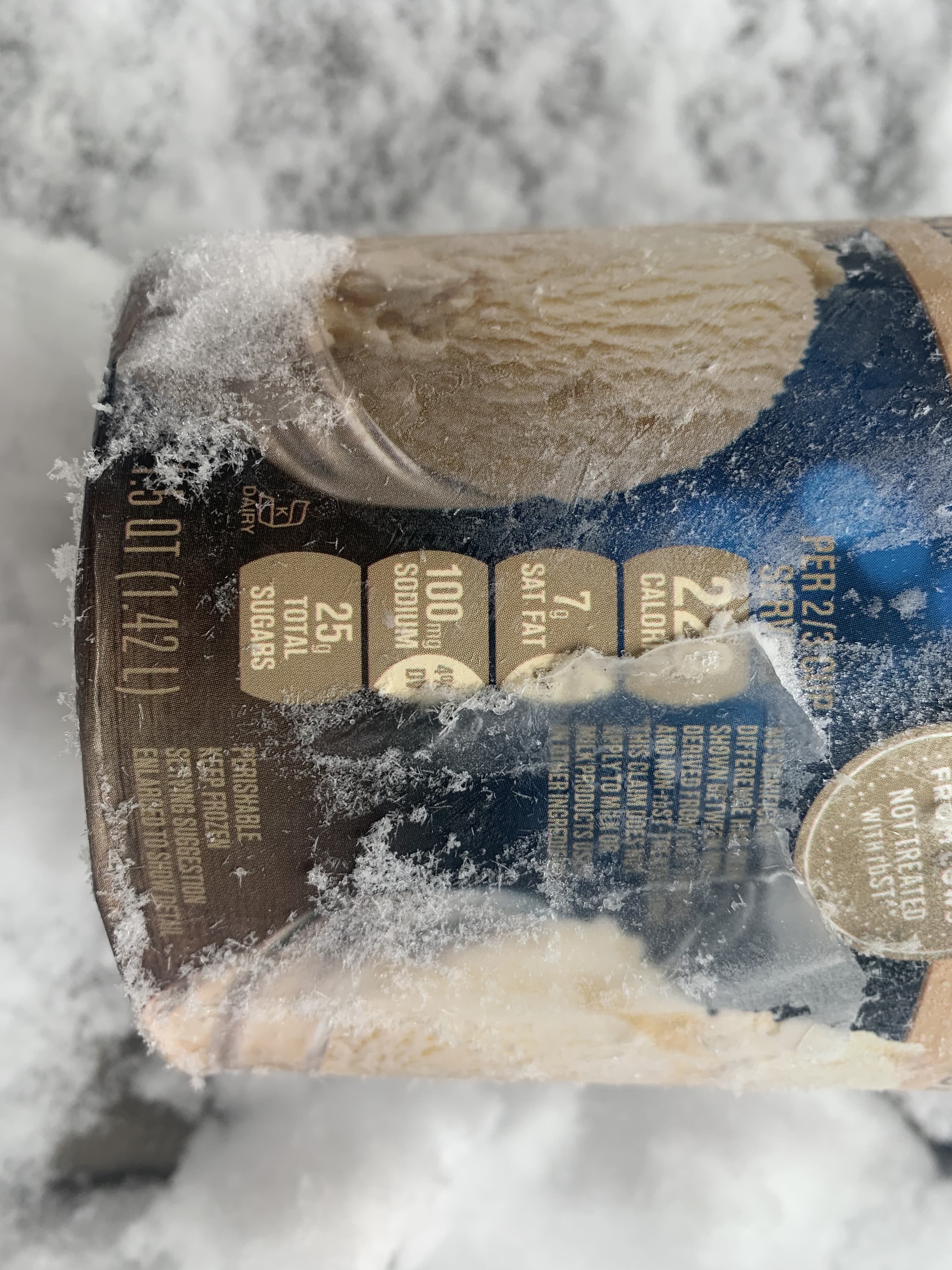 If you have read this Safeway ice cream review carefully you will notice that I have not mentioned much about the taste. To be honest, the reason is because both brands are developing freezer burn out in my garage. And the reason for that is because I end up eating Tillamook Ice Cream every night instead.
Healthiest Vanilla Ice Cream
Seriously, who cares! Ice cream is not healthy. If you are hoping that by reading this it will somehow justify that ice cream is secretly kind of good for you, I am sorry. As you are out of luck. Ice cream is desert pure and simple. It is a treat and something to be enjoyed sporadically.
In terms of health, there are few general things to keep in mind. First off, avoid high fructose corn syrup. It's just not good for you.
Second, think of the cows in which the milk and cream come from. You don't want milk and cream ingredients from cows loaded up with hormones and other chemicals.
Safeway Ice Cream Review – Signature Select Peanut Butter Chocolaty Candy Crunch