DoubleTree Spokane Review – This Place Is All Right
I stay at a lot of Hilton hotels for work. There is something almost therapeutic about getting use to things being a certain way. Whether it is looking forward to the Hilton mattress style or indulging with a warm chocolate chip cookie upon arrival. Life is all about routines. In this DoubleTree Spokane review the Off Brand Guy team takes a comprehensive look at the classic DoubleTree property in downtown Spokane. This is the same hotel that hosts the legendary Spencer's steakhouse in the main lobby. Honestly, this hotel is just okay. But for some reason I keep coming back time and time again.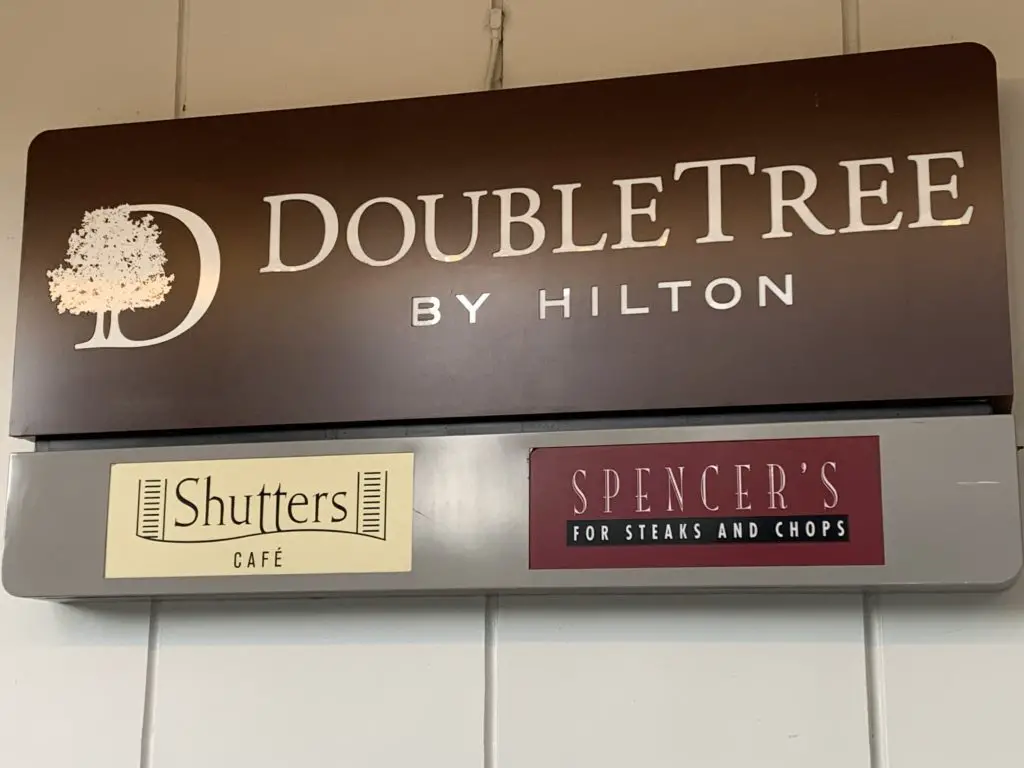 DoubleTree by Hilton Hotel Spokane City Center
One of my favorite things about this hotel is the location. It is located downtown by the river and restaurants. I will be a reasonable distance away regardless of where my meetings are located the next day. It is also not too far from the airport. It is 7.7 miles or about 11 minutes to be exact. I am all about convenience when traveling for business. I want somewhere that is easy to get in and out of. I do not want to wait in line or deal with a bunch of logistics before getting to my room. I want to pull into the property and be checked in under ten minutes. The DoubleTree Spokane is pretty seamless from this perspective.
Related: Hilton Waikiki Beach Review – The Best Hilton In Honolulu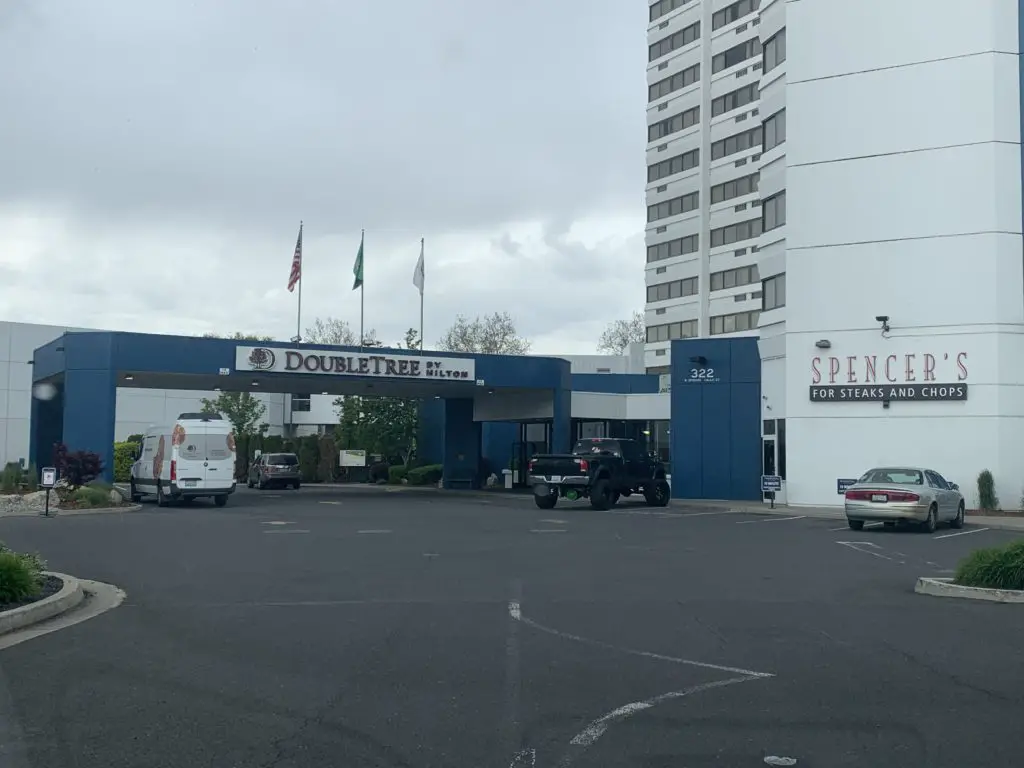 DoubleTree Spokane Parking
The DoubleTree Spokane has a parking garage that is a one minute walk from the lobby. This is not bad. Spokane does get cold during the winter. So this is not super fun in the snow. But it is acceptable. Self parking is currently $22. Note that this is not included in the room rate. This is a separate charge.
There is one thing that bothers me about the parking situation. After checking in, they give you a parking pass to put on your car. This is to track visitors and make sure your car is supposed to be parked in the garage. But who wants to walk back to their car in the garage after checking in? I always go back later in the night when I am hungry and want dinner. This isn't the first hotel to do this. But it is such an inconvenience.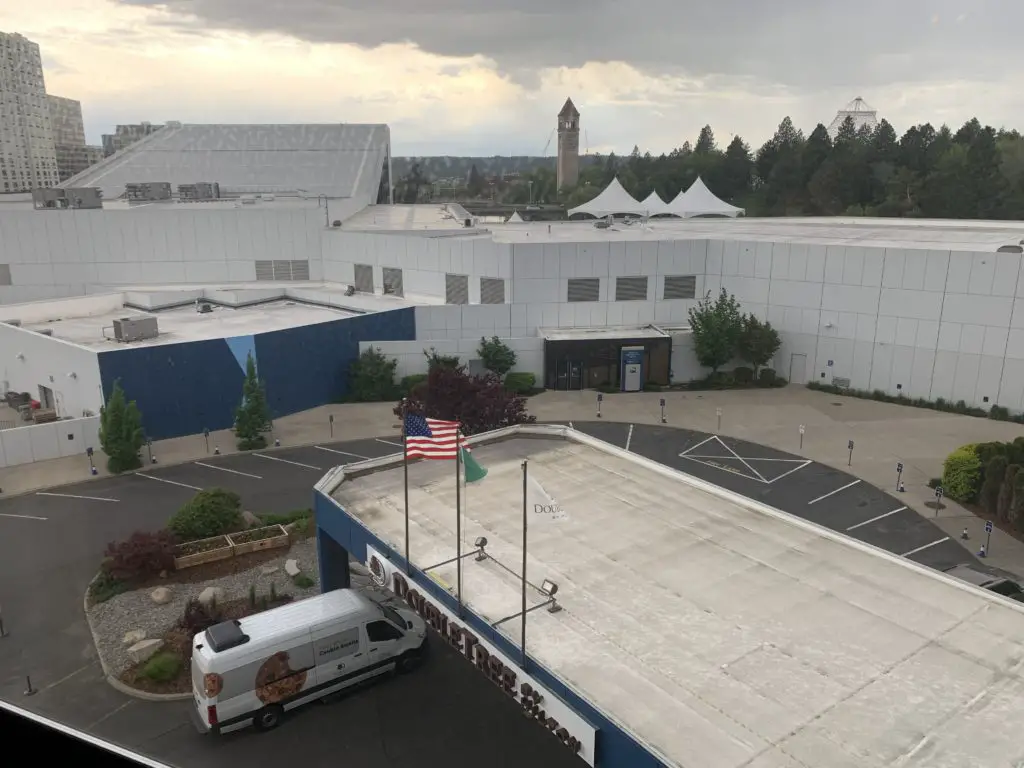 Double Tree Spokane WA Review
Again, this place is okay. I do like the location. The aging rooms not so much. If I am going to be honest the rooms are a bit dated. Not horrible, just dated. The view of the city can be nice from the top floors. I have probably stayed here fifteen times over the years. They have to be doing something right.
They are generous with bottled water for Hilton Honors diamond members. This may not seem like a big deal, but it is my pet peeve while traveling. Traveling wears folks out. It is easy to get dehydrated. I do not want to play games trying to find, track down, or buy water. The room here are stocked with two water bottles and the front desk has always been happy to provide additional bottles.
Related: Hilton Waikoloa Village Review – A Dreamlike Vacation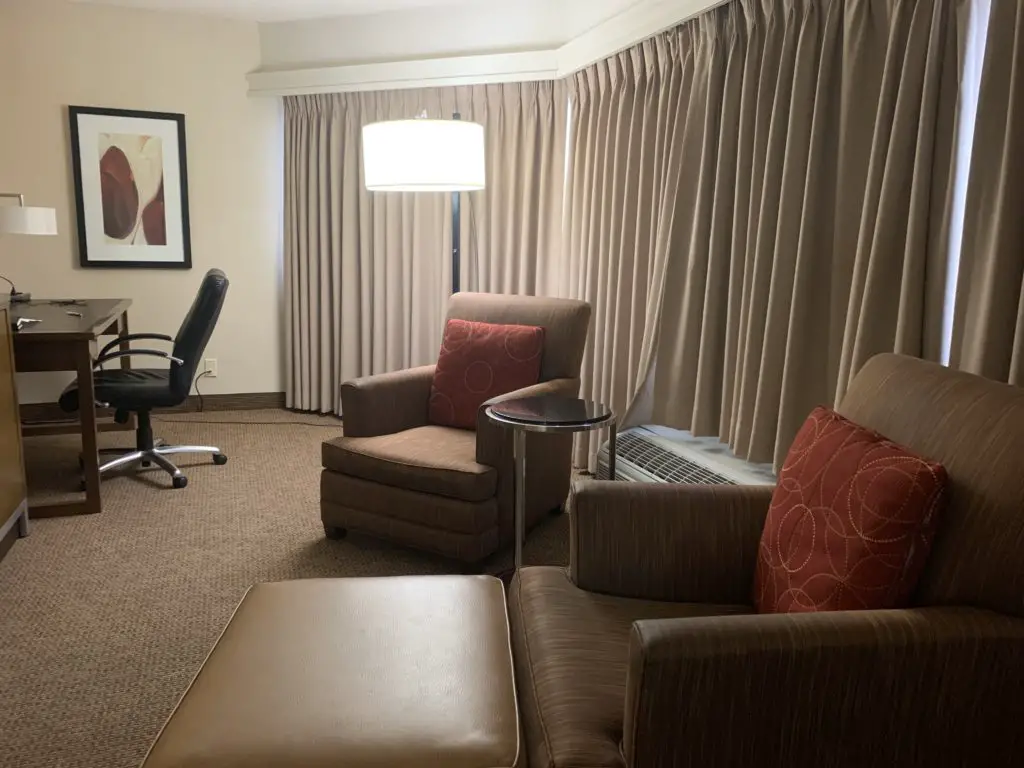 Doubletree Downtown Spokane Room Rates
I have seen the price range from about $120 to $160. I am told that sometimes it can go as high at $200, though I have never paid this much. I think at around $130 it is a solid value. In general, I prefer to book direct at Hilton properties. It is more convenient and flexible with last minute cancelations. The Hilton app is the way to go. At first, I was resistant to using the app and continued to use the website. This was a mistake. I hate to say it but the Hilton website is glitchy and can be hard to navigate. The Hilton app is seamless.
Hilton Hotels Spokane WA
There are many Hilton properties to pick from in Spokane. I have stayed at the DoubleTree and the Hampton Inn & Suites Spokane Downtown-South. The Hampton Inn is situated right next to all the hospitals. If you are visiting that part of town the location is good. My favorite thing about Hampton Inn properties is they are almost always new or recently renovated. The Hampton Inn South is crisp and clean.
Hampton Inn & Suites Spokane Downtown – South
Hampton Inn Spokane
Hampton Inn & Suites Spokane Valley
Tru By Hilton Spokane
Hilton Garden Inn Spokane Airport
Best Things To Do Spokane, WA
Riverfront Park Spokane
The DoubleTree Spokane is a riverside hotel that is located on the Centennial Trail. It is a 3-minute walk from the Riverfront Park and Spokane Falls. It is the perfect place for a afternoon stroll with the family or early evening run after work. I love having the park so conveniently located. The only downside is during concert season. On one stay, I spent the whole evening with headphones on in my room because I felt like I was at a rock show.
Related: Natural World Kenya Safaris – The Adventure Of A Lifetime
Shutters Cafe & Pantry
I have a breakfast routine at the DoubleTree Spokane. I walk down to Shutters Cafe in the lobby about 7am every morning. Hilton Honor members get a $15 voucher towards breakfast. I use this to get a Starbucks coffee and steel-cut oats. They even pack it up nicely for me to take back up to me room. This includes cranberries, nuts, and of course brown sugar. I am breakfast guy. If I had it my way, I would munch down eggs, sausage, hash browns, and orange juice everyday. I stick to oatmeal on business trips considering that a heavy breakfast is not sustainable.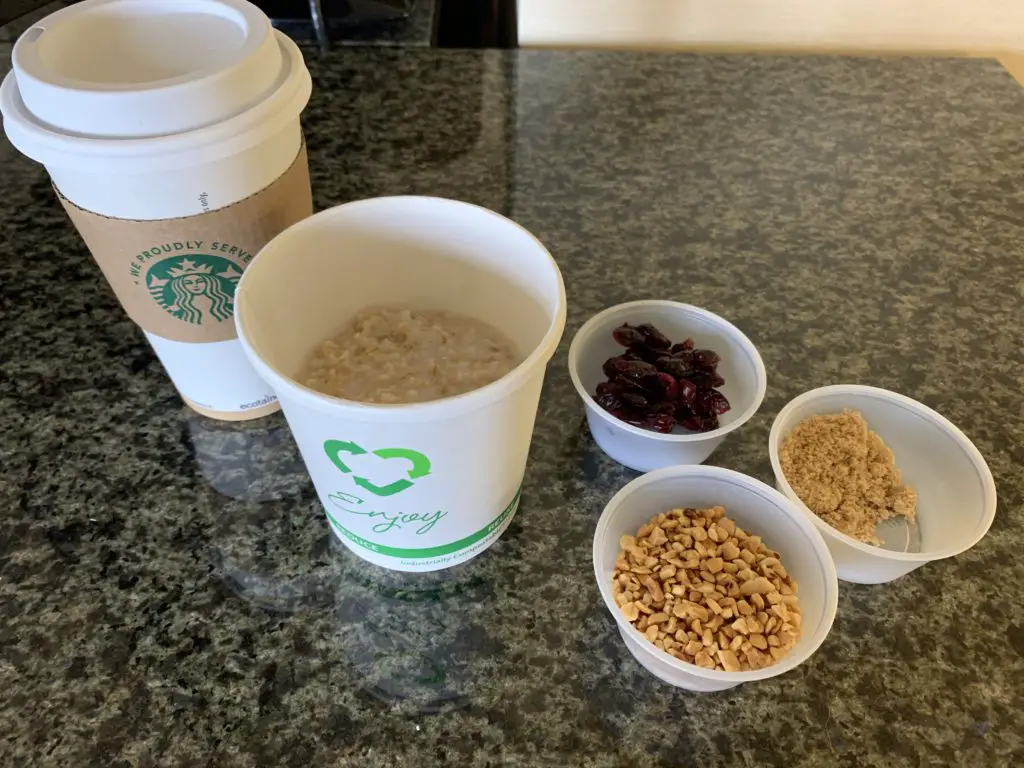 Spencers For Steaks And Chops
Spencer's is a legendary restaurant in Spokane. It is one of those old school steak houses. The lights are dim and the service is excellent. They offer items such as bone-in filet, juicy filet mignons, bone-in ribeye, Albacore Tuna, Chinook Salmon, Washington Neah Bay Halibut, and Diver Scallops. It is great place for a cocktail and steak. A note of warning. This place is not cheap. This is the type of place you visit if your company is paying. This is not the typical Off Brand Guy type of establishment. A meal for a single individual can run around $75. They use to have a few budget friendly options like burgers and sandwiches. But recently these seem to have disappeared from the menu. Maybe it is inflation?
Main Market Co-op
This place is a hidden gem. I love eating at health food stores while traveling for work. It is the type of food I would eat on a regular basis if it wasn't so expensive. The Main Market Co-op is walking distance from the DoubleTree Spokane. Some nights, I walk over here to get a healthy dinner. On my last visit this included orange chicken with brown rice, an amazing salad, and the best strawberry soda I have ever had. This may not sound super healthy. But Main Market Co-op carries only the best ingredients.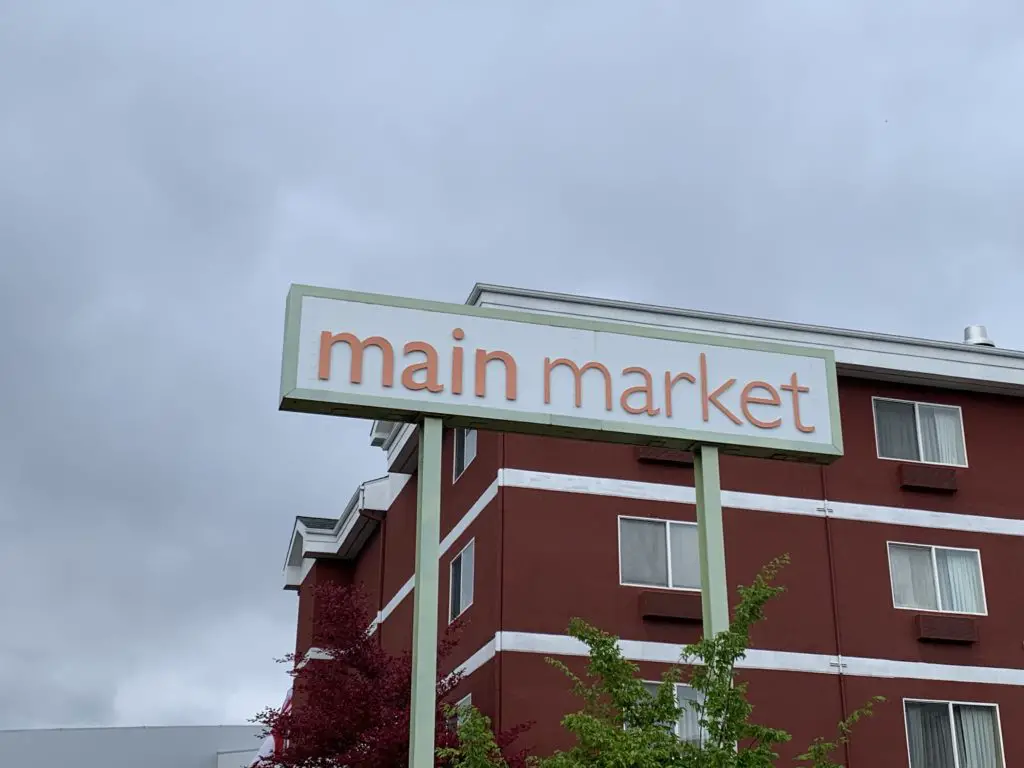 Borracho Tacos & Tequileria
I have to be honest. I think this place is overrated. This is Mexican food style bar only a few blocks from the DoubleTree Spokane. I went here the first time because there was so many positive reviews on TripAdvisor. I was not blown away. To me it seemed like a bar, that happened to also serve tacos. I went back again with a coworker. I figured maybe it was me the first time. TripAdvisor and Yelp have rarely led me wrong. Again, I left feeling like consumed a bunch of empty calories. The thing is I am not picky with Mexican food. I will eat almost anything including Taco Bell.
In hindsight, I have learned that Borracho has a cult following with the college kids. They have specials and dirt cheap taco prices. This probably explains all the reviews and excitement.