Natural World Kenya Safaris – The Adventure Of A Lifetime
Have you ever wondered how a frugal man splurges? Even the Off Brand Guy likes to go all out sometimes. Lately, I took this to the extreme with an African safari. I took a trip to Kenya to go see the big five with Natural World Kenya Safaris. This was an amazing experience and worth every penny. It was a once in a lifetime opportunity to see a different part of the world.
What Is The Best Kenya Safari Company?
There is no way around it. A quality seven day safari in Kenya with luxury lodging does not come cheap. At the end of the day many of the safari companies will offer a pretty comparable experience. But the pricing is all over board. It is difficult to vet the best deal when going to a foreign country. Luckily, we have done the hard work for you. The Off Brand Guy team highly recommends Natural World Kenya Safaris as the best value safari company in Kenya.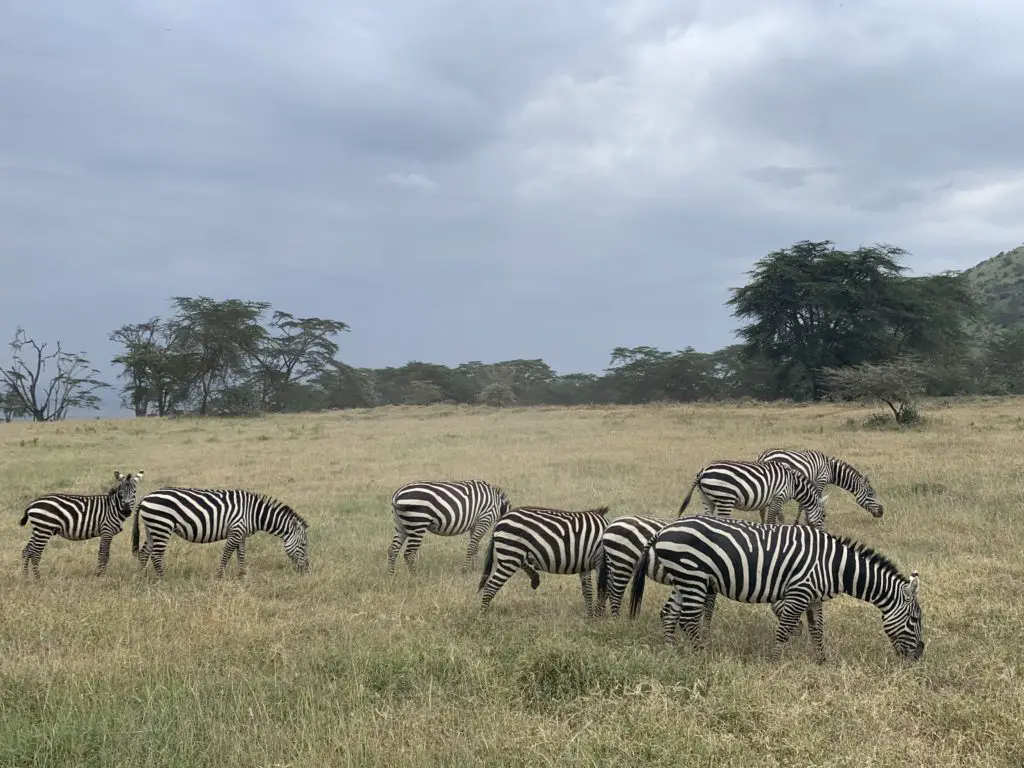 What Is The Best Month To Go On A Safari?
The best time for a safari in Kenya is during the dry season. This would be June through October. The wildlife spends more time near the watering holes and will be easier to spot. Also, the wildebeest migration reaches the Maasai Mara around August and remains until October. We went in early July. I found this to be the perfect time because the peak season hadn't quite hit. The tourist destinations will start getting more crowded mid July.
Is Kenya A Good Place To Go On Safari?
Kenya is an amazing place to go a Safari. The Maasai Mara in particular is one of the most famous wildlife destinations in the world. It made me feel like I was living in the Disney Lion King movie. Kenya also has national reserves where you can see rhinos and chimpanzees.
Related: Hilton Waikiki Beach Review – The Best Hilton In Honolulu
How Many Days On Kenya Safari Holiday Is Enough?
In my opinion, seven days is the ideal length for a safari. This is enough time to hit multiple national parks and see plenty of wildlife. If you want to move at a slower pace and not be moving lodges so often, I could see stretching this out to ten days. Especially for older travelers who may want a day or two to relax.
What Does A Kenya Safari Package Include?
Lodging at the reserves
Private jeep and driver/guide
Clean drinking water in the jeep
Airport pickup
Hotel transfer in Nairobi
Support, assistance, and guidance throughout the trip
What Additional Kenya Safari Activities Are Available?
Maasai village visit
Kibera slum tour
Sunrise hot air balloon tour
Natural World Kenya Safaris offers all of the classic safari excursions. I highly recommend the Kibera slum tour. This was a very impactful experience. We booked the tour through Natural World Kenya Safaris, but it was arranged through Kevin's Kibera Slum Tour. Kevin is a resident in Kibera and takes you around his neighborhood. Kibera is not safe to visit without this type of structured tour.
The Masaai people are a tribe in Kenya that maintain their traditional way of life taking care of livestock. Their culture is very important to Kenya. While we enjoyed learning about the history, we chose to skip the Maasai village visit. The Maasai vendors were aggressive in selling trinkets at the park entrances and we had seen enough.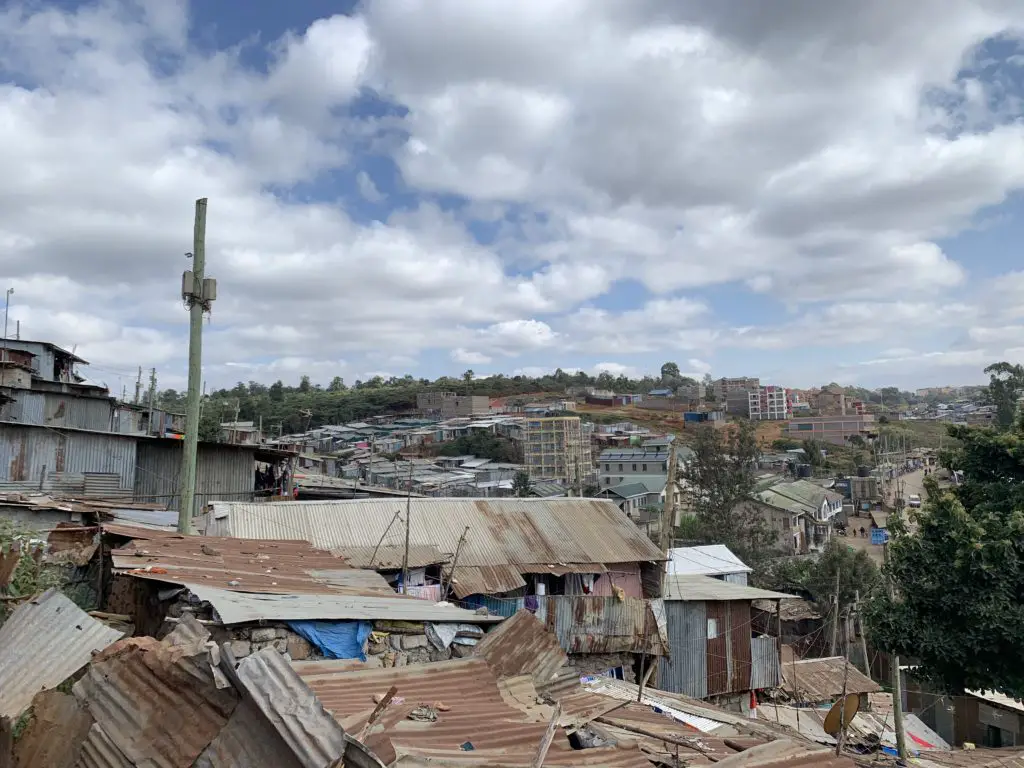 Private Vs. Group Safari
The national parks in Kenya are not the type of place where you can rent a car and drive around on your own. The reserves are made up of unmarked dirt roads. You need a guide to assist you with entry to the park and to get around. Plus, most of the lodges are not like normal American hotels. You really need guidance to find these places. So finding a good tour company is a must!
If you really want to save a few bucks you can find some group tours. But who wants to travel all the way to Africa to look out the window of a crowded tour bus? To make the most of the experience you really need a private guide.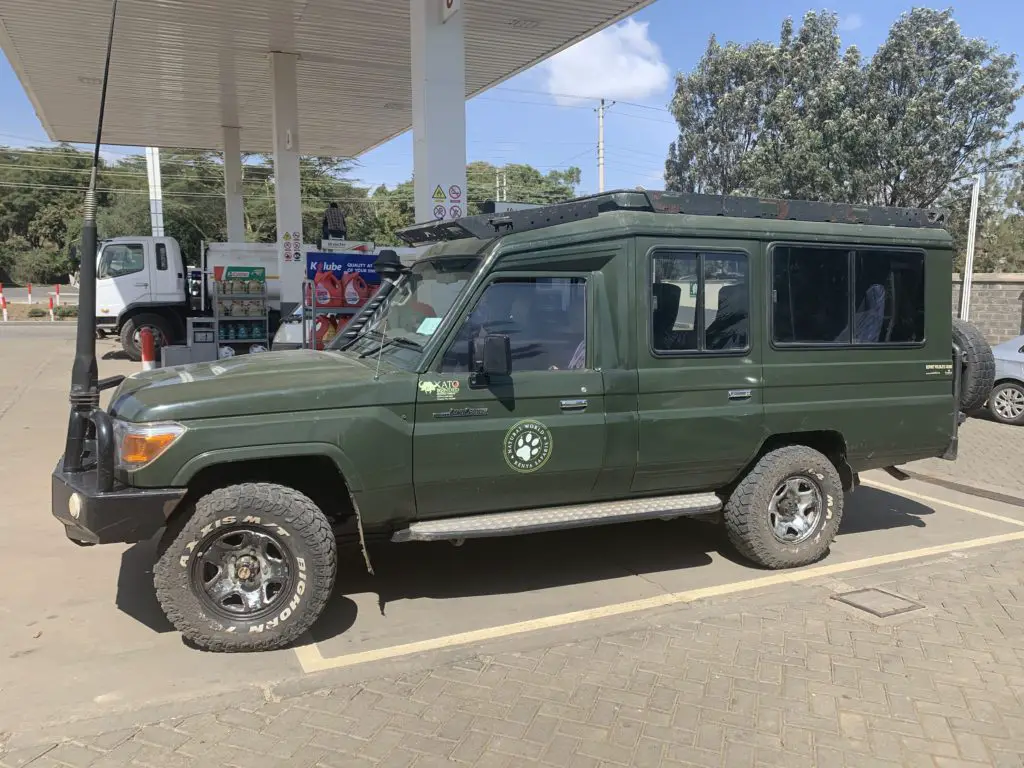 Best Safari Itinerary In Kenya
Natural World Kenya Safaris will work with you to customize the perfect trip. This is the amazing thing about this type of vacation. You get to pick exactly what you want to do each day. Do you have a favorite animal that you want to see? Have you heard good things about a specific park like Maasai Mara? Do you want to end the trip in Mombasa on the beach? Regardless of your preference they will be able to make it happen.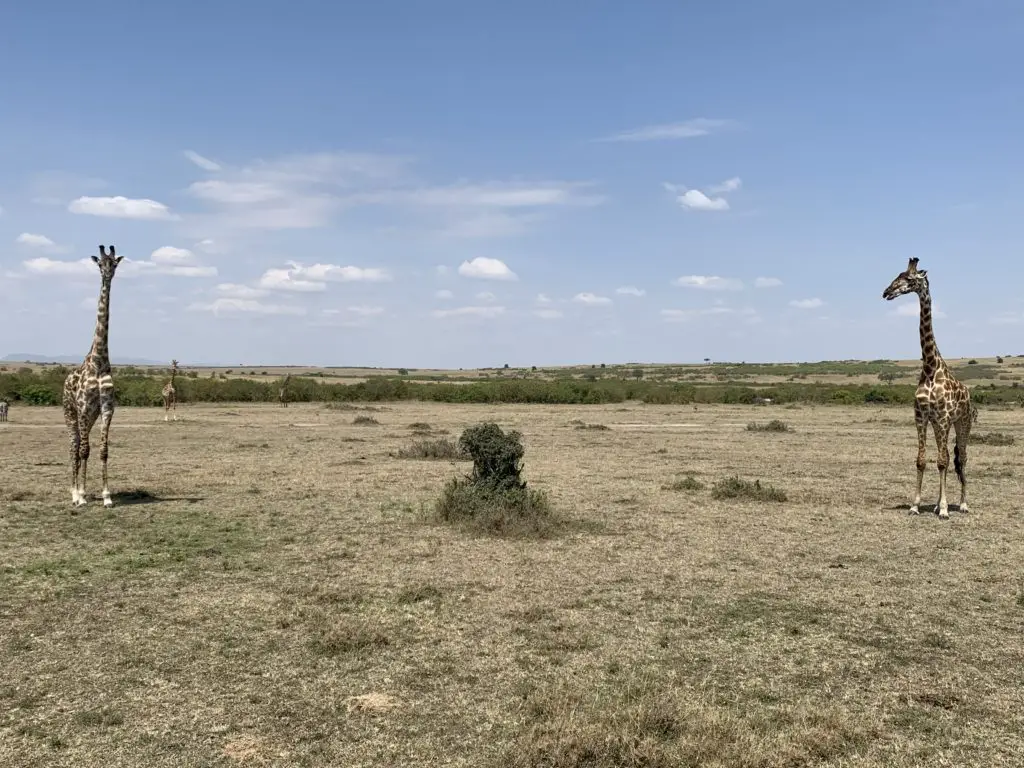 What Can I Expect On An African Safari?
You will typically check in at the lodge the night before. Many of the lodges are located on the reserves. This is awesome because you can see zebras and monkeys on the lodge grounds. Dinner is served in the dining hall on the later side from around 7pm-9pm. This is because most guests are on early evening game drives. You will wake up and eat breakfast around 7am. Then be out the door for a game drive by 8am. It is nice to get an early start as it gets hot mid day.
Game drives are super flexible. You drive around and see the animals that are out. The drivers will have radios to stay in touch with other drivers on the best wildlife sightings. If there is something good like a lion or cheetah everyone will rush over. The jeeps opens up top so you are able to stand up to get a better look at the animals. It is a peaceful and relaxing experience. It is a great time for photography and to get close up footage of animals in their natural habit.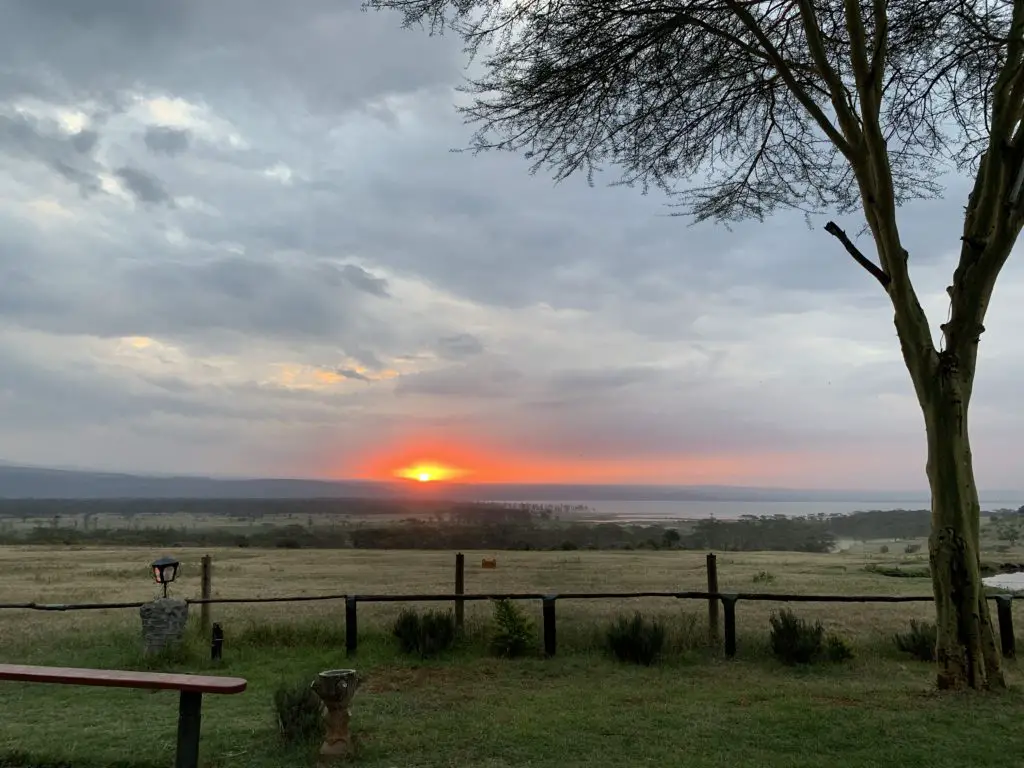 Animals You Will See On A Wildlife Safari In Kenya
Lion
Zebra
Giraffe
Cheetah
Leopard
Rhinoceros
Hippopotamus
Elephant
Alligator
Flamingos
Giselle
Wildebeest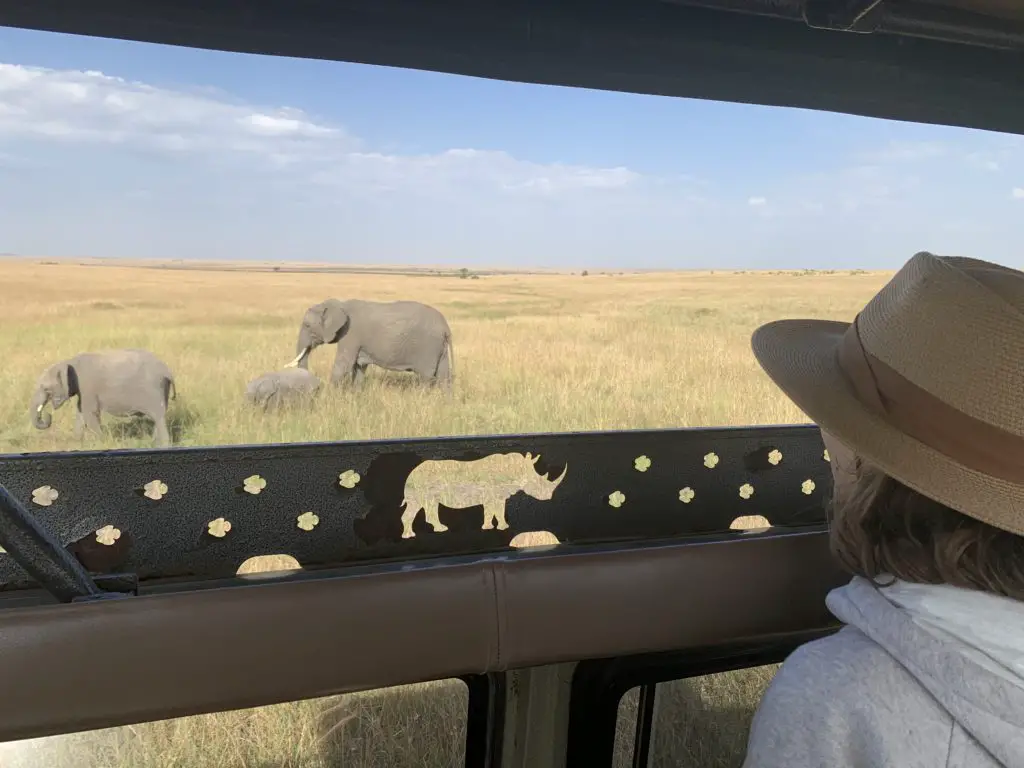 What Are The Best National Parks In Kenya?
In my opinion, the Maasai Mara was by far the best reserve in Kenya. It looks just like the Lion King movie. It is the largest as well. In hindsight, I would have been happy spending the bulk of the trip here. The scenery is amazing and there is endless space to drive around.
I also enjoyed the Amboselli National Park because it was different environment. But the park was smaller, and it always seemed to be dusty. Just due to things being drier.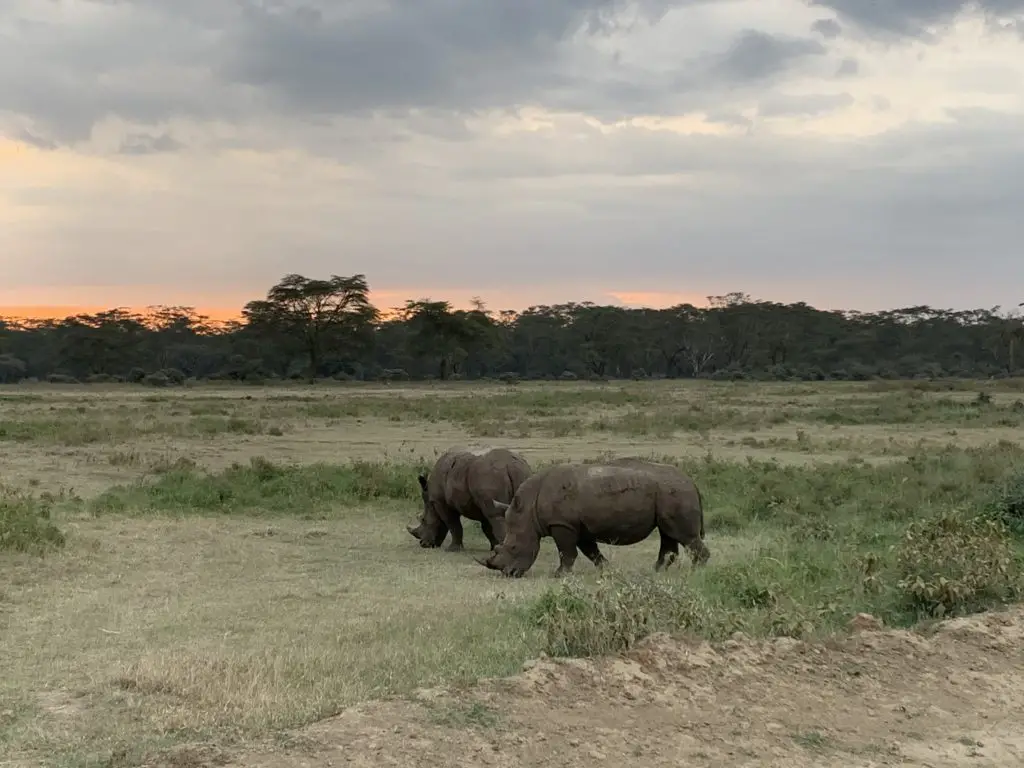 The Lake Nakuru National Park was a must to see the Rhinos. This can be accomplished in a one night stay.
If I were to do things again, I would skip Hells Gate National Park and Lake Naivasha and instead go to Mt Kenya and Ol Pejeta to see the chimpanzees. I loved the Baboons and Vervet monkeys were saw throughout the trip. It would been amazing to see chimpanzees in person.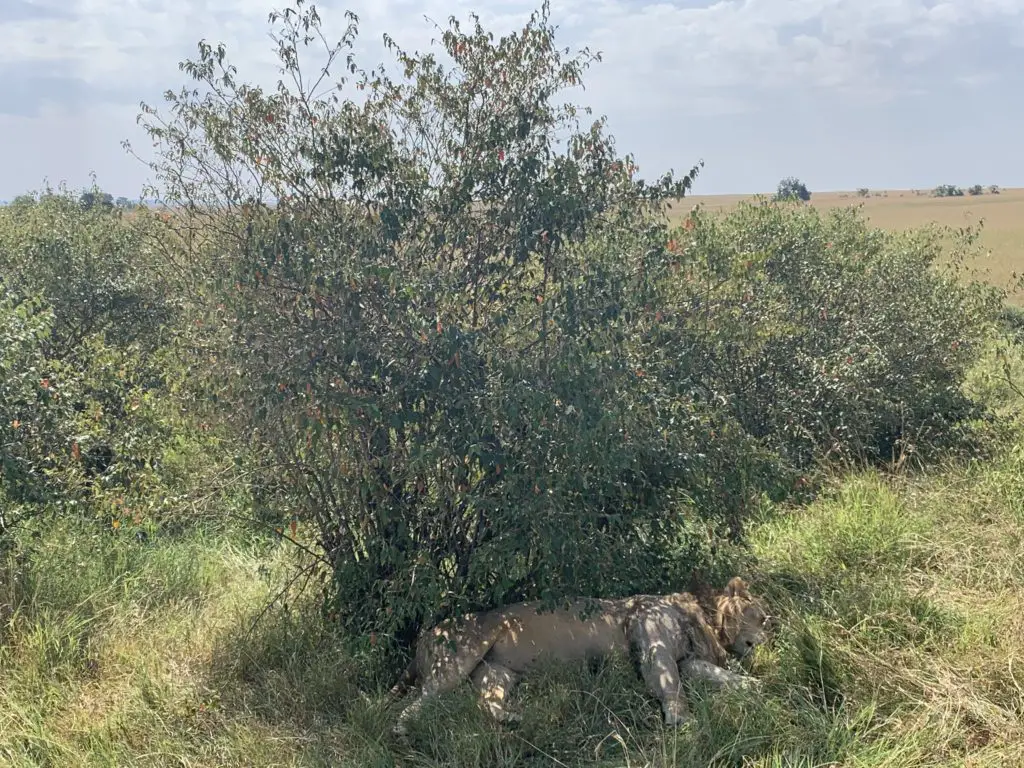 Kenya Safari Lodges – Economy, Standard, & Luxury
There is a big difference between the lodging options. I recommend comfort at the minimum for any traveler expecting American or European style accommodations. If you would like a lodge similar to something like a Hilton or Marriot you really need to select luxury. I didn't mind the older facilities at the comfort or economy properties. But the bathrooms and food offering were lacking in spots. In particular, we stayed at Lake Naivasha Crescent Camp and there were birds and flies regularly hovering over the food.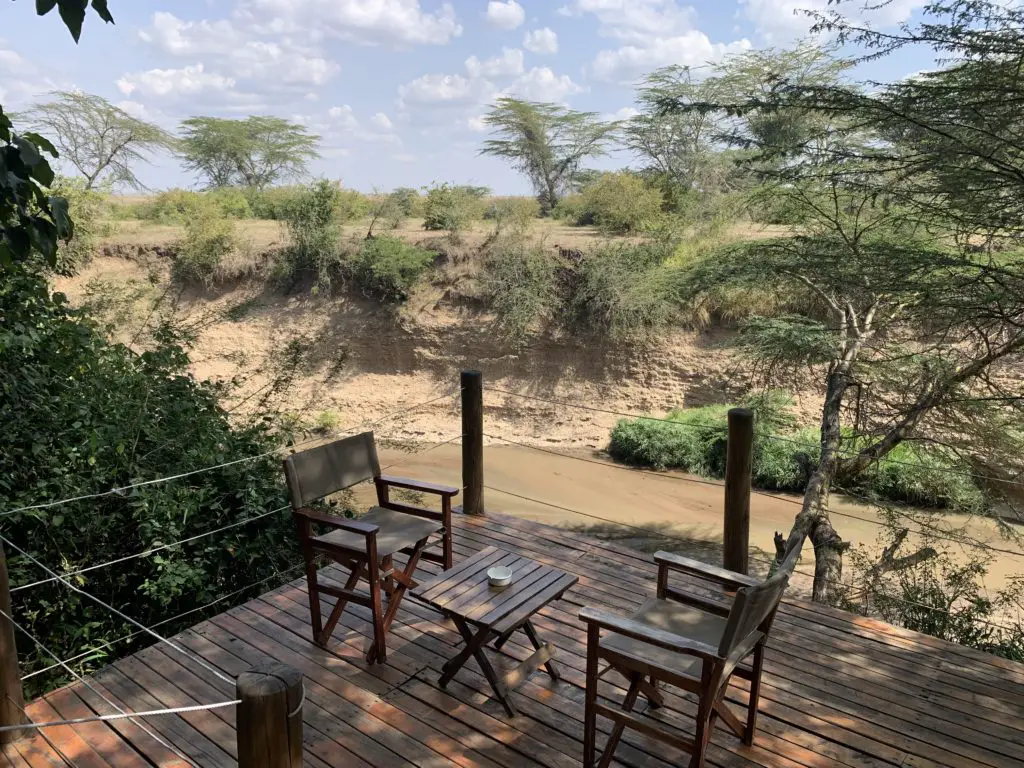 What Is A Safari Food Menu In Kenya?
Overall, the food was pretty good. Again, it will depend on the individual lodge. I really enjoyed the crepes (pancakes) for breakfast and the vegetable soups available for dinner. There is a lot of Indian food options (lentils, samosas, curries, etc.) I got sick early in the trip so I decided to stay away from the meat. But many of the meat options looked good. Beer drinkers can look forward to the local Kenya Tusker Lager beer that is available at pretty much any location. The food is included in the cost of the safari. Please note that you will need to pay for bottled water, beer, and soft drinks.
Related: Hilton Waikoloa Village Review – A Dreamlike Vacation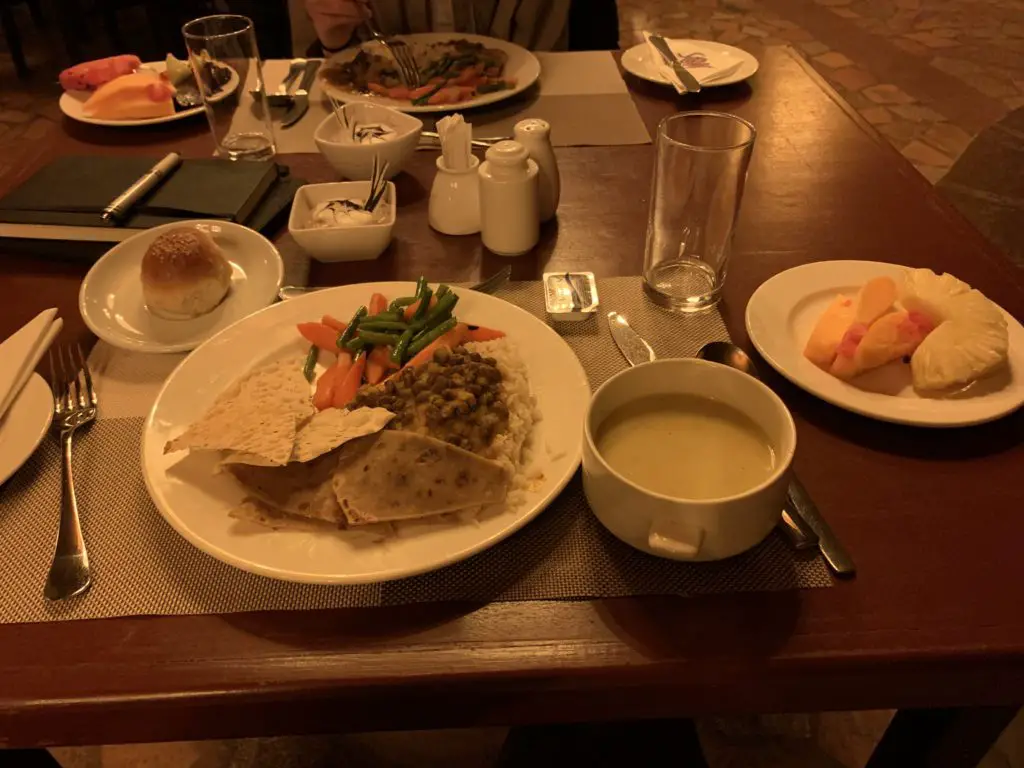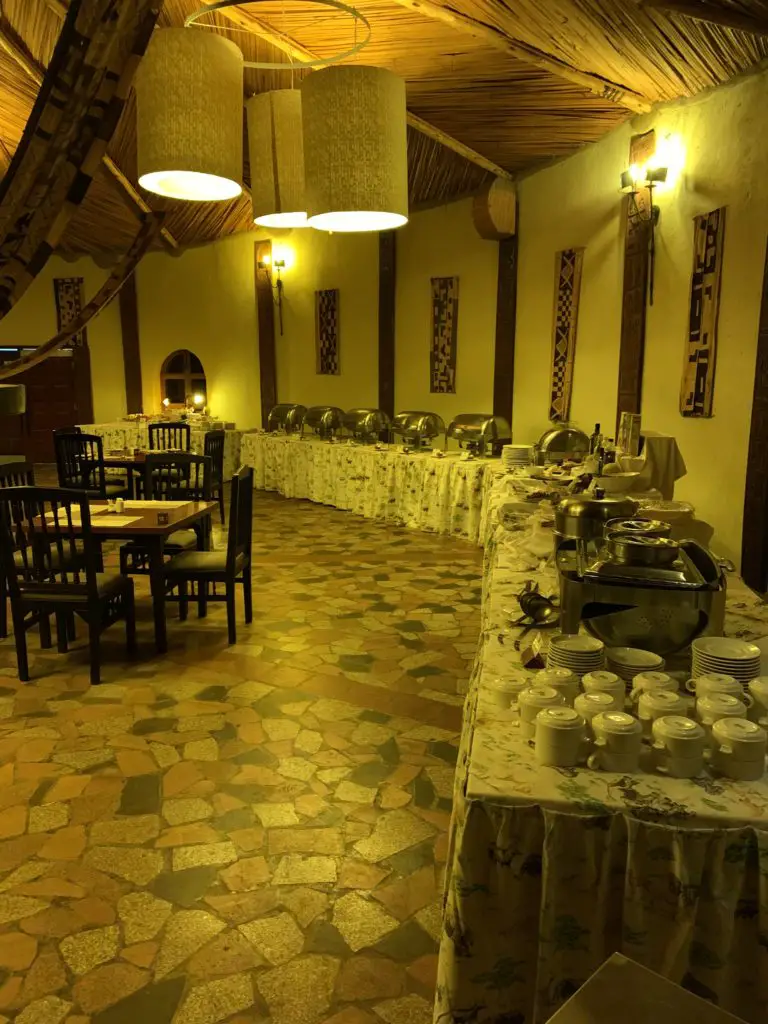 How Much Does A Kenya Safari Cost?
So what is the cost of Kenya safari? Many travelers ask us about recommendations for an affordable Kenya safari. There is not way around it. An African safari is not a cheap vacation. It is an amazing once in a life experience and there is a cost to go along with this. In total, I would budget around $5000-6000 per traveler. This is including flights, hotels, food, the safari, and other activities.
I can ensure you that Natural World Kenya Safaris is the best value tour operator. You will get a high quality experience without overpaying. Here are a couple of recommendations for those looking to do a safari on a budget.
Stay in one country. It is more expensive with itineraries that cross the border into Tanzania or Uganda
Choose the economy lodging option
Skip the hot air balloon and other expensive excursions
Is Kenya Safe For Tourists?
Yes. You just need to be smart. This means paying attention to your surroundings. There is a long standing travel advisory from the US State Department, but this is for specific and strictly non-tourist areas. The safari destinations are warm and hospitable. More broadly, terrorism and political tension has been a problem over the years. You will find strict security at airports and and hotels. If you are in Nairobi, just don't go out after dark.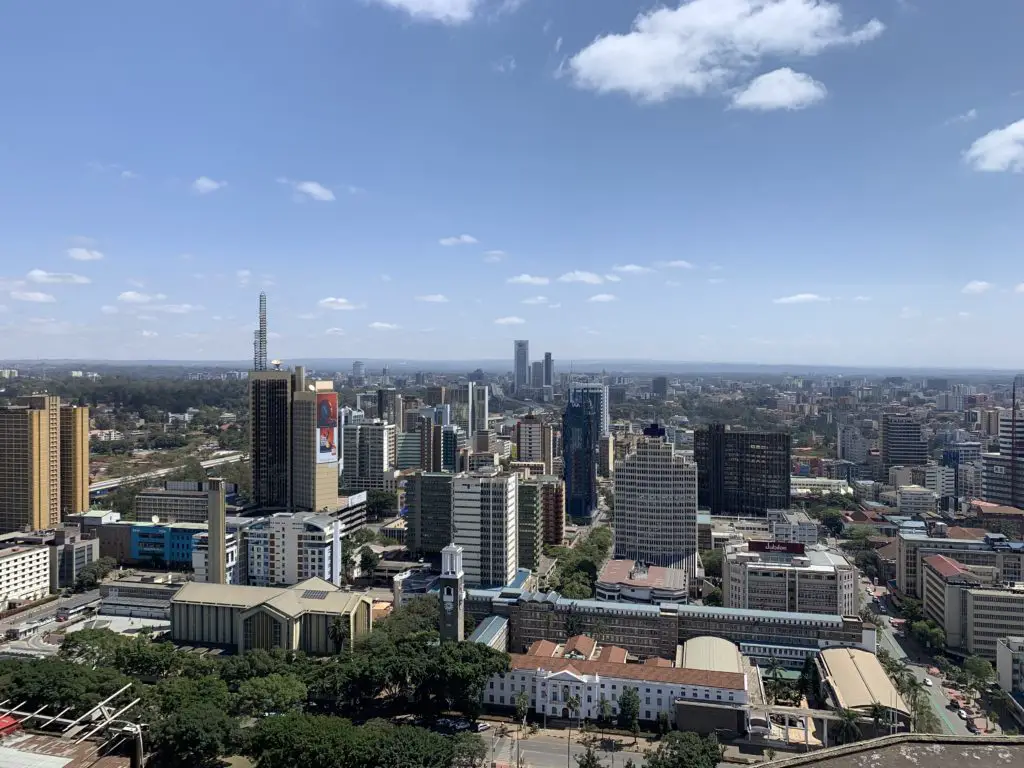 Best Things To Do In Nairobi
Nairobi is the largest and most developed city in Kenya. This is where the main airport is located. Make sure to spend a few days in Nairobi! There are city tours and restaurants safe for western visitors. Go to the top of the Kenyatta International Convention Centre for a great view of the city. If you are interested in learning more about human evolution check out the Nairobi National Museum. Did you know Kenya is the cradle of humankind?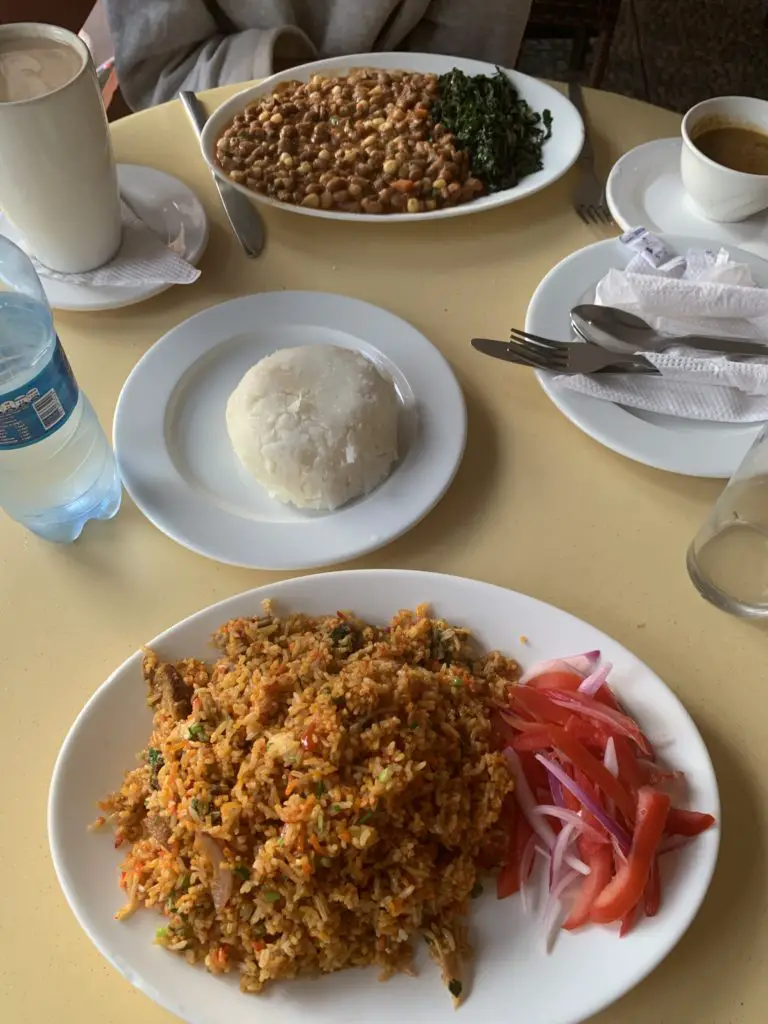 What Should I Bring To A Safari?
Neutral colored t-shirts
Long sleeve lightweight outdoor shirt
Hiking pants
Hiking boots
Anti-malaria medication
Anti-motion sickness medication (bumpy roads everywhere)
Bug spray
Sunscreen
Sunglasses
Portable charger
Power adapter
Should You Tip On A Safari?
Yes, you need to tip on a safari. It is best to tip in Kenyan shillings if possible, but USD is also acceptable. Tipping is not standard in restaurants or bars, but is always appreciated. The most important thing is tip your tour driver. They spend the entire trip with you and even stay at the same lodge. Around $10 per guest, per day is considered customary.
In addition, you should plan to trip your transfer drivers around $5. You will find very eager hotel porters that will want to move your luggage. Unlike, the US it is challenging to decline this service. Hotel porters will expect a tip equivalent to around $1 per item.
Related: Hilton Los Cabos Review – A Perfect Vacation