Hilton Waikiki Beach Review – The Best Hilton In Honolulu
There are a lot of Hilton properties in Honolulu. I have stayed at many of these. The Hilton Waikiki Beach is my favorite. It is conveniently located, it offers panoramic views of the ocean and mountains, it is reasonably priced, and it is next to some of the best food spots in Waikiki. Plus the Hang 10 rooftop bar is a fun place to hang out and unwind. If you are interested in a spectacular Hawaiian vacation read our comprehensive Hilton Waikiki Beach review.
Related: Hilton Waikoloa Village Review – A Dreamlike Vacation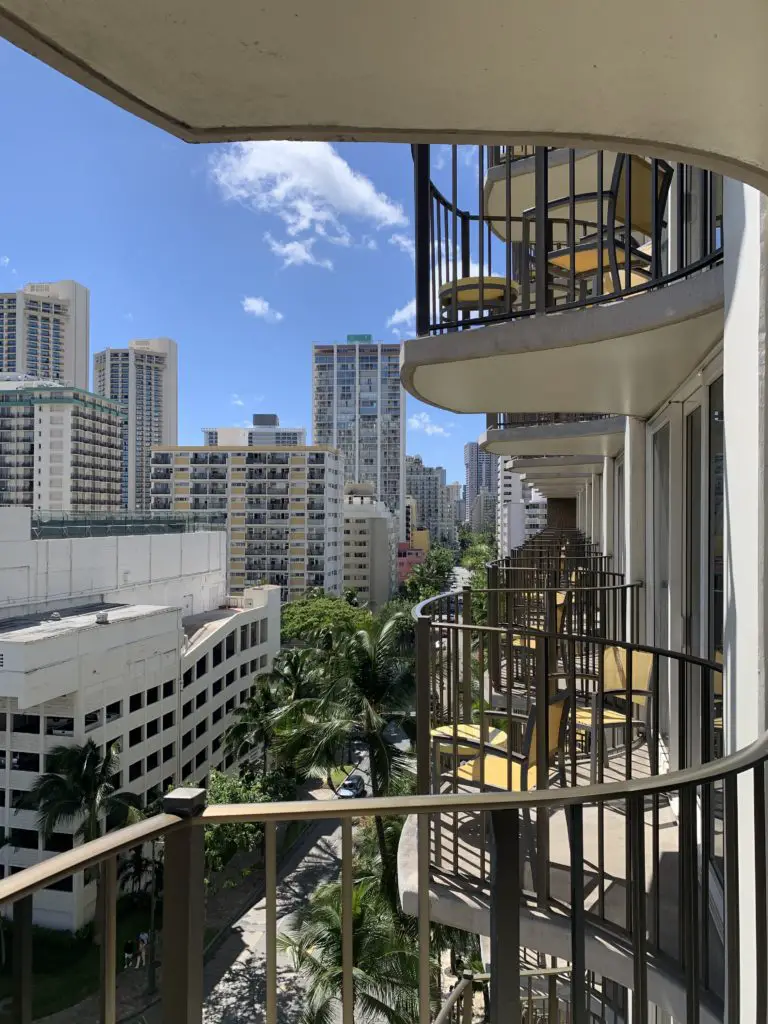 Hilton Properties In O'ahu
Hilton Hawaiian Village
Hilton Garden Inn Waikiki Beach
Hilton Grand Vacations Club – The Grand Islander Waikiki Honolulu
Hilton Grand Vacations Club – Grand Waikikian Honolulu
Embassy Suites By Hilton Waikiki Beach Walk
DoubleTree By Hilton Hotel Alana – Waikiki Beach
Hilton Grand Vacations Club – Hokulani Waikiki Honolulu
Hilton Waikiki Beach Review
As you can see, there are a lot of places to choose from in the Waikiki area. The Off Brand Guy is not interested in overpaying for worthless perks and hype. I want the best value. I am willing to pay for a nice vacation getaway (I use points actually). But I have to get my money's worth.
Related: The Best Hilton Hotels & Resorts
What Is The Hilton Waikiki Beach Address?
The Hilton Waikiki Beach is located at 2500 Kūhiō Ave., Honolulu, HI 96815. It is only blocks from the Waikiki Beach. The Waikiki Beach is one of the most famous beaches in the world and arguably the main destination in Honolulu. It is a gorgeous two mile stretch.
Please note that there are a lot of one way roads in this area. If you are driving, you need to pay attention to make it to the valet parking out front. Make sure to type the full address into Google Maps. There are so many Hilton properties it is easy to get mixed up. Nothing is worse than unpacking only to realize you are at the wrong spot.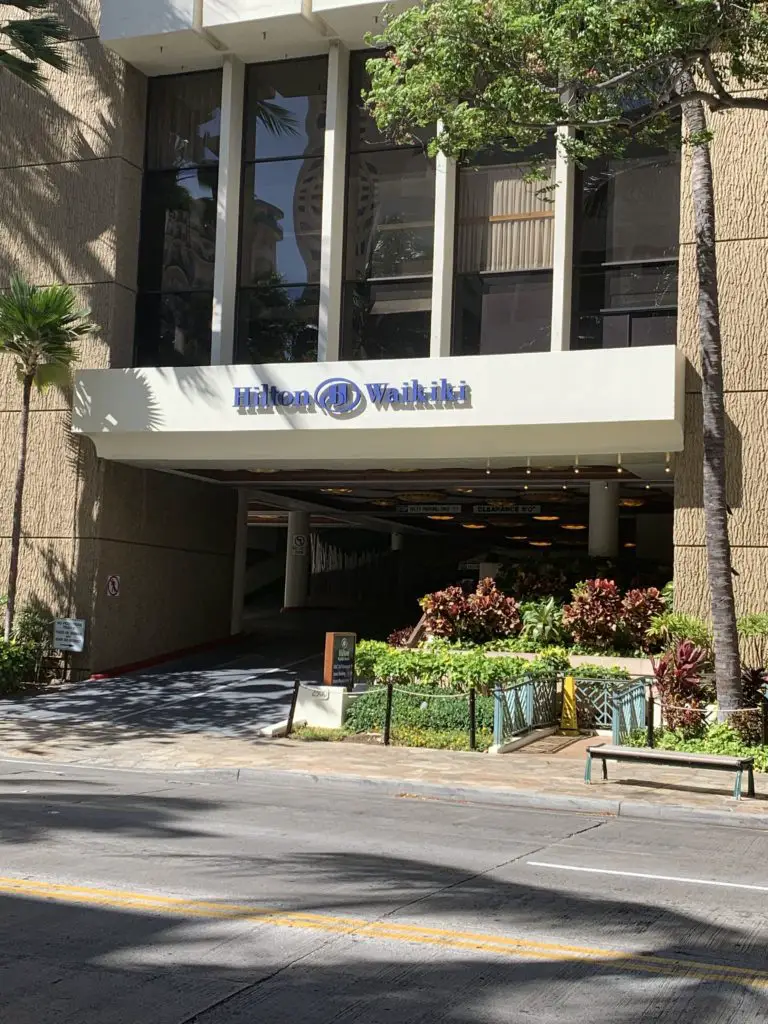 How Far Is The Hilton Waikiki From The Airport?
The property is eight miles from the Daniel K. Inouye International Airport. This holds true for most hotels in the Waikiki area. It is about a 20 minutes for a taxi or rideshare. The traffic can get really bad in Honolulu. On the trip back make sure to take this into account so you don't miss your flight.
Hilton Waikiki Beach Parking
The Hilton Waikiki Beach does offer parking. Valet parking is currently the only option. You should expect to pay around $45 per night. This may seem like a lot but at least it is cheaper than the $60+ rates at the Hilton Hawaiian Village. In general, parking is expensive in the Waikiki area. In theory, you could get away without a car. You could hang at Waikiki Beach and take the Diamond Head Crater hike. But personally, I prefer having a car and getting out of the city. My favorite spot is the nearby peaceful Hanauma Bay.
Related: Hilton Los Cabos Review – A Perfect Vacation
How Far Is The Hilton Waikiki From The Beach?
This is the most important question in my mind for a Hilton Waikiki Beach review. I don't want to travel all the way to Hawaii and then be looking at a parking lot while I drink my coffee each morning. Unfortunately, I tell this story from experience. The good news is the Hilton Waikiki is only about half a mile for the beach.
Hilton Waikiki Beach Ocean View
The hotel offers beautiful ocean view rooms. To be clear, this is an ocean view not an ocean front view. As a Hilton Honors Diamond member, I have always been able to get an upgrade at no cost. Nothing is better than that first moment in the room after arrival. I always look forward to setting my stuff down and spending a few quiet minutes on the balcony.
To be fair, the Waikiki area is busy. It is different than what many people expect from Hawaii. If you want to be at a mega resort with a perfectly manicured property go to Maui or the Big Island. As you can see in the image below, this is a city type of hotel. Waikiki does have beautiful beaches. But really this is an area for people to walk around, swim in the ocean, eat good food, and people watch.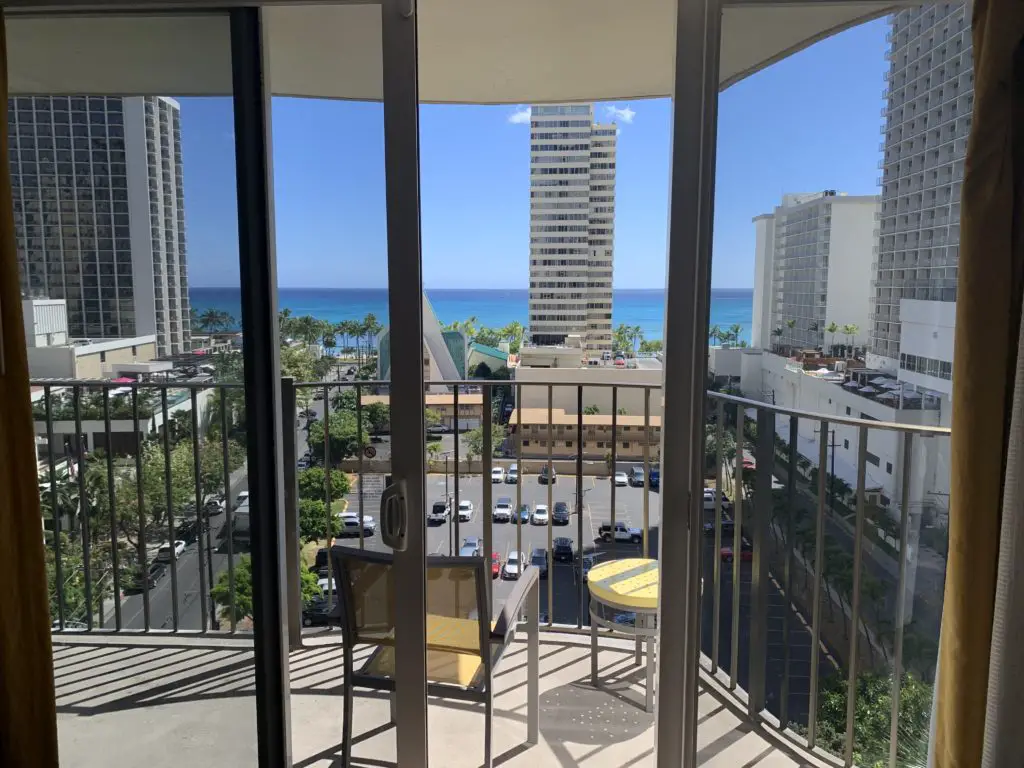 The Best Hilton Hotels In Hawaii For Award Travelers
Many readers are surprised to learn than such a frugal focused guy could take such luxury vacations. Here is the key. The Off Brand Guy is all about value. The prices for some of these Hawaii hotels can be outrageous. Sometimes I look around and wonder who is actually paying the going rate. I mean vacations are fun. But at a certain point a family trip is not worth 10-20k. Currently, the rate is about $250 per night or 60,000 Hilton Honors points. That is not bad for a premium destination. Another benefits of using points is you don't have to pay the resort fees. As this adds on another $35 to the bill.
Hilton Waikiki Tripadvisor
So what do other guests on Tripadvisor have to say? Overall, it gets four out of five stars which is very good.
Pros
Every room offers a balcony
There is a conveniently located ABC store across the street
Good location
Clean laundry facility
$18 food credit as a Hilton Diamond member benefit
Good for those traveling on business
Cons
Resort fee seems unnecessary
Currently, there is no daily housekeeping
Waikiki beach is dirty and packed
The pool is small
There is no executive lounge for Hilton Honor members
Hang 10 Pool Bar
Food is an important part of our Hilton Waikiki Beach review. Hawaii is a place you go to relax. This means you want to eat and drink well. Hang 10 is the rooftop bar on the 10th floor of the Hilton. It offers both food and drinks. In my opinion, this is best for a beer and fries or that sort of thing. Save your appetite for the local Honolulu restaurants.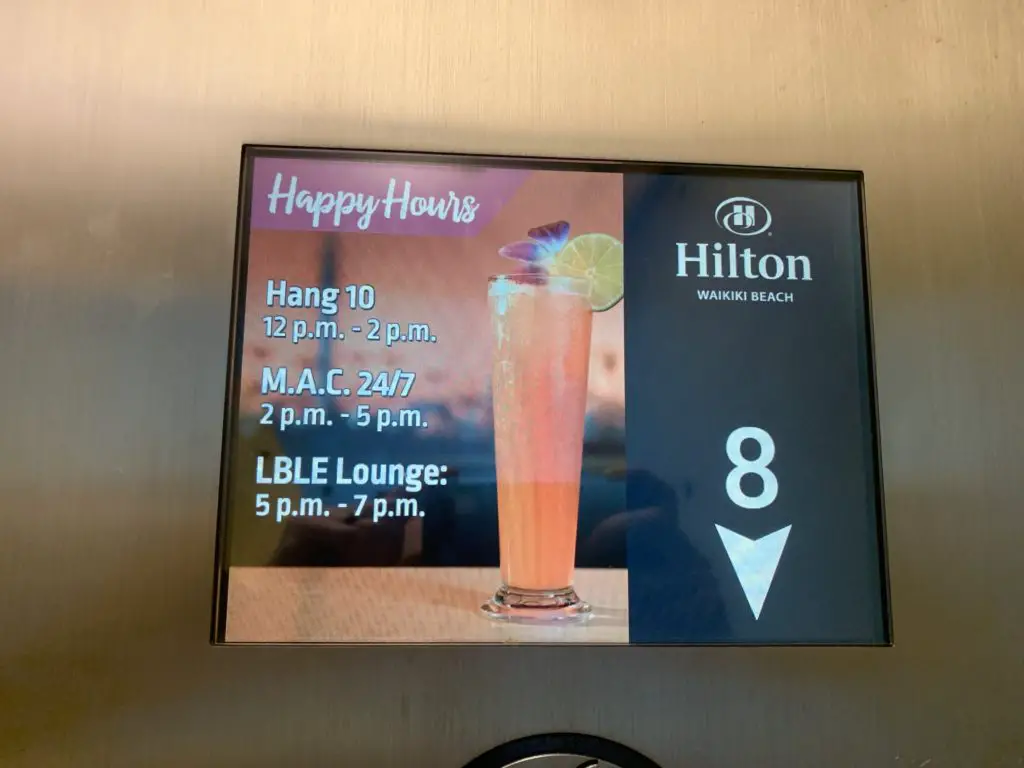 M.A.C 24/7 Waikiki
The M.A.C 24/7 is an upscale diner located within the Hilton Waikiki Beach. This is a famous location for modern American cuisine. It is a convenient spot to eat breakfast while staying at the Hilton. Did you know it has been featured on TV multiple times for their pancake challenge?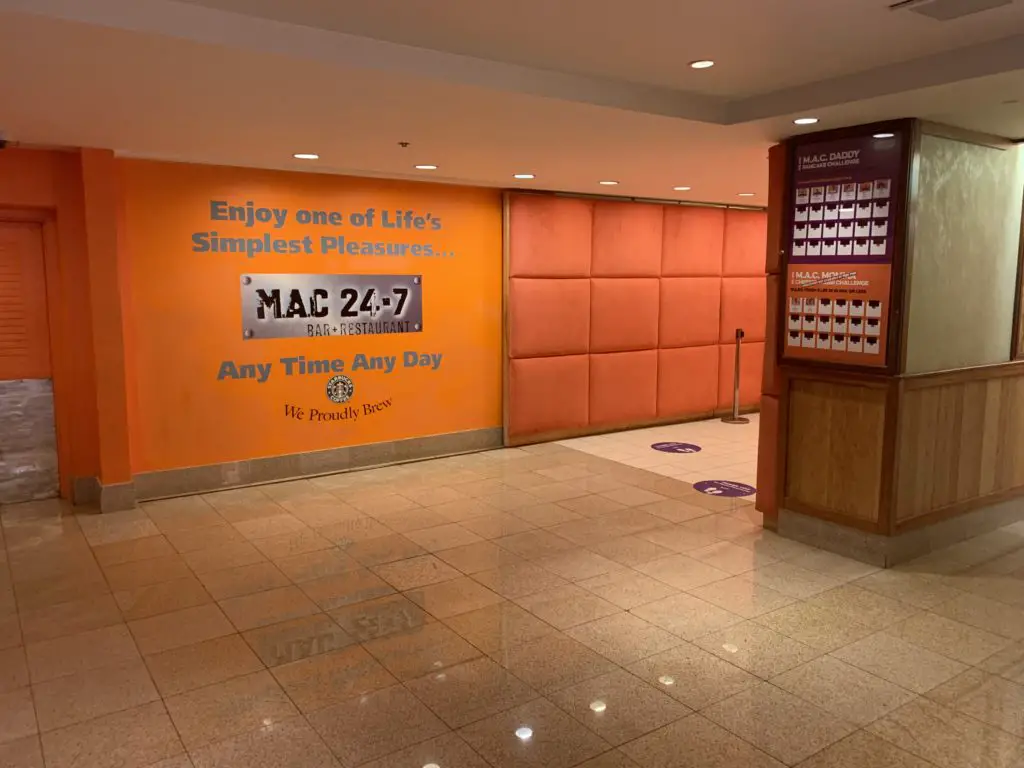 Sansei Seafood Restaurant & Sushi Bar- Best Sushi Waikiki
If you are going to Hawaii you have to eat some good seafood. I always make sure to have some sushi, poke, and coconut crusted halibut while on vacation. There are many good restaurants within walking distance of the Hilton Waikiki beach. I recommend Sansei Seafood for sushi. It is located within the Marriot hotel down the street. If you get there right at 530pm for the opening, you can beat the lines.
In addition, you have to make it by the Maguro Spot for a poke bowl. This is a take away type of place. I always grab a tuna and marlin bowl with brown rice and spicy mayo sauce. Don't forget the avocado and cucumber. After getting your poke bowl you can head down the street and enjoy a beach view while eating.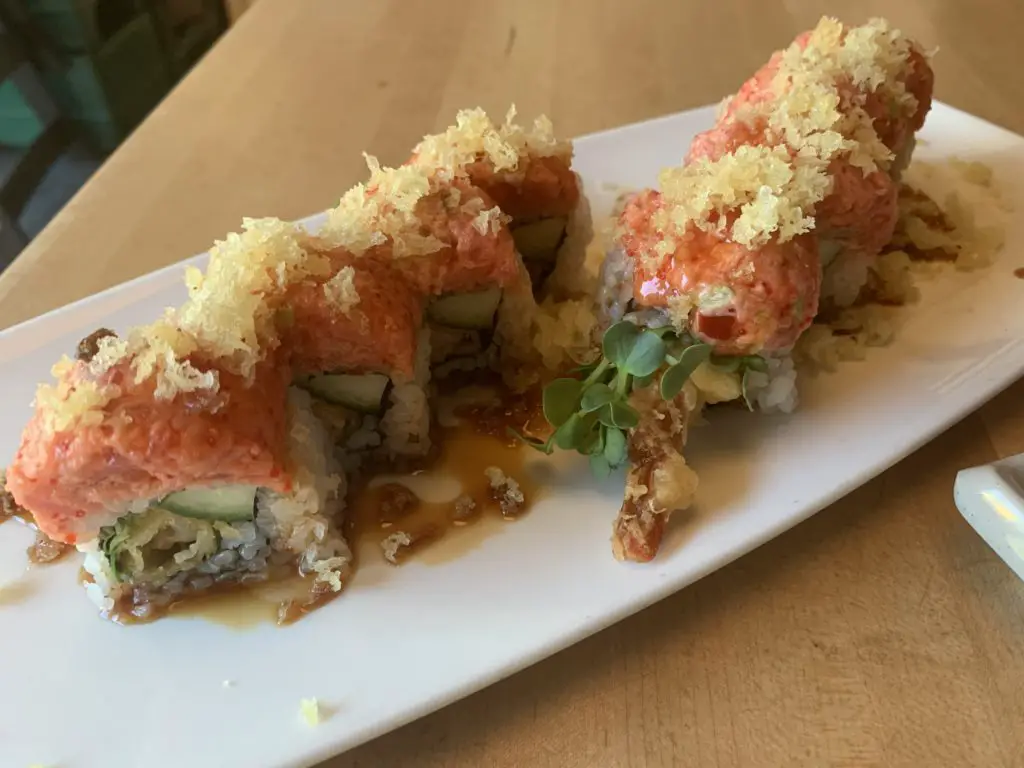 Walking Distance From Hula Dog
The Hula Dog is a famous food cart located only a few blocks from the Hilton. Get ready for the Hawaiian hot dog experience. According to the Hula Dog, "the sweet essence of local fruits is combined with the mellow warmth of our garlic, lemon sauces to contrast with the savory taste of a polish sausage". What makes these so special is the tropical relishes including mango, papaya, star fruit, pineapple, banana, and coconut.
Diamond Head Crater Hike
Last but not least, is the legendary Diamond Header Crater hike. This makes an excellent run for those outdoorsy Off Brand Guy readers. I have made this trek many times from the Hilton Waikiki. It is about two and half miles each way. But it is so worth it. Make sure to make reservations if you want to take the trail to the summit. But look at the view I was able to get without even climbing the trail!