Hilton Garden Inn Nairobi Review – Explore Kenya
Kenya is an amazing place to visit. You may be surprised to learn there are multiple Hilton properties in this beautiful country. On my recent trip I stayed at two of these properties. The Hilton Nairobi and the Hilton Garden Inn Nairobi Airport. While I would love to do a deep dive on the Hilton Nairobi, I am sad to inform you that this flagship location will be closing at the end of 2022. Therefore, lets jump in to our Hilton Garden Inn Nairobi Airport review.
Related: Natural World Kenya Safaris – The Adventure Of A Lifetime
Hilton Hotels In Kenya
Hilton Nairobi
DoubleTree By Hilton Nairobi Hurlingham
Hilton Garden Inn Nairobi Airport
Hilton Garden Inn Nairobi Airport Review
Airport hotels are an interesting thing. They are focused more on convenience than anything else. In my experience, they are never as glamorous as the downtown properties. They are simply somewhere to get in and out of. After about fifteen days in Kenya I was ready to go home. I booked a night at the Hilton Garden Inn Nairobi Airport for the last night of my stay. My flight home (actually it was four flights) left at 4:30am. I needed somewhere to get a few hours of sleep before heading to the airport.
This hotel was just what I needed. It was brand new and sparkly. I loved the recently constructed Hilton Garden Inn Nairobi. After staying in old lodges for a couple weeks it was refreshing to be back at at a Hilton. We grabbed dinner at the Great Grill American restaurant and got some sleep.
It is important to note that there is a high quality grocery store (Naivas Supermarket-Airport View) and pharmacy within walking distance. It is a safe walk for tourists and travelers that want to stock up on food before their flight.
Related: Hilton Waikiki Beach Review – The Best Hilton In Honolulu
Hilton Garden Inn Nairobi Email Address
It always surprises me how challenging it can be to find the email address for hotels. This is now true for airline customer service as well. Maybe they are trying to avoid spam? Maybe they prefer to have customers call on the phone? It drives me crazy. The email address for the Hilton Garden Inn in Nairobi is reservations@hginairobi.co.ke. This is useful if you are trying to book an airport shuttle.
Jomo Kenyatta International Airport Shuttle
The Hilton Garden Inn does offer a free airport shuttle. Plus, I found them to be very responsive in helping me schedule the transfer. The hotel is only about a five minute drive from the airport.
Great American Grill Restaurant
A Hilton Garden Inn Nairobi review would not be complete without a look at the food. We were starving by the time we arrived back at the hotel. We had ended our trip in Mombasa and were coming back to Nairobi to fly home. The first thing we did was head down to lobby to find the Great American Grill. They were out of the first few dishes I tried to order. Instead, I settled on the tomato sauce based vegetarian dish pictured below. It came out steaming hot and delicious.
Hilton Garden Inn Nairobi Airport Restaurant
The hotel also offers a buffet for breakfast and lunch. The price for lunch was $25 USD so we skipped over this. I do have to say the food looked pretty good. In my experience, the buffet style meals at Hilton properties are usually overpriced. It is more cost effect to order single entrees from the menu.
Hilton Diamond members will be happy to learn that the breakfast buffet is complimentary. Look at the amazing fruit options available!
Related: Hilton Waikoloa Village Review – A Dreamlike Vacation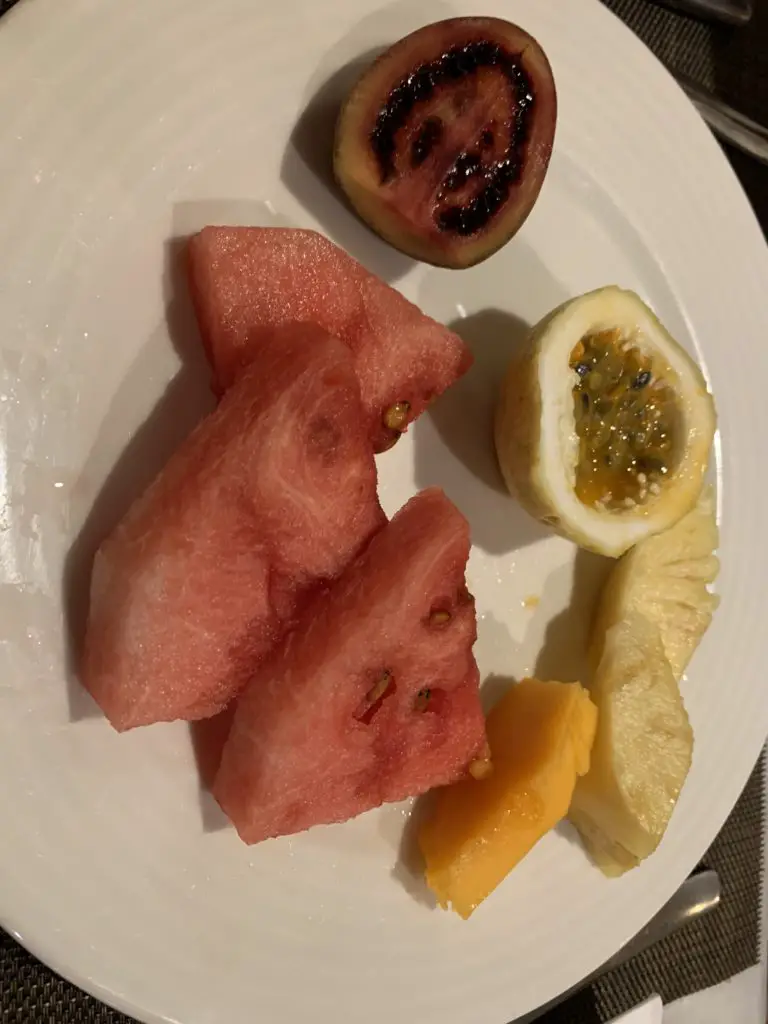 Hilton Hotel Nairobi
The Hilton Nairobi is the flagship, downtown location. I would definitely be reviewing this property if it wasn't closing in six months. The location is perfect. It is in Nairobi's central business district. This is within blocks of the Kenyatta International Convention Centre and the Masai Market. It is great central point for pick up and drop offs from tours.
I stayed here four nights and had an excellent experience. The staff did everything possible to make us feel safe and welcome. If you check out the TripAdivsor reviews you will see that the security is top notch. I fell in love with the free beer offerings in the executive lounge. Less and less hotels seem to have lounges these days. It is probably my favorite perk included as a Hilton Honors Diamond member.
When Was The Hilton Nairobi Built?
The Hilton Hotel Nairobi was built in 1969 and last renovated in 1997. Everyone in Nairobi was familiar with the location of this property. It is sort of a a historic building. It was officially opened by Mzee Jomo Kenyatta the first President of the republic of Kenya. It was the tallest building in Kenya at the time. It is rumored that this is the first Hilton hotel to introduce the executive lounge for Hilton Honors members. Pretty cool!
Is Hilton Hotel Nairobi Closed?
Unfortunately, it has been announced that the hotel will be closing its doors at the end of December 2022. This was shocking news for many Kenyans that viewed this as a prestigious hotel. In terms of ownership, the Hilton Group of Hotels has a majority share of 59.42% and the Kenyan Tourist Development Corporation owns the remainder. The Kenyan Tourist Development Corporation is a government entity.
Kilimanjaro Jamia Nairobi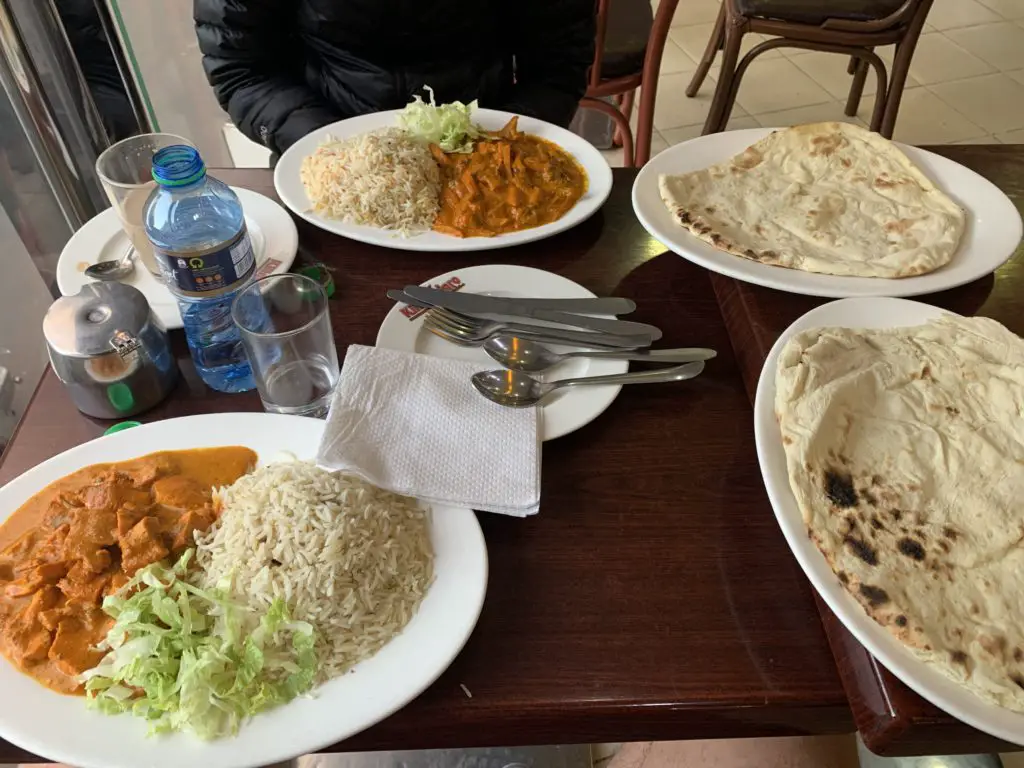 You have to try some Kenyan dishes and Indian food while visiting. I ate a lot of biryani while in Kenya. Kilimanjaro Jamia is a popular restaurant in downtown Nairobi that is safe for tourist to dine at. Kilimanjaro Jamia offers Muslim, Indian, and Somali dishes. The food is amazing and price was just right. I believe the full meal pictured above was around $15! They also have pizza for those unwilling to try something new. Guests love the big portion sizes. And they accept credit card!