Equate Pain Relieving Cream Vs. Icy Hot
Nothing makes a day drag on like a back or neck pain. In 2020 more than ever, people are spending more of the day sitting in a chair. A sedentary work day takes it tools on the lower back. And staring at a computer screen all day can strain the neck. Equate Pain Relieving Cream is an easy way to get some immediate relief.
Equate Cool & Heat Pain Relieving Cream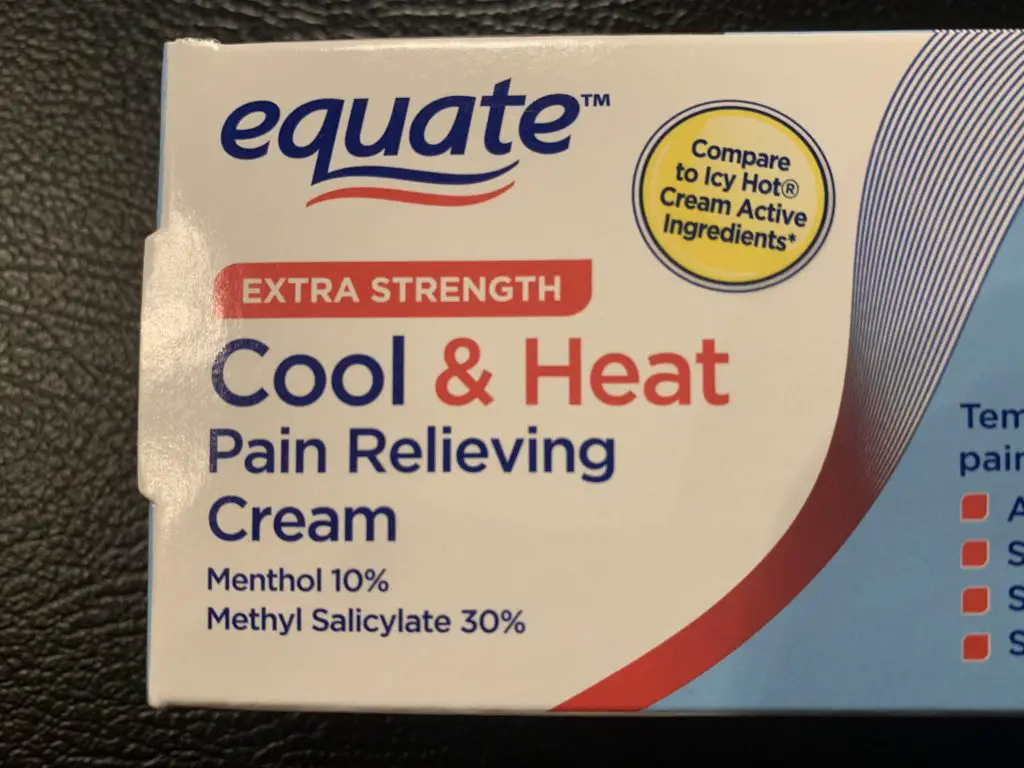 As indicated on the packaging, Equate Cool & Heat Pain Relieving Cream provides temporary relief of pain from arthritis, simple backache, sore muscles and sprains and strains. I use it mostly on my lower back and neck. I play a lot of guitar. My neck gets strained from sitting in a chair and looking down at the fretboard. Sometimes it gets to a point where it takes the fun out of guitar. A quick application of Equate Cool & Heat Pain Relieving Cream gets me back on track.
Icy Hot Uses
Icy Hot For Back Pain
Icy Hot For Neck Pain
Icy Hot For Knee Pain
Icy Hot For Shoulder
Icy Hot For Cramps
Equate Cool & Heat Pain Relieving Cream is the off brand version of the name brand product Icy Hot Pain Relieving Cream.  This a topical analgesic heat rub is also known by the name Bengay. Did you know it was first brought to America in 1898?
Icy Hot Cream Walmart
The smell of the Walmart knock off is wonderful. (Click here to read more about what is an off brand product). It is that classic menthol smell that defines the name brand. I can't tell the difference. All I can tell is that I saved $2-3 (or half the cost of the product) by getting the Walmart generic. The cream itself is white, and the color will disappear as it is rubbed into the skin.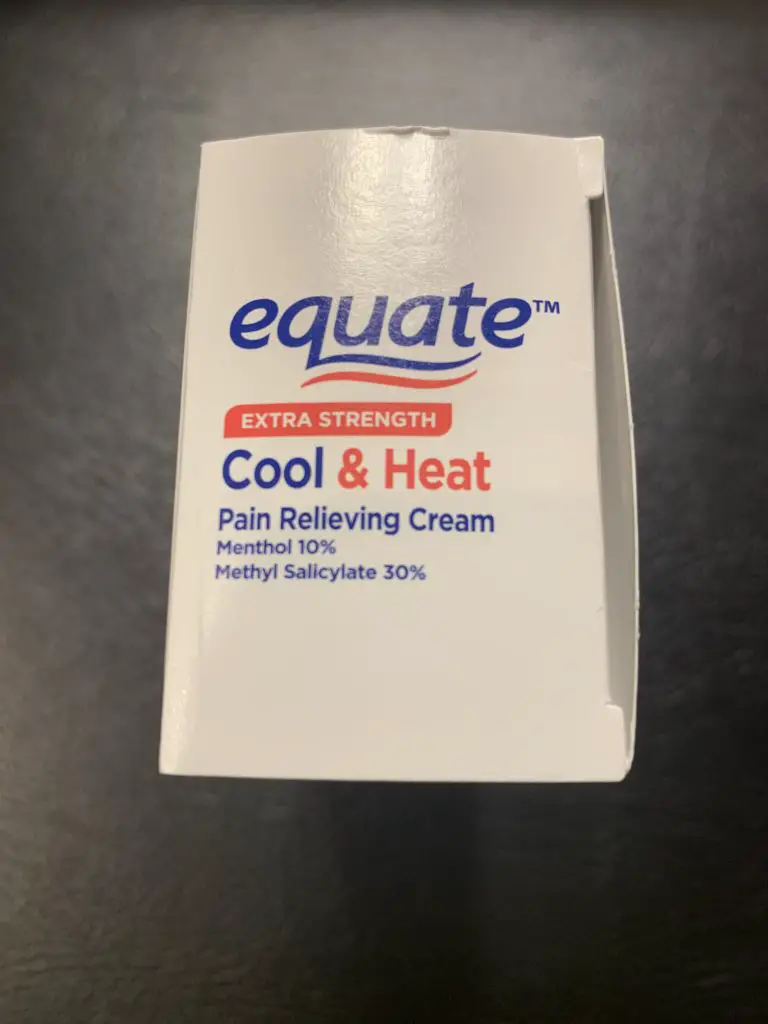 Icy Hot Products
Icy Hot Cream
Icy Hot Gel
Icy Hot Pads
Icy Hot Patch
Icy Hot Spray
Equate Muscle Rub
Due to the success of Icy Hot the market has exploded with alternative products that allow you to apply menthol and methyl salicylate in a variety of different formats. This includes patches, sprays, and balms. In my opinion nothing beats the classic. I prefer the ability to really rub the product into the sore area. I feel that this really works the active ingredients into the tissue. Yes, you have to watch your hands after applying. But is a spray really that much more convenient?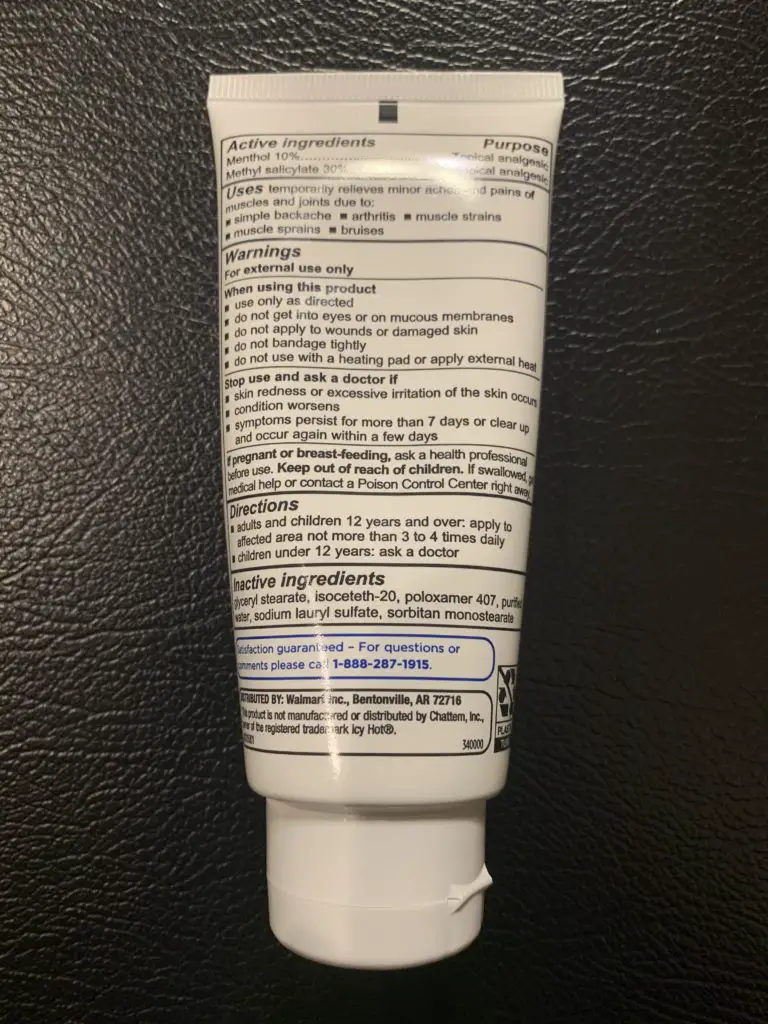 Sensation Of Icy Hot Cream
There is a reason it is called Icy Hot. Once applied the active ingredients create a cool tingling sensation, then a sense of warmth. To me this is what helps distract from the soreness or pain. The pain relief brought by changing the temperature puts Icy Hot and Equate Pain Relieving Cream in the category of counter-irritants. It is a soothing feeling, and acutely noticeable. Also, the effect is immediate.
Buy Icy Hot & Equate Pain Relieving Cream