Taking Control of Odor: Right Guard Xtreme Review
I use to be the type of person that would try a different deodorant every time I ran out. I didn't really know what exactly I was looking for. I would carefully browse the men's deodorant aisle and mull over every option. Did I want Speedstick, or Axe, and what about Arm & Hammer? That was a classic, right? Most of the time I would end up getting a two pack of Speedstick. Mostly because it was cheap and it was something I was familiar with. I saw other more high profile deodorant options but didn't know if they would make a difference. Then I stumbled upon Right Guard Xtreme for men. This is the brand I plan to use for the foreseeable future. Let's take a look at why this makes the list as one of the best men's deodorant products.
Disclosure: Some of the links on this site are affiliate links, meaning, at no additional cost to you, I will earn a commission if you click through and make a purchase. This allows me to buy more off-brand products for future reviews.
Need a Sweat Proof Undershirt? – Click here to save 10% on Office Undershirt products by using this special Off Brand Guy link or use the coupon code "theoffbrandguy".
Elevating Your Odor Protection Game: Right Guard Deodorant For Men
Active Ingredients – Right Guard Xtreme Defense For Men
We start our Right Guard Xtreme review by digging into the ingredients. Aluminum is the classic active ingredients in most antiperspirant products. Depending on the brand it falls in the 10-20% range. While there is controversy around the health impacts of aluminum, it is the important ingredient. You will notice most of the healthy or "natural" deodorants do not contain aluminum. That is all fine and well, but most of these products do not work either.
Aluminum Zirconium Octachlorohydrex GLY 16.4%
Inactive Ingredients – Right Guard Xtreme Defense For Men
Aqua (water)
Alcohol denat
Cyclomethicone
Dimethicone
Propylene Glycol
Calcium Chloride
And the list goes on….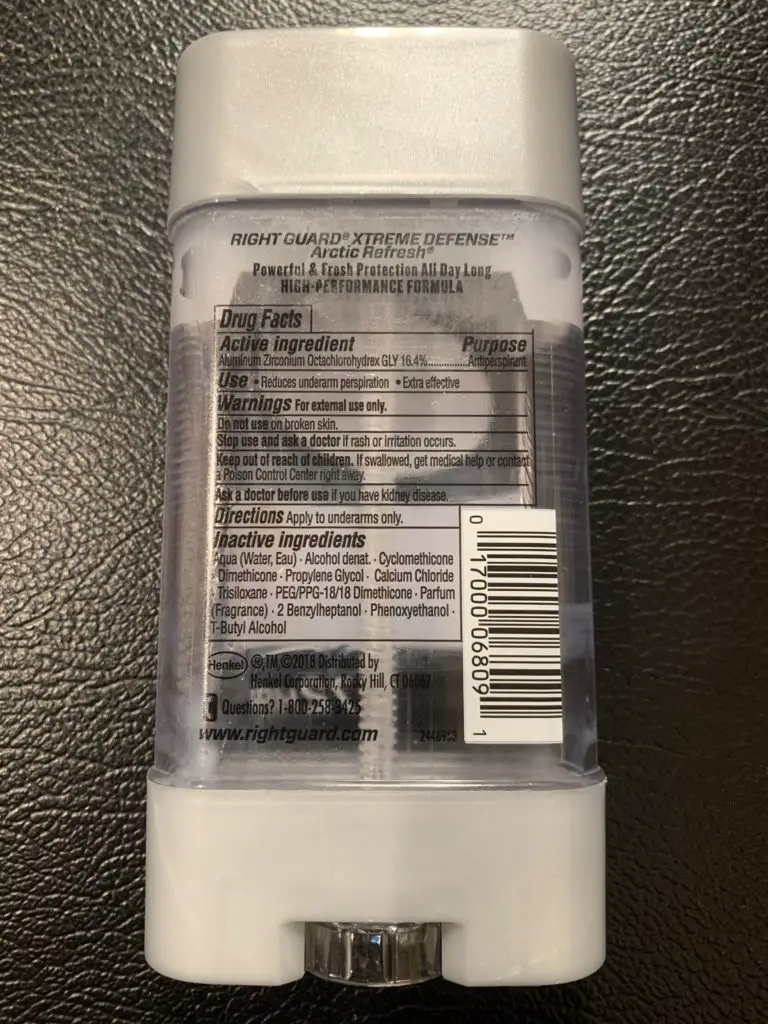 Right Guard Arctic Refresh Review
I am confident to state that Right Guard Arctic Refresh is one of the top men's deodorants. According to the packaging it is powerful, offering fresh protection all day. Also, it offers a high performance formula, whatever that means. The deodorant claims to provide up to 72 hours of odor protection. I really do wonder how that is tested? Who is applying the stuff and then not showering for 72 hours? If that is the case, I can almost guarantee you will not smell good.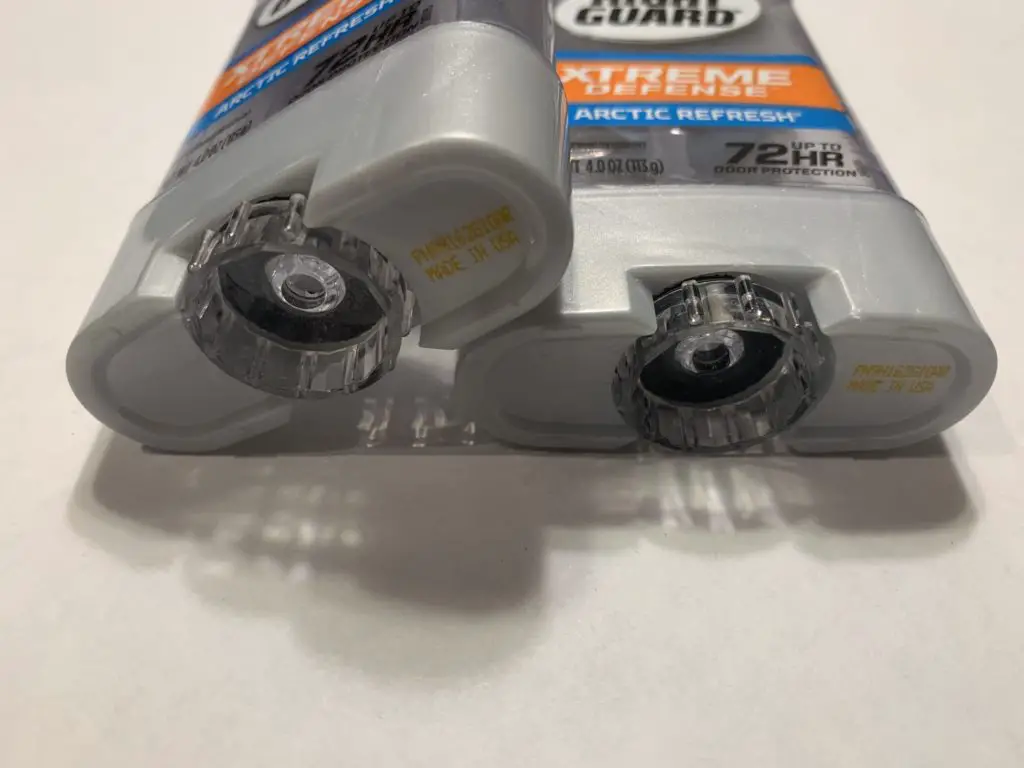 Looking For A Right Guard Coupon Code?
I don't use coupons for deodorant. But I do make an effort to only buy from specific stores. Walmart and Amazon top the list. If you do it right and buy a multi quantity pack the price for Right Guard products can get down to around $2. There is no need to pay up to $6 for Axe deodorant and some of these other overpriced products. You are only paying for marketing.
Unleash Your Confidence With The Best Smelling Deodorant For Men
This is the Right Guard Xtreme for men advertising slogan:
No Stains
No Sweat
No Odor
To be honest, I still have some sweat regardless of which deodorant product I use. And on a really hot day, or after exercising probably some odor too. But the one thing I never have issues with is staining!
Also, I have grown to appreciate the smell of Right Guard Arctic Refresh. It is described as modern fragrance blend of marine notes with melon and natural greenery. At this point is is familiar. It doesn't smell as good as my cologne (Check out my article on Dollar Tree cologne), but I like it. I will put it this way, after you get your first whiff, you qill understand why it is called Arctic Refresh.
Does Right Guard Have Aluminum In It?
Regardless of price, I believe Right Guard Xtreme Defense to be the most effective product. First off 16.4% is a solid amount of aluminum. While the clinical strength products offer up to 20%, I do not notice any difference in sweat reduction or performance.
Next and of equal importance, is the clear or see through application. Right Guard goes on clear. This may not seem like a big deal in the moment, but it influences how the products appears on clothing. I have had nice dress shirts and polos ruined by staining with other deodorant brands. I have never had this issue with Right Guard. Clear application is key.
Lastly, being the Off Brand Guy, the internet's premier resource on off brand and store brand products, I have to mention the price. Not only are the results superior, but the price is good.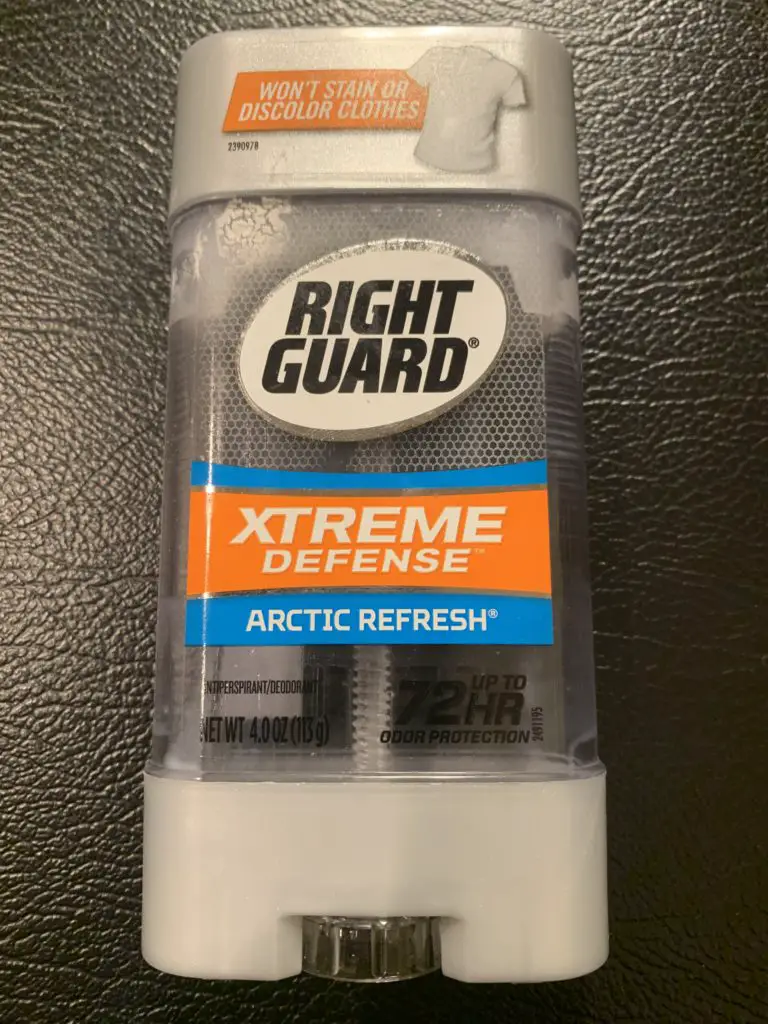 Best Deodorant For Men Reddit
Reddit is a great place to track down information such as the best deodorant for men. Because something like this is found by trial and error. And anyone willing to take the time to trial a bunch of deodorant products and then write up about their experience is probably insane enough to be trusted.
The Great Men's Deodorant Stick Debate: Gel Vs. Solid
Here are the products I have purchased and tried in search for the top deodorant for men:
Speedstick
Arm & Hammer
Axe
Right Guard
Equate Clinical Strength
Okay, so a Right Guard Xtreme review wouldn't be complete without talking about the gel versus solid debate. The Arctic Refresh product is a gel based deodorant. Right Guard also offers solid stick deodorants that are clear or invisible in application. It is really a personal preference. I prefer the gel based product. It is a little more liquid like and can be smeared around the arm pit on application. This way I know it is thoroughly applied.
The gel consistency allows for smooth application and even coverage on the skin without leaving residue or clumps. This can be particularly important for individuals who wear dark or delicate fabrics. Also, gel-based deodorants contain ingredients that help to keep the underarm area dry. This can be beneficial for people who perspire heavily or engage in physical activities, as it can help reduce moisture and prevent discomfort or chafing.
Ready For A Laugh? – Right Guard 5 In 1