Knockoff Girl Scout Cookies – Save 75%
This is a controversial topic. For years the Girl Scout organization has raised money by selling their signature cookies. Yes, in the scheme of things they were over priced. But it went towards a good cause. Well now Walmart has recreated these amazing chocolate, caramel, and coconut cookies for a fraction of the cost. In this article, we cover the world of knockoff girl scout cookies.
Lately, I have had a sweet tooth. Click here to read my article on off brand Oreos.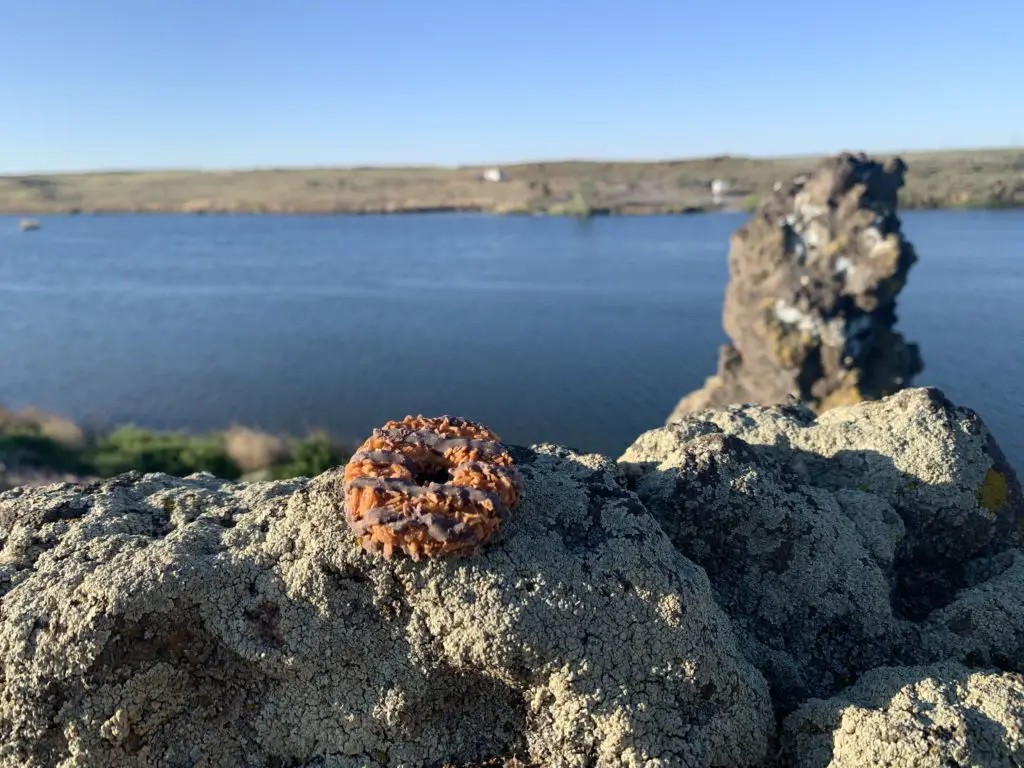 Samoas Vs Caramel Delites
Believe it or not these are actually two different types of cookies. Caramel deLites are more cookie than caramel, and the chocolate is milkier. Samoas on the other hand have more caramel, darker chocolate, and more toasted coconut.
I want to say the Walmart version is closer to the Caramel deLites. This is because the fudge is so creamy and milkly. At the same time the Walmart knock off provides plenty of coconut. Or maybe it more accurate to say that the Walmart version is meant to fall somewhere in between the two. Either way, I can say with confidence that the Walmart version is chocolatey and covered with yummy coconut flavor.
For those of you who are serious about this topic, check out the Girl Scout Cookie visual comparison from the Los Angeles Times.
Walmart Girl Scout Cookies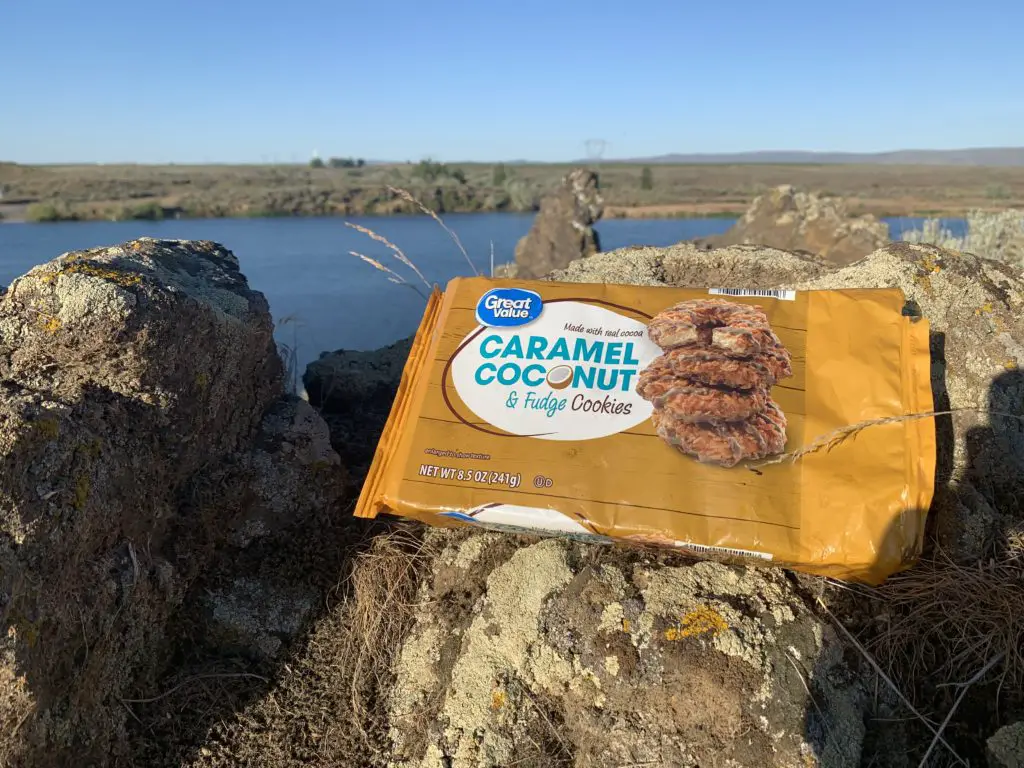 I like how the knock off version has a way more straightforward name. The names of the Girl Scout cookies are so sophisticated I don't even know what I am getting. With the Walmart version it is pretty clear, a cookie covered with fudge and coconut.
For the price, the taste is great. I ate these while camping and I do have to say the melt pretty quickly in the heat. But the fudge was amazing. If you told me these were the real thing, I wouldn't have known any different.
After careful analysis, I am able to make one distinction. I believe the flavor profile is more subtle with the real cookies. The Walmart cookies are extremely sweet. Maybe even too much so! This is typical of off brand products sometime.
Off Brand Girl Scout Cookies
The price for the Great Value Girl Scout Cookies is unbelievable. I picked up an 8.5 oz package for only $1.38. That is correct you can get 4 boxes of these for same price as the real Girl Scout Cookies. You may not be helping a good cause. But you definitely will be saving money! Even better is the box size of 8.5 oz is larger than the Girl Scout's 7 oz box. Now, that is some savings.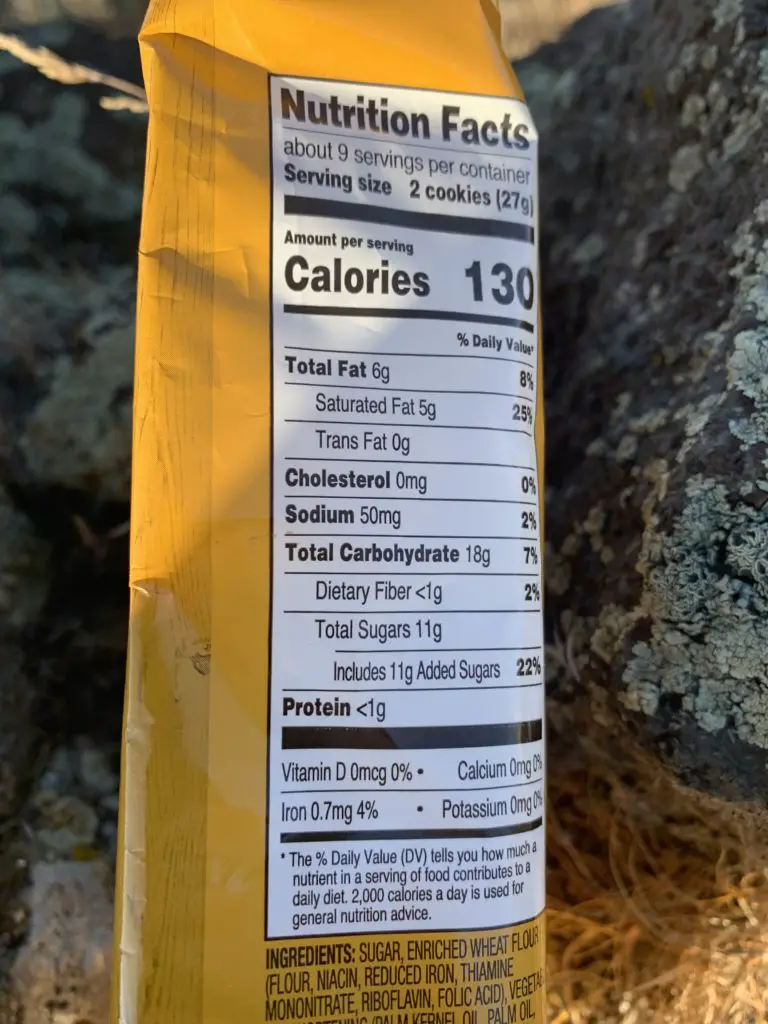 Dollar General Girl Scout Cookies
It gets even better. You can pick up Girl Scout cookie rip offs at Dollar General. The brand is Clover Valley. Not only can you find something that tastes like Samoas. But they offer the fudge mint and peanut butter flavors as well.
Q&A – Caramel Coconut Girl Scout Cookies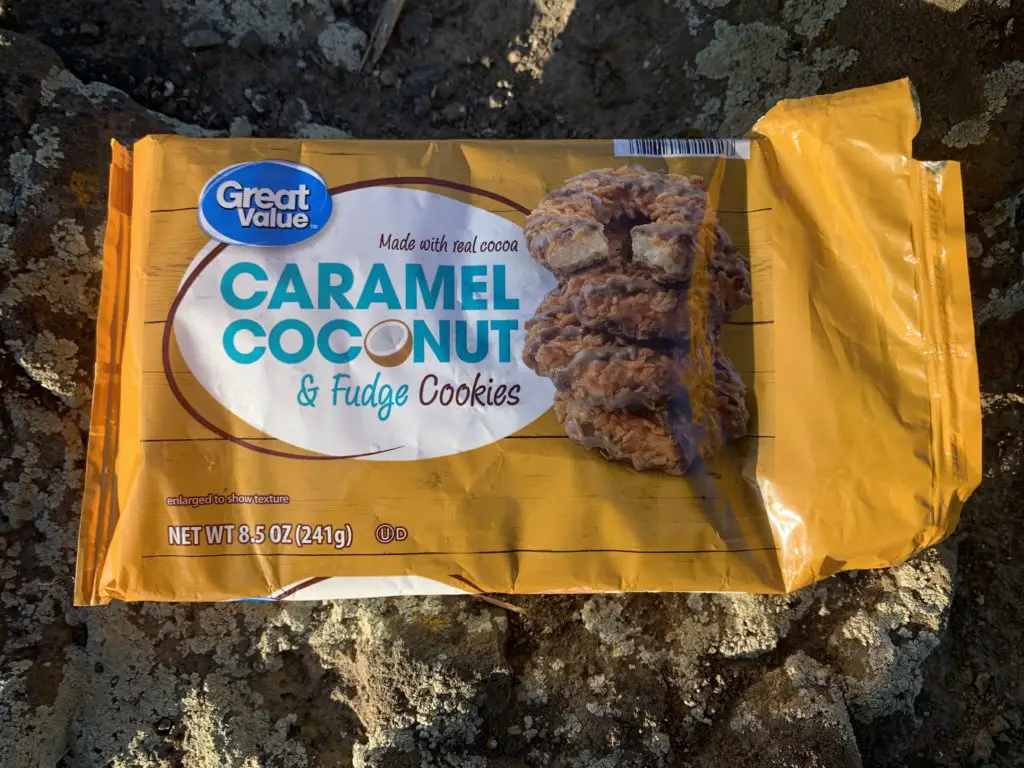 What Cookies Are Similar To Girl Scout Cookies?
There are a couple of off brand Girl Scout cookie offerings. The Walmart product is a Great Value Caramel, Coconut, and Fudge Cookie. The brand Keebler makes a similar cookie called Coconut Dreams. Keebler is a name brand, though.
Where Can I find Knock Off Girl Scout Cookies?
You can find the Great Value version at any Walmart store. Also, Aldi sells an off brand version manufactured by Benton's.
What Is The Cost Of Girl Scout Cookies In 2021?
A 7 oz box of Girl Scout cookies will fall in the $5-6 range. While it may not be a great deal, you have to remember it is meant to raise money to support a great organization.
Caramel Coconut Cookie Taste Test!