Tillamook Ice Cream Sandwiches – Review
Reading Time:
4
minutes
For a blog about off brand products, we write about Tillamook a lot. Actually, it is sort of our specialty. So when Tillamook took the jump into ice cream sandwiches, we could not resist. I drove down to my local Safeway to pick up a box of Tillamook Vanilla Bean ice cream sandwiches and Tillamook Peanut Butter Chocolate ice cream sandwiches. Unfortunately, they were all out of the majestic salted caramel flavor.
Check out our article nominating Tillamook ice as the best ice cream brand.
What Is A Tillamookie?
At first read, this sounds like some sort of cheesy marketing phrase. Not pun intended. That is because it totally is. A Tillamookie is the combination of a waffle cookie with Tillamook ice cream. In other words, it is the phrase the Tillamook marketing team came up with for this special desert. According to Dairy Foods, the product was launched in 2015. They have since rebranded dropping the Tillamookie slogan.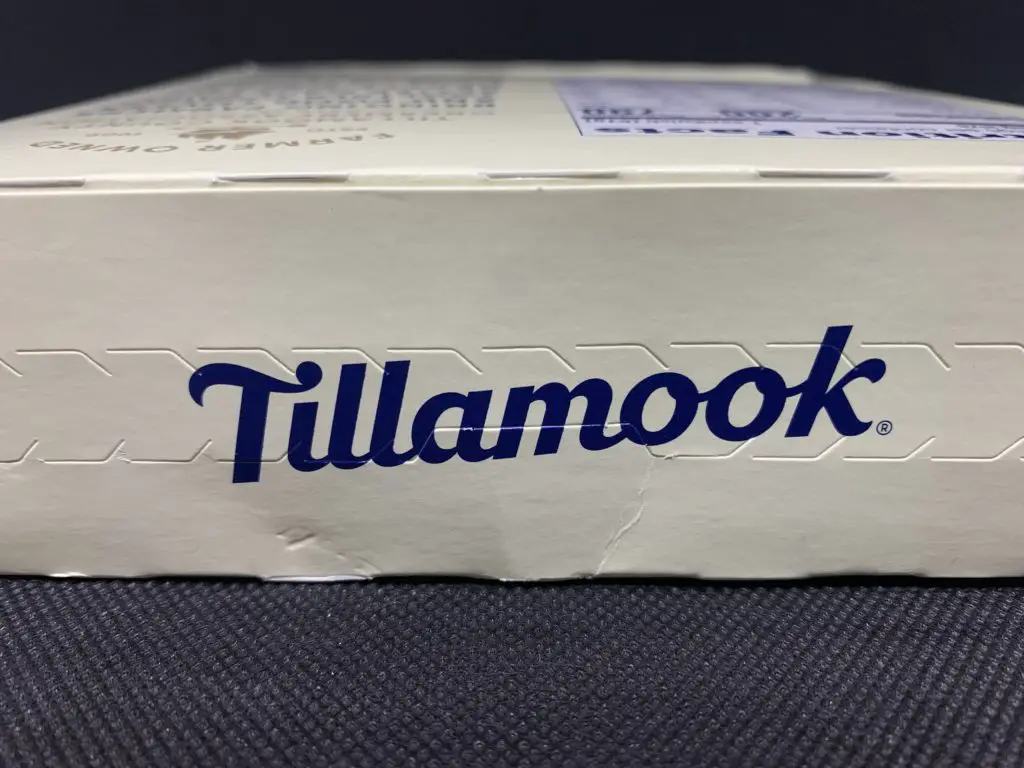 Tillamook Vanilla Bean Ice Cream Sandwich
I really wanted the salted caramel flavor. But since this was out of stock I settled for the Tillamook Vanilla Bean Ice Cream Sandwich. I love the standard Tillamook vanilla ice cream, and figured this couldn't be any different for the ice cream sandwiches.
I had seen this product on the shelf for awhile, but always held off due to the price. I love Tillamook products, but I wasn't going to pay up to $5.49 for four small ice cream sandwiches. Not when, I could track down a Ruby Jewel instead.
One day I saw them on sale for $3.49 and just couldn't resist. I sat down to watch some Modern Family and opened up my first sandwich. The first thing I noticed was the waffle cookie. This was a unique take on the ice cream sandwich. I was used to a large chewy chocolate chip cookie, not a waffle texture. I took a bite and immediately appreciated the delicious vanilla ice cream flavor I had come to love over the years.
A few bites later, I noticed the sandwich was all gone. Yes, my biggest grievance is the size! You must learn to nibble on these or they will be gone in a matter of seconds. A 3oz ice cream sandwich is small. If you are on diet, or trying to cut calories this may be a good thing. But for the price I wanted more!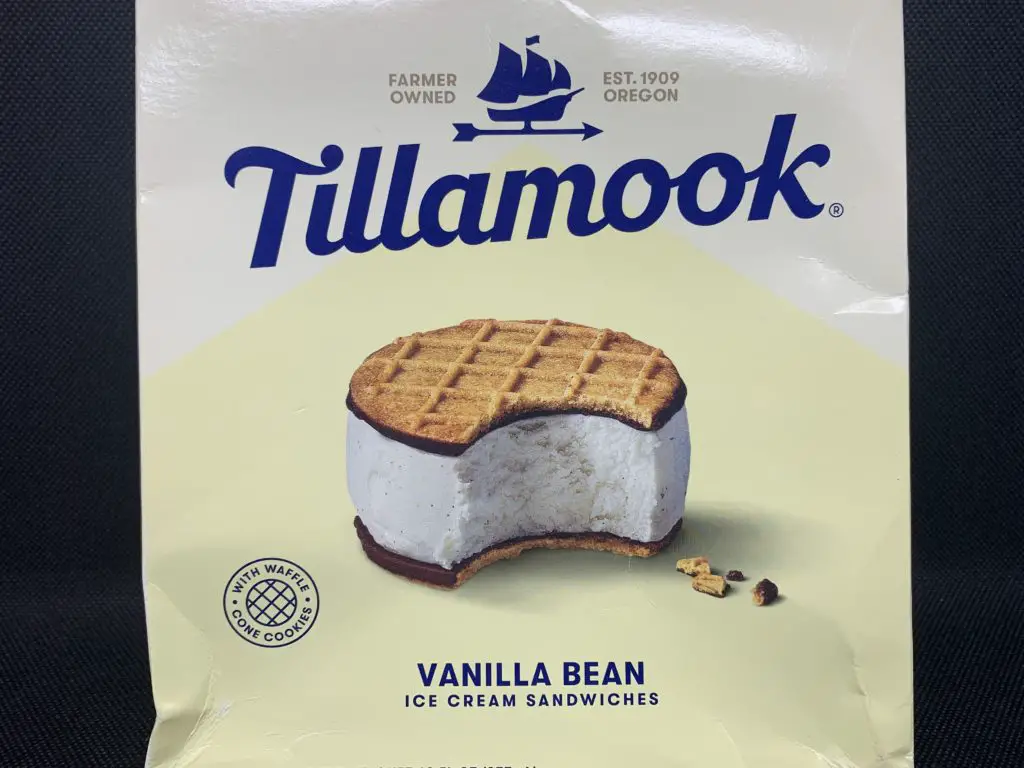 Tillamook Peanut Butter Ice Cream Sandwich
Because these were on sale, I also picked up the peanut butter flavor. I am not the biggest peanut butter guy, but I preferred these over the vanilla. The reason being if I am going to eat such a small ice cream sandwich I want a more exotic flavor. The chocolate waffle cookie and peanut butter ice cream creates a flavor combination that explodes in your mouth.
Click here to read our review on Tillamook Chocolate Peanut Butter Ice Cream.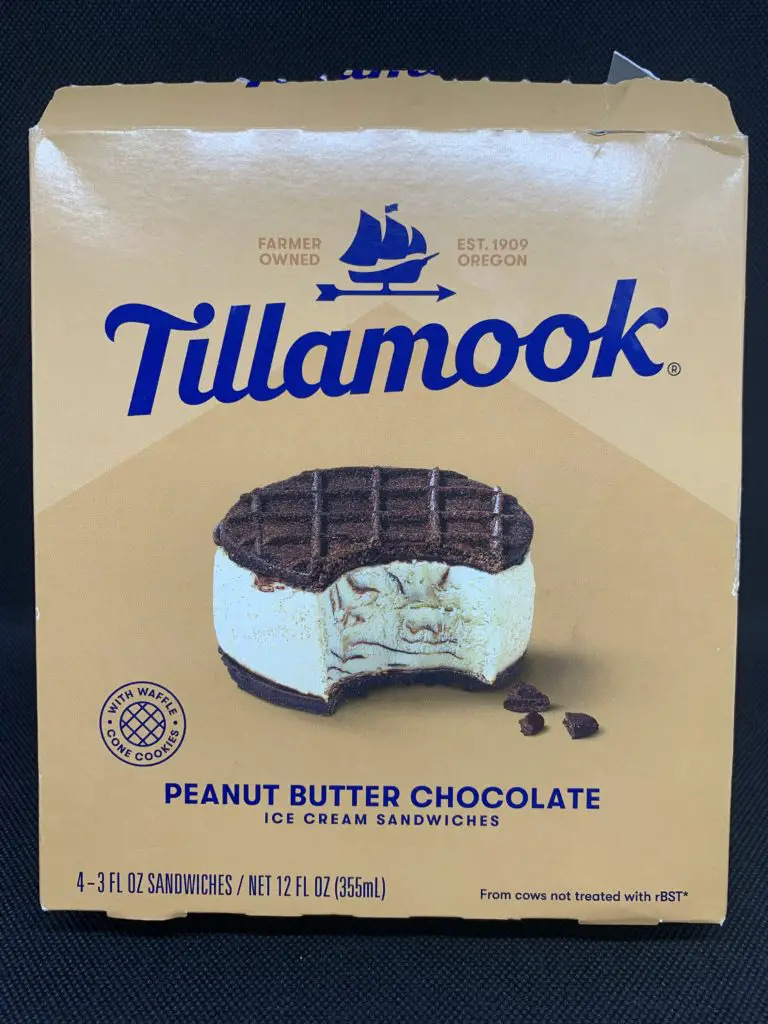 Tillamook Ice Cream Sandwich Flavors
If you are a die hard Tillamook fan you will not be disappointed. Check out the following flavors:
Tillamook Chocolate Mudslide Ice Cream Sandwiches
Tillamook Vanilla Bean Ice Cream Sandwiches
Tillamook Mint Chocolate Chip Ice Cream Sandwiches
Tillamook Oregon Strawberry Ice Cream Sandwiches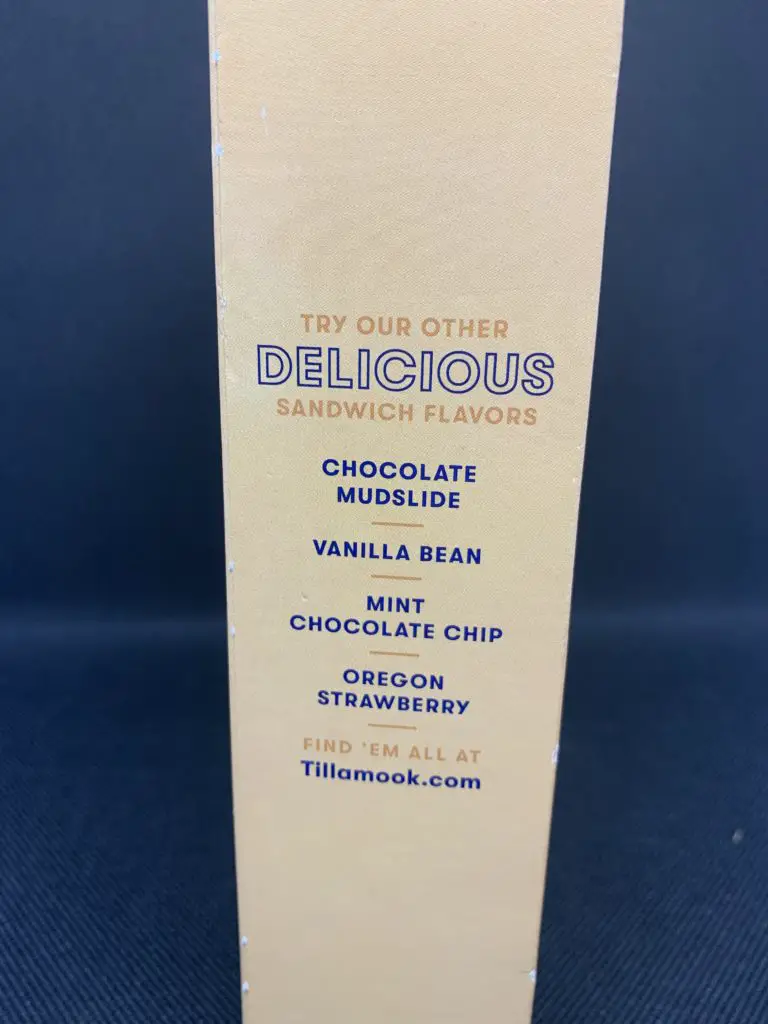 Tillamook Ice Cream Sandwich Calories
As with any desert food, I do not consider these healthy. After all they are the combination of cookies and ice cream. But for the robust flavor profile 200 calories is a huge win. I have seen some of those unsatisfying diet snacks come in at 100 calories. To be able to enjoy a treat like this for only 200 calories makes it a great desert option for almost anyone.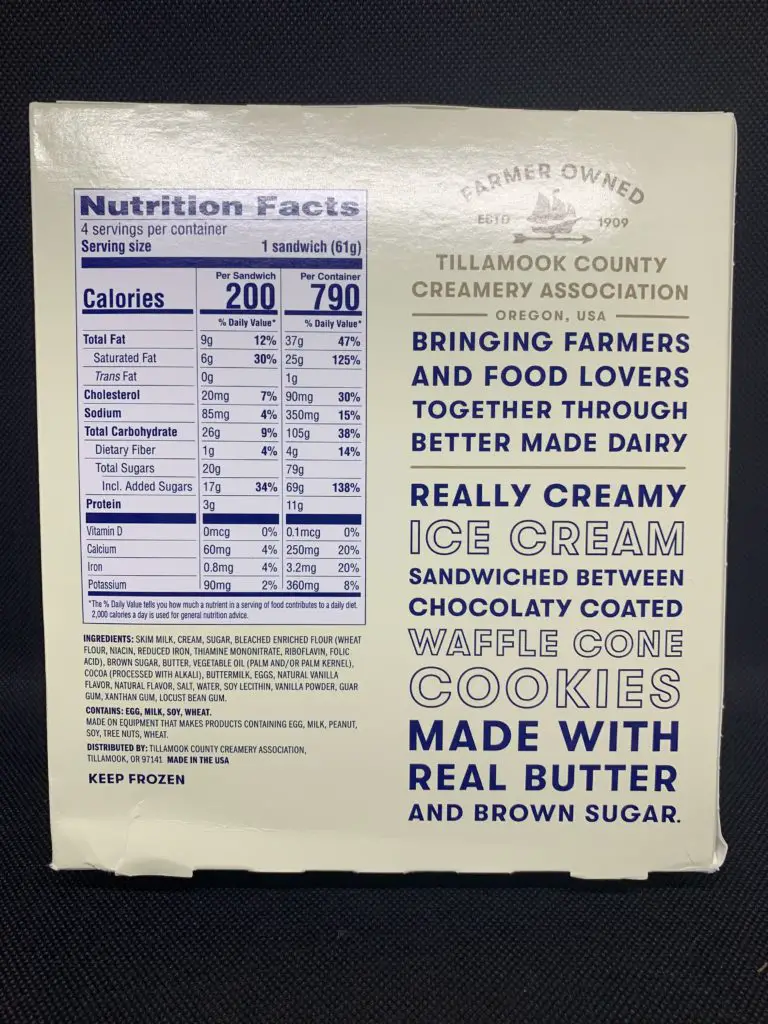 Where To Buy?
Check out Target! You will be able to find these for an everyday low price of $3.99. That breaks down to $1 per sandwich. While I don't consider this to be a great value, there is no way I can deny it as an enjoyable treat.