Le Creuset NonStick CookWare Is Worth The High Price!
High quality pots and pans make cooking so much more pleasant. Seriously, it can make life easier every time you step into the kitchen. I first noticed the difference when frying an egg. With cheap cookware I have to use a bunch of olive oil. Then I always dread the clean up. I scrub and scrub to get the crusty egg residue off the pan. Le Creuset NonStick CookWare will make all of these problems go away. It may be expensive, but it is worth every penny.
Avoid Cheap Cookware Sets
After a lot of research and deliberation I purchased the Le Creuset Toughened Nonstick Pro 10-piece Cookware Set. This was not an easy decision. It was difficult to justify spending over $600 on cookware. Especially in an area where you can go on Amazon and get these massive sets of pans for like $40. They always look great in the pictures. The problem is they are horrible. Cheap pots and pans make every task in the kitchen a little harder. They will burn your food. There is no way around it. You get what you pay for. These products are manufactured in China and India and made with inferior materials.
Another issue with cheap cookware sets from Amazon is that they are often poorly constructed, with flimsy handles and lids that are prone to breaking or coming loose. This can make it difficult to control the temperature of the food you are cooking. In addition, cheap cookware sets from Amazon tend to have non-stick coatings that wear off quickly, making them difficult to clean. The non-stick coating can flake off into the food, which can be ingested, potentially causing harm.
Why Is Le Creuset So Expensive?
So what is the difference between a $650 cookware set and $40 set? This is a fair question. The Le Creuset Nonstick pans offer a textured triple-reinforced coating that is ideal for browning and searing, with or without oil, and easily wipes clean. This coating holds up over time and makes cooking and cleaning easier. Also, the hard anodized aluminum construction allows for quick and even heating. If you are even somewhat of a serious chef you need consistency and predictability with your cookware.
Related: Save Money With Ross Pots And Pans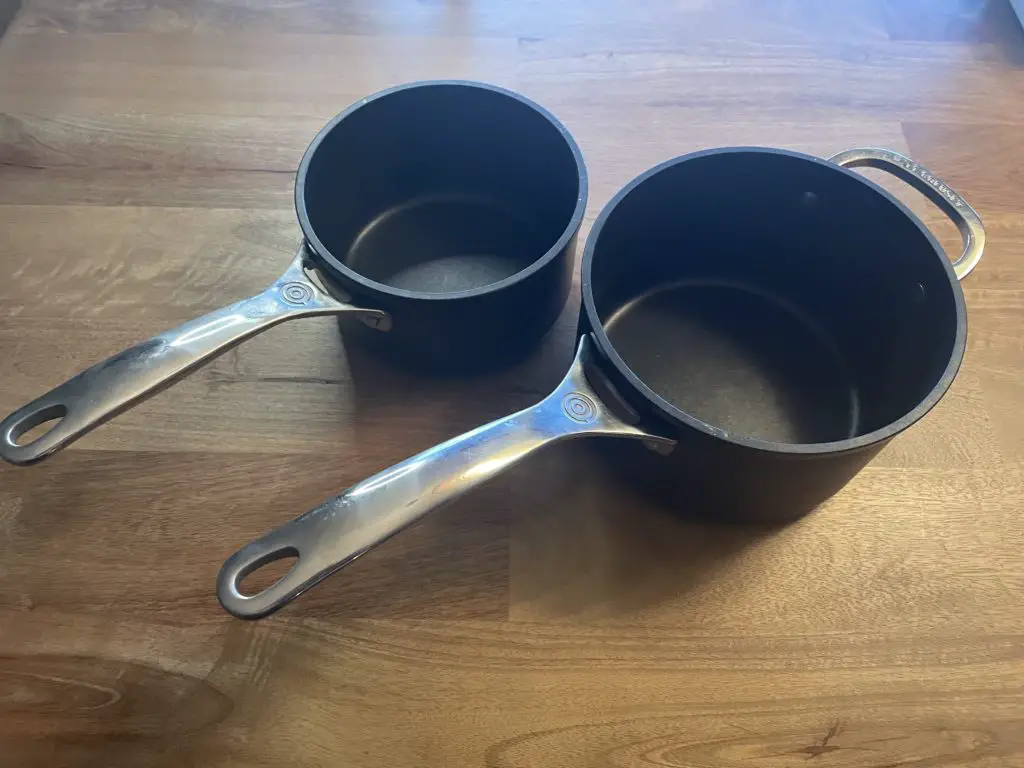 Le Creuset Cookware Lifetime Guarantee
I had one important criteria for this purchase. I wanted a product with a lifetime guarantee. This is harder and harder to find these days. For some products, I don't really think that a lifetime warranty is worth it. For example, I get discounted suitcases at Ross rather than the expensive Briggs & Riley luggage. I figure it ends up being a wash. It is entirely different with cookware. The cheap pans make my life a little worse everyday. As I get older, I don't want to deal with this. I want to enjoy my time in the kitchen.
The lifetime warranty is a testament to their confidence in the quality and durability of their cookware. This means that with proper care, your Le Creuset pots and pans will be a staple in your kitchen for years to come.
Why Does Everyone Love Le Creuset?
Le Creuset is known for quality. The products are built to last and come with a lifetime guarantee. This is the type of cookware that gets passed down from one generation to the next. Le Creuset has been in the cookware business for over a hundred years. Many of their products are handcrafted in France with only premium materials. The brand brings a certain sense of prestige. This is not the type of thing that the Off Brandy Guy typically cares about. But the products are so good I can't complain.
Related: Are Dollar Tree Batteries A Good Deal?
Is Le Creuset Cookware Worth The High Price?
Unlike cheap pots and pans, Le Creuset cookware is an investment. This is the type of item people love to put on their wedding registry. To be fair, there are other high quality French cookware brands. For example, Staub is know for making good cookware that is slightly more affordable. Critics have one big complaint about Le Creuset. They may be legendary for their Dutch Ovens but they are new to producing products like non stick pans. Some think they over charge for these items based on their world-class reputation. This may be true. But in my experience the nonstick pans have been nothing short of amazing.
Le Creuset Toughened Nonstick Pro 10-piece Cookware Set
Le Creuset offers a bunch of different products. They are best know for their colorful Dutch Ovens. I am big fan of their nonstick cookware. I recommend the Le Creuset Toughened Nonstick Pro 10-piece Cookware Set. I get that this comes with a hefty price tag. But it includes everything you will ever need.
8″ Toughened Nonstick PRO fry pan,
11″ Toughened Nonstick PRO fry pan,
2 qt. Toughened Nonstick PRO saucepan,
3 qt. Toughened Nonstick PRO saucepan,
3 1/2 qt. Toughened Nonstick PRO saute pan,
6 1/3 qt. Toughened Nonstick PRO stockpot.
If you can't justify spending $600+ on cookware, check out the Le Creuset Toughened Nonstick Pro 6-piece as a starting point.
Related: Get A Fair Price On Bagail Mesh Laundry Wash Bags
Le Creuset Toughened NonStick Pro Cookware Is Amazing!
How Do You Clean Le Creuset Toughened Non-Stick?
You do need to follow the proper cleaning instructions for this warranty to be valid. I do NOT put my Le Creuset kitchenware in the dishwasher. Because of the high price tag I want to take care it.
First, it's important to note that Le Creuset nonstick pans should never be cleaned with abrasive materials such as steel wool or scouring pads. These materials can scratch the nonstick coating, which can make it less effective over time. If your pan has food stuck to it, it's best to let it soak in warm, soapy water for a few minutes before cleaning it. This will help to loosen any stuck-on food and make it easier to clean. Once the pan has soaked, use a sponge or cloth to gently scrub away any remaining food. I use silicone scrub brushes that are more gentle on the coating.
Technically, the pans are dishwasher safe. But Le Creuset recommends hand washing to maintain the appearance and performance of the nonstick coating. This makes sense. Another tip for Le Creuset nonstick pans is to avoid using metal utensils on them. Metal utensils can scratch the nonstick coating. Instead, use wooden, plastic, or silicone utensils when cooking with these pans.