Get A Fair Price On Bagail Mesh Laundry Wash Bags
There are those small things in life that make everyday tasks so much easier. The Off Brand Guy is all about finding these types of purchases. Many folks overlook the small wins in life. These are the purchases that young adults always seem to overlook. The boring functional items which seem unnecessary at first glance. This is far from the truth with laundry bags. After years of doing laundry, I was tired of ruining my delicate items. I did some research and settled on Bagail mesh laundry wash bags.
Related: The Best Backpack On Amazon
Frugal Laundry Tips To Save Money
I lived in a micro apartment downtown shortly after graduating college. The building had an industrial washer and dryer. During my first load of laundry the dryer burned through one of expensive synthetic athletic shirts. This was the moment I realized I needed to be more careful while doing laundry. There is no point in saving up to purchase expensive clothing to only have it destroyed while doing laundry.
I decided I needed to do a couple of things differently. I needed to purchase laundry wash bags, dryer balls, and I needed to dry delicate items more carefully. These three things have saved me a ton of money over the years. I rarely have sweaters pelt, t-shirts shrink, or stains get baked into permanence.
Related: The Best Packing Cubes On Amazon
Cheap Laundry Wash Bags – Bagail Set of 5 Mesh Laundry Bags
There is no need to overpay for gimmicky expensive laundry bags. The simple laundry wash bags will work just fine. My experience with the best selling Bagail laundry bags on Amazon has been amazing. These bags for delicates have over 66,000 reviews on Amazon. You can get a five pack for only $8.99. The set includes one extra large, two large, and two medium laundry wash bags. The wash bags are made out of a polyester material with zipper closure.  The material is a durable and breathable polyester fibre that does an excellent job protecting delicates in the washer and dryer. Laundry bags keep colors separate and safe. Plus, how can you argue with a one year warranty? Go ahead and put these things to the test.
I love when one items serves multiple purposes. I am always open to a better bang for the buck. The Bagail mesh laundry wash bags also function as a travel laundry bags. No more packing garbage bags for your stinky, dirty clothes. I don't wear everything I pack on a trip. So when I am packing up to go home, I need to remember which items are dirty and which ones are clean. You can avoid this issue by throwing one of the Bagail laundry bags into your suitcase.
Related: Cheap Samsonite Luggage At Ross Dress For Less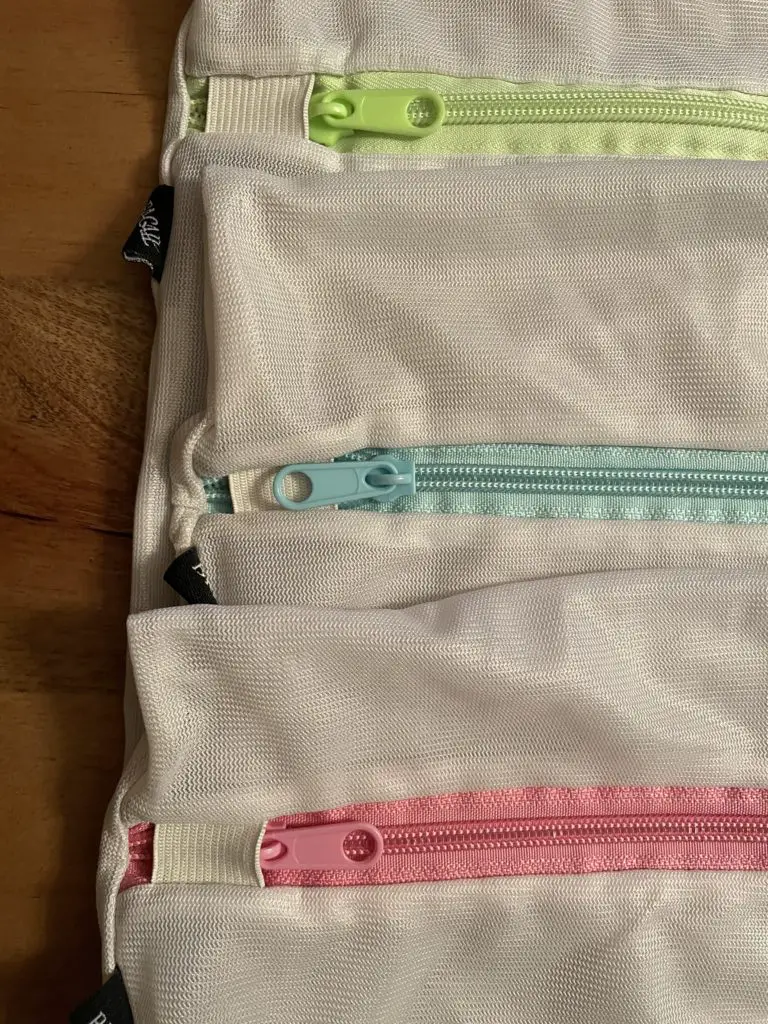 How To Use A Laundry Wash Bag?
There are many ways to properly use laundry wash bags. Here is my strategy. I put all my socks in one of the larger bags. This stays together through the wash and dryer so my socks do not get lost. I put any high end shirts with a delicate or synthetic fabric in a separate bag. This way these items do not get caught on other items. Also, it reminds me to not over dry my expensive shirts.
Do Laundry Wash Bags Work?
Yes, laundry wash bags help. But there are a few other things to keep in mind. I can not stand ruining my clothes in the dryer. The first thing I do is remove any synthetic items when moving a laundry load into the dryer. I hang these items in the bathroom to air dry. I look through the load to make sure I don't accidently leave anything behind. If I am unsure about a piece of clothing, I air dry it. The dryer will ruin clothes over time even if you follow all of the right steps. Therefore, it is better to be conservative and patient. I can not stand it when someone just throws everything in and sets the timer to the max.
How To Use A Laundry Bag In The Washing Machine