Dollar Tree Cologne – Tarragon Noir Review
People take cologne seriously. Trust me, this is something I can appreciate. But I have never understood why cologne is so expensive? I mean how difficult or costly can it be to put good smelling chemicals in a bottle. I ventured out to try some off brand cologne. And truly off brand, as Tarragon Noir is a $1 men's Dollar Tree cologne. The brand is described as high quality matched with high value for the demanding lower end consumer. Wow, they are not shy about their demographic!
Drakkar Noir Knock Off Cologne
Tarragon Noir is the off brand or knock off version of Drakkar Noir a well established cologne by Guy Laroche. Drakkar Noir cologne is no doubt a classic having been on the market since 1982. It is a reasonably priced cologne. A 3.4 oz bottle of Drakkar Noir is available at Walmart for $35.58. The marketing for the product is focused around the themes of darkness and masculinity.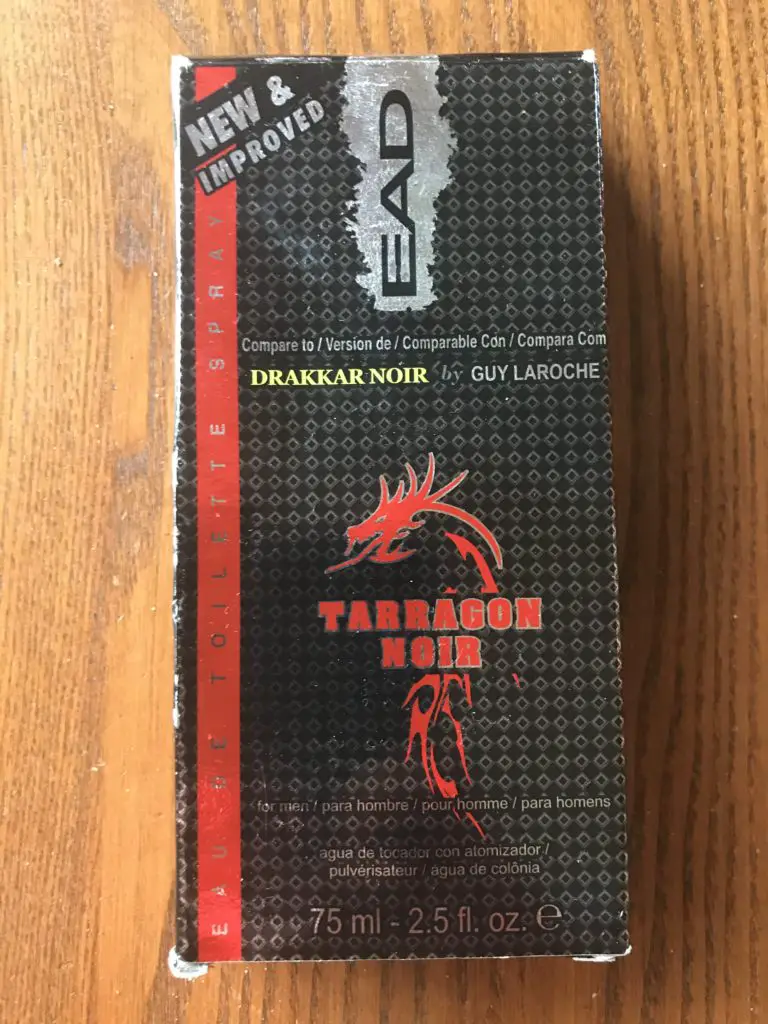 Dollar Tree Cologne – Made In India
I am familiar with Tarragon Noir from the local Dollar Tree. But I was surprised to also find it online, including Amazon. The packaging clearly states that European American Designs (the product line this cologne is featured within) is not associated in any way with Drakkar Noir which is a registered trademark of Guy Laroche. You don't need to read the packaging to know this. As one simple smell will do the trick. This is truly a cheap cologne.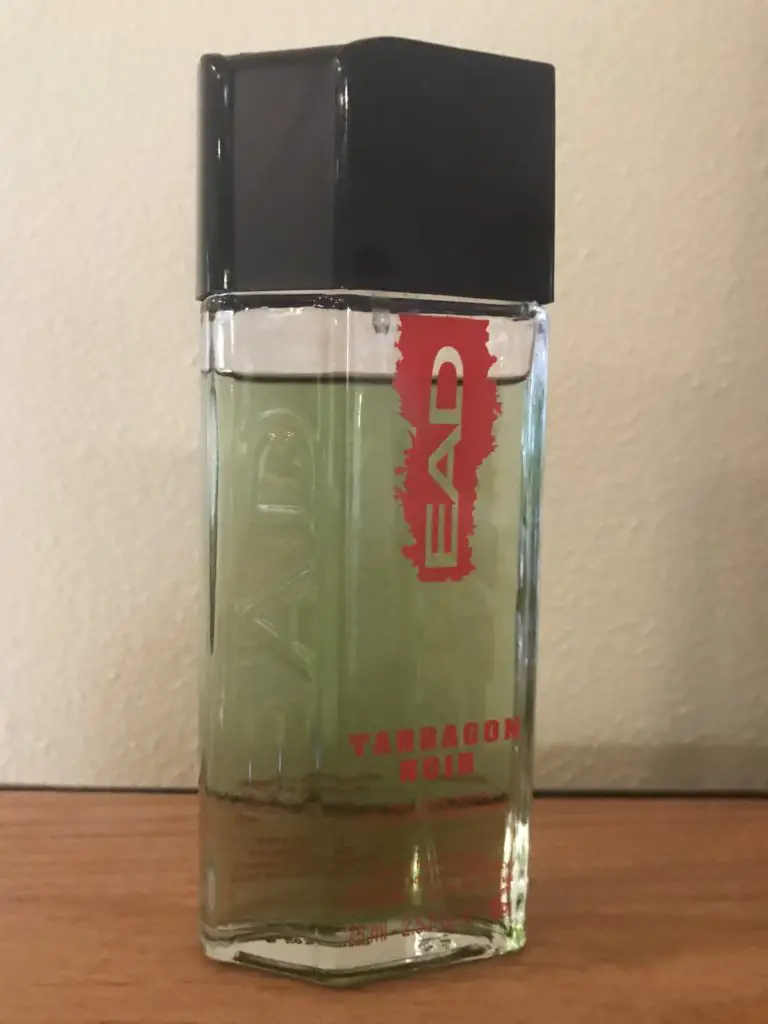 Tarragon Noir Cologne Ingredients
What exactly goes into a cologne? The ingredients for Tarragon Noir Cologne include:
Alcohol Denat
Water
Fragrance (Okay, but what fragrance?)
Benzyl Salicylate
Limonene
Linalool
PEG-40 Hydrogentated Castor Oil
Hydroxycitronellal
Hydroxyisohexyl 3-Cyclohexene
As I said, a bunch of chemicals.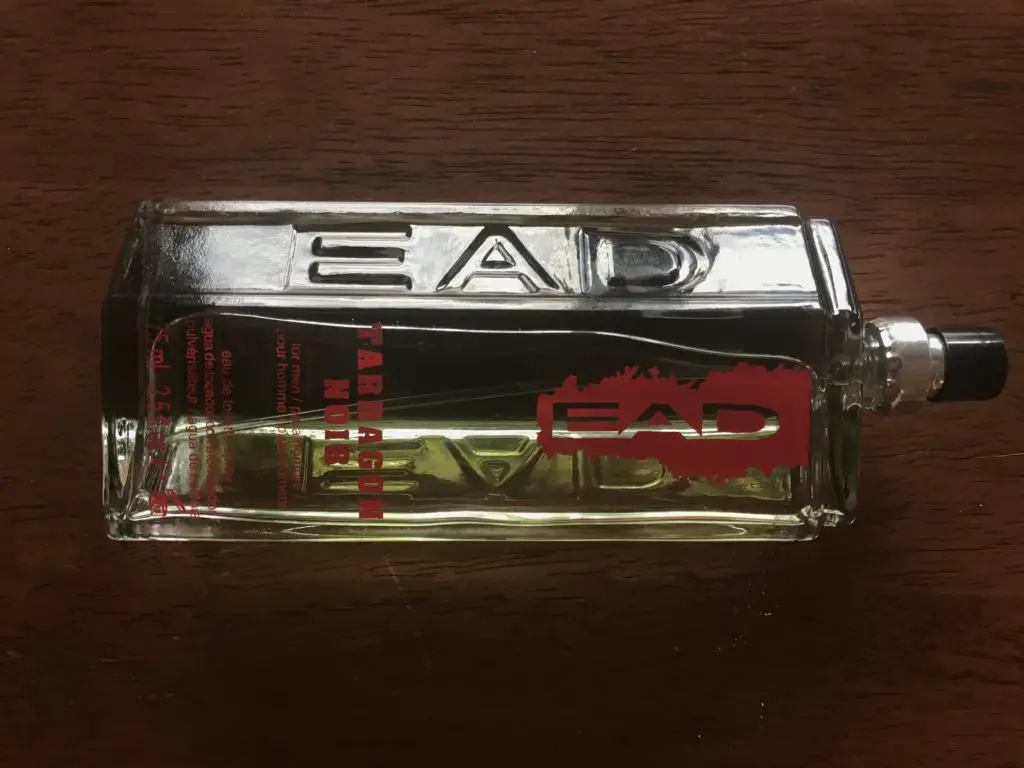 Tarragon Noir Cologne Review
How does the smell of Tarragon Noir compare to the real thing? The actual smell itself is wildly similar. At the first smell, this product seems like a promising bargain. The difference is in the nuance and subtly of the fragrance. It is too potent at first, but then wears off quickly. With Drakkar Noir, you can apply in the morning and then have a subtle but masculine scent throughout the day. The knock off cologne does a pretty good job matching the overall scent, but it comes off initially with an artificial punch, and then fades throughout the day. The artificial or lack of nuance to the fragrance clearly demonstrates a lower quality or less optimized product.
Dollar Tree Cologne – European American Designs (EAD)
The product is sold at the Dollar Tree through a USA Distributor of European American Designs, Arion Perfume & Beauty Inc. According to the company's website, they focus on value price fragrance categories offering seven hot selling European fragrance line for Men and Women in the Americas. So in other words the Tarragon Noir cologne sits within a portfolio of men's value fragrance products which include:
Astute For Men (knock off of Angel Cologne by Thierry Mugler)
Pure Water Men's Cologne (Acqua Di Gio knock off by Giorgio Armani)
Compulsion Men's Cologne (knock off of Obsession For Men by Calvin Klein)
Enthral Cologne For Men (knock of Envy by Gucci)
Hulk (knock off Hugo Cologne by Hugo Boss)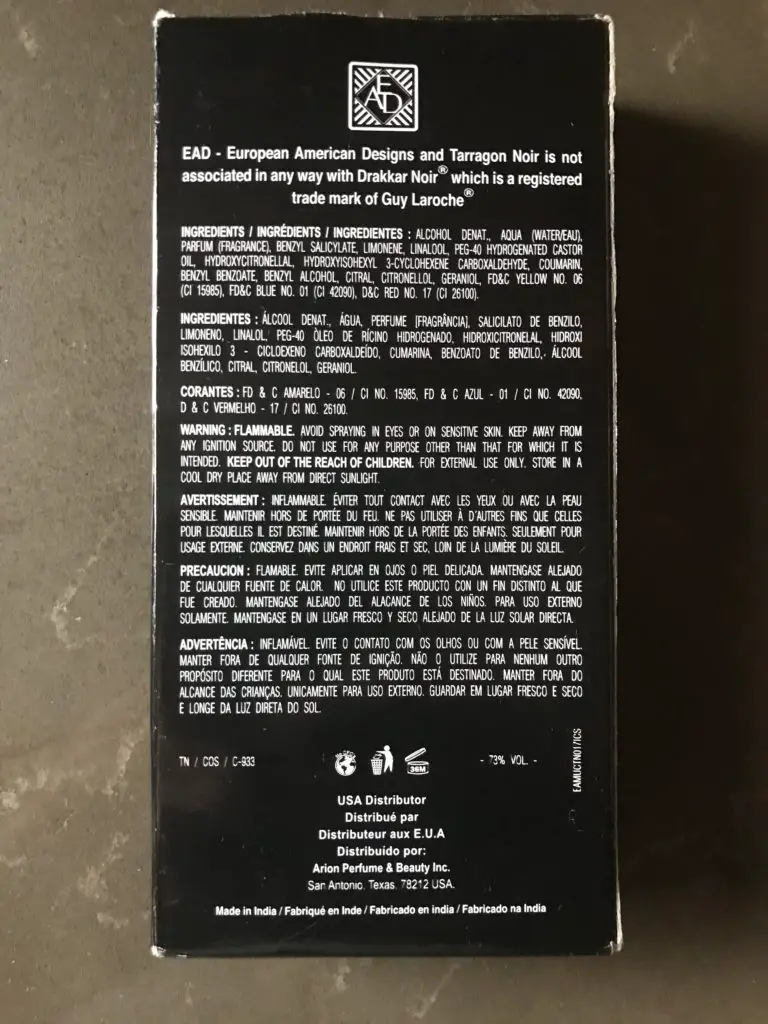 Cheap Cologne For Men At Ross Dress For Less
In terms of the cologne, I am veering off course and suggesting you stick with the name brands. I wouldn't over pay for the designer brands, but for cologne and perfume I would purchase something reputable. Discount retailers such as Ross Dress For Less and T.J. Maxx offer budget, name brand product lines at discounted prices. I have recently tried Paris Hilton For Men, Tommy Bahama St. Barts Eau de, and a few varieties of the Adidas cologne line. While still more expensive than I would like, at least you won't smell cheap.
If you are interested in learning about high quality but reasonably priced Men's hair products, check out the Battle Of The Men's Pomade Brands post.