Safeway Soda: A Zero Calorie Cola
If I am going to enjoy a soda, it is typically a Diet Coke or Coke Zero knock off. It is refreshing, zero calories, and offers a little bit of a caffeine pick up if I am tired of drinking coffee. For health reasons, I try to avoid drinking soda at home. As it is an unhealthy habit, that can easily get out of control. But when I am looking for a treat I head to Safeway and pick up a two liter container of Safeway Soda. One of my favorites is the zero calorie cola.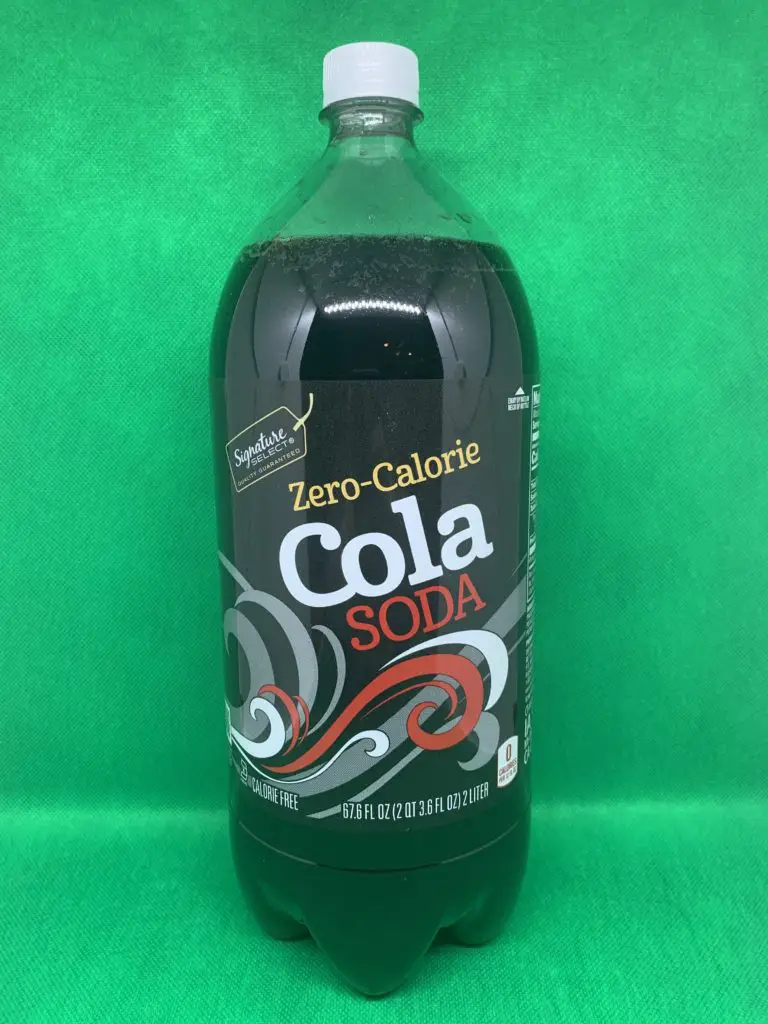 Coca Cola Knock Off Review
This is an actual off brand soda I regularly buy and drink. It is a solid value. It is closer in taste to Coke Zero than Pepsi. Sometimes I wonder if it has a little bit of an off taste to it. But probably not. It is sweet, but not in overbearing way. One glass usually ends up being enough for me.
I still do wish it was more carbonated. While I do buy it and drink it, the drink doesn't compare to getting a big Diet Coke at McDonald's with a burger and fries. Or filling up my soda cup at Chipotles after purchasing a big burrito and a side of chips and guacamole. To me soda is about the experience and what it is paired with.
The 2 liter bottles needs to be used within a couple of days. Otherwise it is not even worth drinking. And make sure to enjoy it in a big glass cup with a lot of ice. This is a must! This Safeway soda definitely get the job done for the price.
Off Brand Cola Ingredients
Carbonated Water
Caramel Color
Phosphoric Acid
Potassium Citrate
Aspartame
Potassium Benzoate
Natural Flavor
Caffeine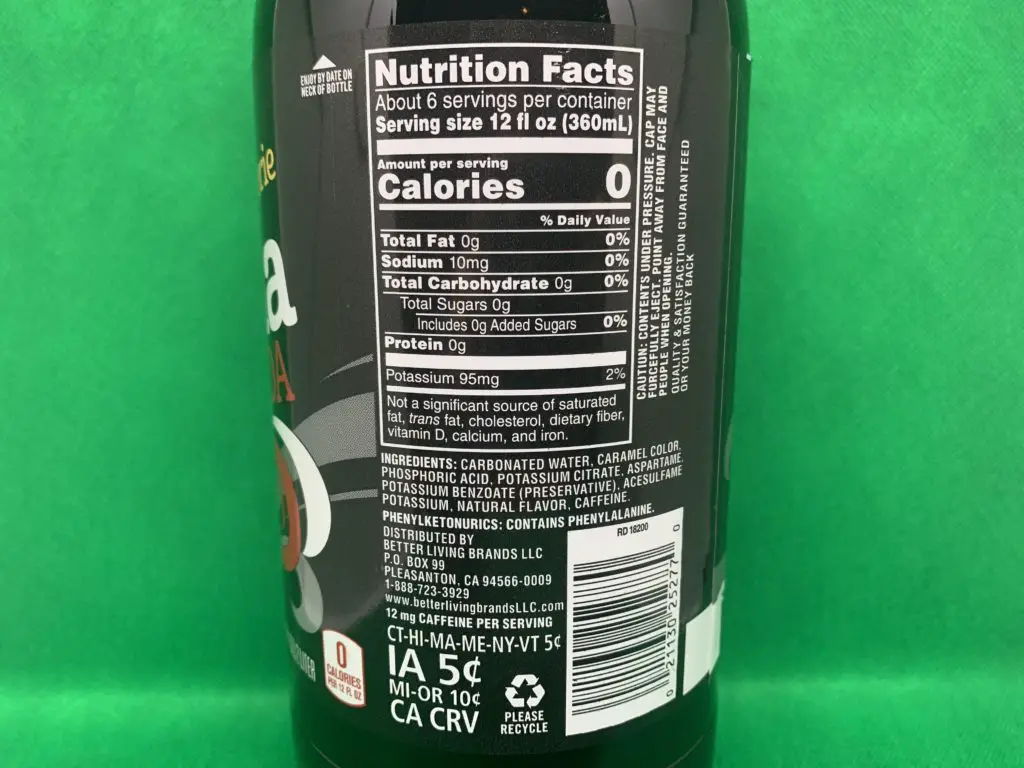 Safeway Soda Deals
Shopping at Safeway is sort of complicated. If you go in and pay list price for everything it is an expensive place to shop. But if you have a Safeway Card (which costs nothing) and use the Safeway app efficiently you can get some pretty good deals. The app is key to getting a good deal on Sigature Select soda.
Safeway soda is offered in three different packaging formats. The standard 2 liter bottle, a 12 pack of cans, or a 24 pack of cans. To get the best deal you need to evaluate the cost per ounce on every trip. It changes weekly as to which of these three products is the best deal.
Safeway Diet Coke
Similar to the name brand, Safeway has two zero calorie cola products. The traditional diet cola and this zero-calorie soda pictured above. Over the years, I have found that the name brand Coke Zero is better than Diet Coke. So I figure that same must hold true for the off brand soda products as well.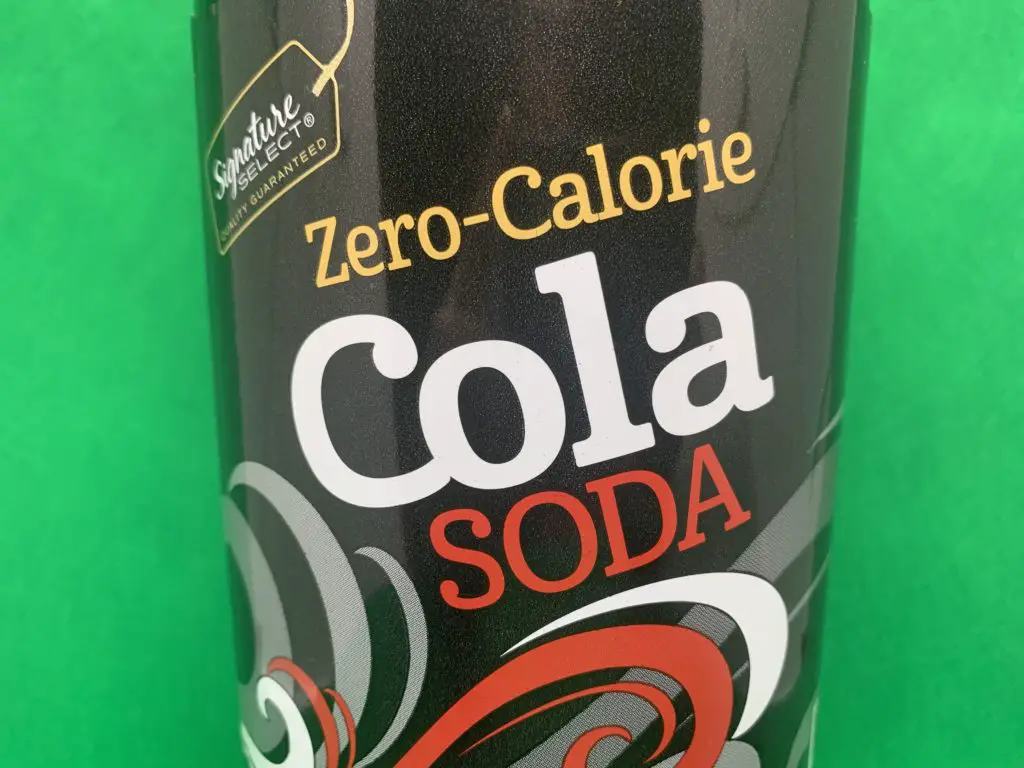 Signature Select Soda
Safeway has two private label soda brands and they appear almost identical. They have the Signature Select brand and the Refreshe brand. As of 2019 Albertsons Companies Inc. which owns Safeway has streamlined the private label portfolio. Everything rolls up into the Signature Select portfolio. Though, on a visit to your local Safway you will see some soda products marked as Safeway Select and some as Refreshe.
Signature Select Soda Flavors
Safeway has a robust selection of flavor options, with one to make just about anyone smile. I have tried most of these. Other than the Strawberry soda.
Also, do not forget that Safeway offers a Signature Select Seltzer Water.
Dr. Dynamite
Lemon Lime
Strawberry
Cream Soda
Orange
Grape
Root Beer
Grapefruit
Mountain Breeze
Ginger Ale
Punch
Cherry Cola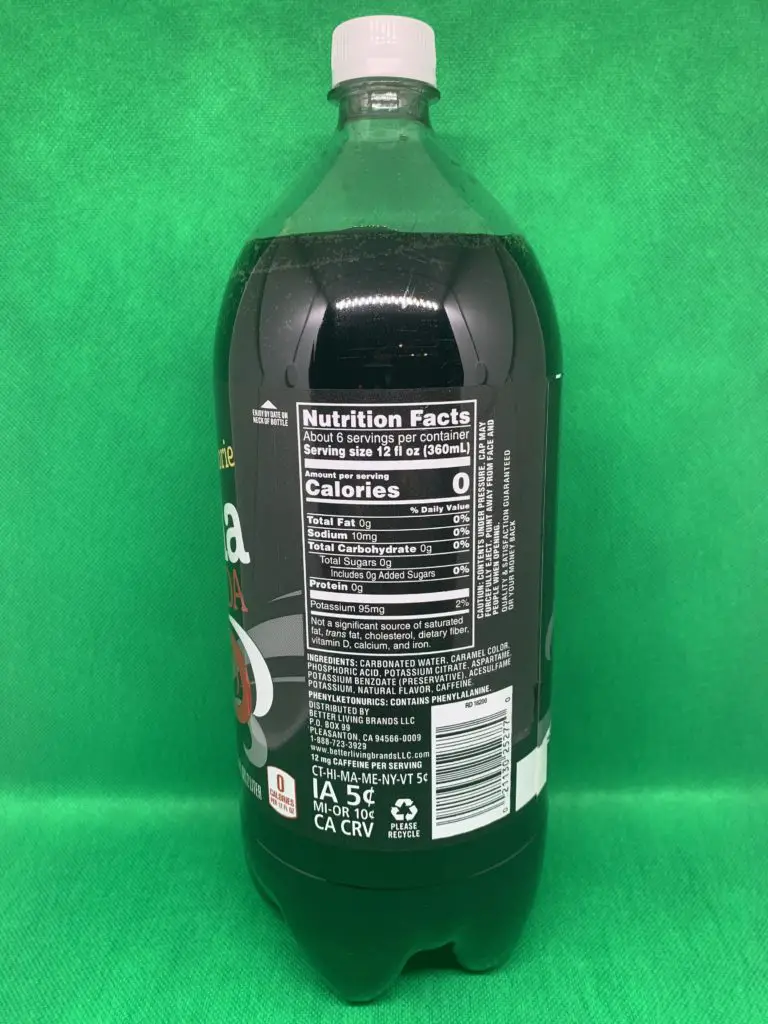 Is Diet Soda Bad For You?
There are a common couple points of speculation around diet soda.
One is that artificial sweeteners cause cancer or other diseases
The other is that the chemicals in diet soda make people hungry and likely to eat more and gain weight
For the most part these concerns are over done. A reasonable amount of diet soda doe not carry any serious health consequences. For a detailed analysis of these concerns, check out the article by NerdFitness on Is Diet Soda Bad For You?
Diet Orange Soft Drink Controversy
Safeway not only acted promptly to minimize any risk of benzene in its product, but pledged to follow rigorous testing standards should it ever introduce a new or reformulated product containing that combination of ingredients" -Supermarket News
This may be old news. But it is bad news for the reputation of off brand soda. Back in 2007 Safeway settled a lawsuit around the potential presence of benzene in its private-label Safeway Select Diet Orange soft drink. The reason this is a concern is because benzene is known to be cancer causing. With the presence of Vitamin C and either sodium benzoate and potassium benzoate, heat can trigger a reaction that forms the benzene molecule. The soda ingredients were reformulated to avoid this issue back in 2007.
Safeway Soda
Loyal Off Brand Guy viewers. I am sorry, but there is not a lot of video content around Safeway Soda. Believe it or not, this is the best review available.