Walmart Camping Gear – A Simple Way To Save Money
The sun is out and camping season is in full swing. I have my own sleeping bag, but have got in the habit of borrowing gear from friends. This year I decided it was time to step it up and invest in some gear of my own. Previously, I had to scramble around my house at the last minute to find all the little stuff like a can opener, salt, a bottle opener, etc. I figure I am at the age when I should have a dedicated camping box ready to go. Rather than run to some outdoor store like REI and get up sold on stuff I don't need, I went to Walmart. I investigate whether it makes sense to save money with off brand Walmart camping gear.
Walmart Camping Chair: Ozark Trail Chairs
The Walmart camping gear brand is Ozark Trail. There stuff is absolutely dirt cheap. The real question is does it hold up? I already had some experience with the Ozark Trail chair. To be frank, it is a piece of crap. If you plan to go out camping every weekend this thing will for sure fall apart. As camping is hard on gear. But if you only go a couple times a year and then make sure to properly care for the item, you can get some mileage out of this $7 chair. I fall into this category. I have no need for some $100 REI chair made out of space age material. If anything on this chair breaks first it will be the mesh cupholders. So worst case you will be holding your own beer.
Sleeping Pad Walmart: Ozark Trail Sleeping Pad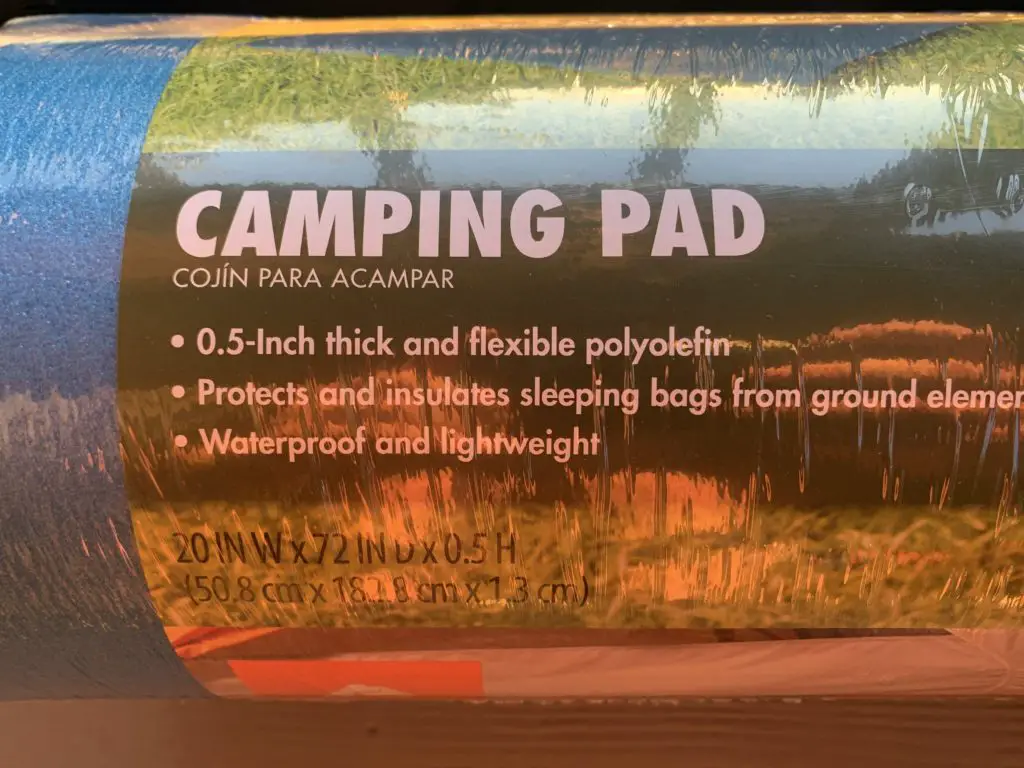 Next up is the Ozark trail sleeping pad. Again, this brand of stuff is dirt cheap. If I really wanted to be comfortable I would get one of those self inflating camping pads. This seemed like over kill for me. I wanted something cheap and simple that would keep me reasonably comfortable. At least keep me off the ground. In my mind, the Ozark product gets the job done at the right price.
Igloo Cooler Walmart
The most important item on my list was a new cooler. I had one of those fancy fabric coolers in which the zipper came right off. It clearly wasn't meant to hold up for camping conditions. I wanted something durable this time that could get thrown around. No zipper. I decided upon a $20 Igloo cooler from Walmart. I don't believe Igloo is technically an off brand. But Igloo products are considerably cheaper than the name brand Yeti coolers. Yeti coolers are all the rage these days and you will pay a premium for it.
Walmart Ice Chest
I had a tough decision to make on my cooler purchase. Was I willing to pay significantly more to have a water drainage spout on the side? I was looking at $20 for the Igloo cooler with no water drainage, and $40-50 for a Coleman cooler with water drainage. I opted to save some money and get the cheaper option. This is because I only get out a couple of times a year. If you spend every free moment outside, I recommend paying a little more here. The convenience of not having to flip your cooler upside down to drain out the ice water is huge!
I am all about getting outside to enjoy some off brand snacks. Check out my reviews of Knockoff Girl Scout Cookies and Great Value Salsa & Cheddar Cheese Dip.
Campfire Roasting Forks: Coghlans Telescoping Fork
The telescoping camping fork is a game changer. No more searching around for a stick to roast my marshmallows on or to cook my hot dogs. I love how simple the packaging is with only two bullet points. "Stainless steel shaft", check. "Wooden handle", check. The telescoping function gives this roaster the functionality of being adjustable. I can't say enough on how important the wood handle is. Stainless steel gets hot. You will burn your hand if you don't have a wooden handle. I see many products on the market without this. It was one feature that I was willing to pay a little more for.
Walmart Camping
No doubt about it, camping is gear intensive. The good news is the Walmart camping gear options include much more.
Ozark Trail Cabin Tent
Ozark Trail Single Burner Propane Stove
Ozark Trail Yurt Tent
Ozark Trail Shower Tent
Ozark Trail Hammock
Ozark Trail Stadium Seat
Ozark Trail Toilet Waste Bags
Did you know you can camp in Walmart parking lots? Click here to learn the Don'ts of Walmart Camping.
Ozark Trail Mesh Folding Chair Vs. Quad Folding Chair