Try Equate Daily Fiber For Constipation
I try to eat well, but it doesn't always happen. I go through stretches where I lose my discipline and maybe go a couple of days without a whole lot of vegetables. Like this weekend for example. I had some family in town and had bratwurst one night, bacon bagel sandwiches for breakfast, tacos for lunch, and burgers for dinner. And don't forget the chips, beer, and ice cream. A weekend like this is not good for anyone's bowel movements. That is why Equate Daily Fiber is a must have in the toiletries closest.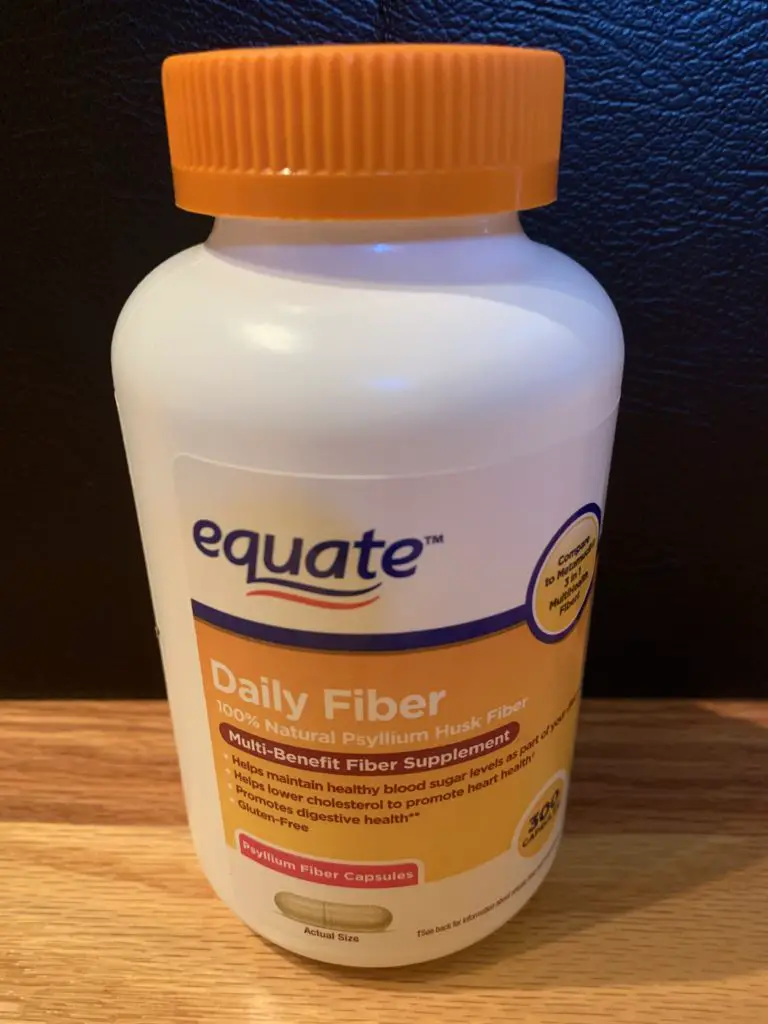 Equate Daily Fiber Vs. Metamucil
When I hear the phrase Metamucil, I think of old people. That is really not that surprising considering older folks typically have more issues with bowel movements. Metamucil is the name brand in the fiber and bowel movement supplement space. I know, a sexy position to occupy. The Equate Daily Fiber product is comparable to the Metamucil 3 in 1 MultiHealth Fiber supplement. But at a fraction of the cost.
Related: NOW Brand Daily Fiber Pills & Fiber Powder Review
Buy Generic Metacmucil At Walmart
The ingredient of fiber pills or fiber capsules is psyllium husk fiber. The Equate Daily Fiber Pills are 100% natural psyllium husk fiber. Psyllium is a form of fiber from the Plantago ovata plant's seeds. Fiber soaks up and draws in water which makes bowel movements easier. It is helpful for constipation and to maintain regular bowel movements.
Throughout a healthy diet you get fiber from vegetables, fruit, beans, seeds. You know the healthy foods. A diet of greasy burgers and tacos provides much less of this.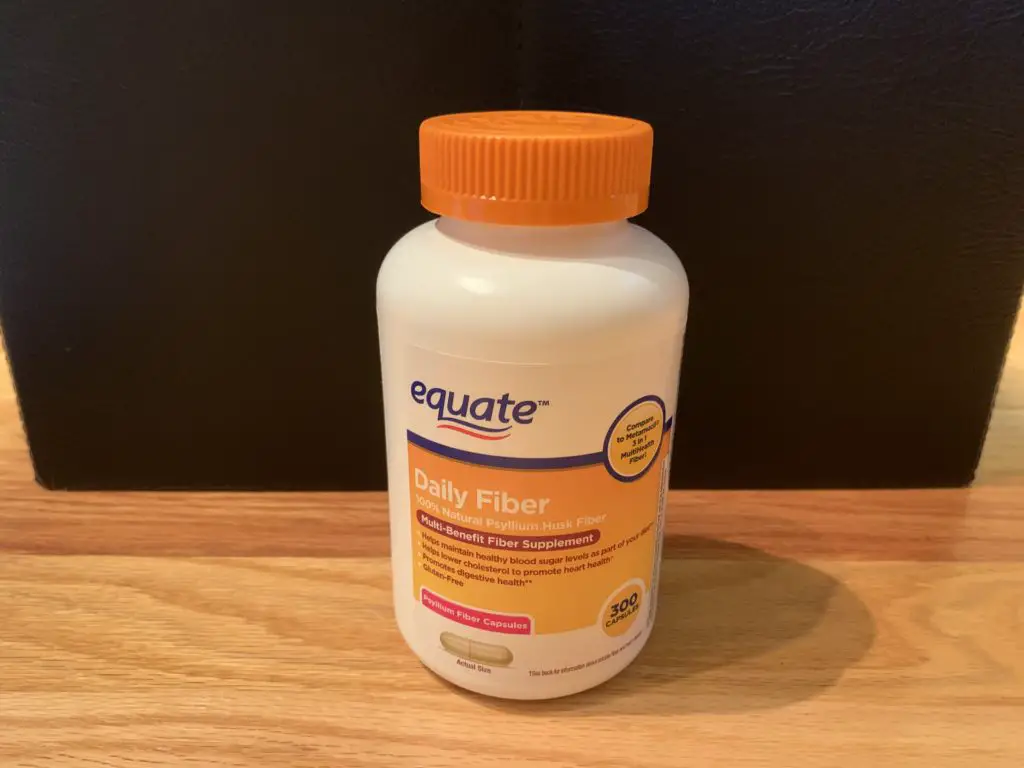 Also, Check Out Psyllium Husk Powder
If you want to go old school you can also get psyllium husk in powder form. This is the way my grandpa did it. The fiber powder would get mixed in cup of water or fruit juice. There is an Equate Daily Fiber Powder product at Walmart as well. A 36.8oz containers currently sells for $14.84.
Related: Avoid Generic Toothbrush Heads – Sonicare Replacement Heads Review
Equate Fiber Directions
Two things to keep in mind:
Take only 1 capsule at a time and make sure you are in an upright position while taking.
Start with one capsule a day and and gradually increase to the desired daily intake.
Equate Daily Fiber Benefits
Equate Daily fiber capsules are more than just a laxative. The supplement also offers these health benefits:
Helps Maintain Healthy Blood Sugar Levels
Helps Lower Cholesterol
Promotes Digestive Health
Psyllium Husk Powder Vs. Daily Fiber Capsules
An Equate Daily Fiber review wouldn't be complete without breaking down the price. I prefer the Equate Daily Fiber capsules because the convenience. I don't want to drink a thick and chunky beverage with psyllium husk powder mixed in. Nor do I want to clean out a cup every morning when the powder clumps up and sticks to the sides. The generic Metamucil pills are the easy answer. But how does the price compare?
The Equate capsules are $3.1 cents each. The Equate Psyllium Husk powder is $40.3 cents an ounce. We have to go a step further to see which is the most economic option. With 160 capsules for $4.98 you get 32 servings. So a serving breaks down to about 16 cents. For the fiber powder you get about 180 servings for $14.84. About 8 cents per servings. A much better deal! And to be fair the serving size of fiber is also larger with the psyllium husk powder. It all comes to down to if you prefer the cost or convenience. Regardless of your choice, you save money with the Equate brand from Walmart.
How Does A Psyllium Fiber Supplement Actually Work?
Fiber Supplement Review & FAQ
We get a lot of questions about fiber supplements here at the Off Brand Guy. We have done our best to answer the most common questions on the topic.
1. Is Equate Daily Fiber As Good As Metamucil?
Is off brand Metamucil as good as the name brand? Metamucil states that years of research have went into their special formulation and that they use the highest grade psyllium. In my opinion, the Equate product is every bit as good as Metamucil. The active ingredient of both products is natural psyllium fiber.
2. What Is The Best Fiber Supplement For Constipation?
I have tried many of the generic fiber pills on the market. In my opinion, Equate Daily Fiber providers the best value. I prefer the capsule form over the fiber powder, even if I pay a premium for the convenience.
3. What Is A Sugar Free Fiber Supplement?
Some fiber supplements comes in sugar and sugar free versions. The product may include things like Maltodextrin, orange flavor, and aspartame. The Equate brand from Walmart offers a "real sugar" and "sugar free" version. Make sure to read the ingredients to understand what you are ingesting.
4. What Are Metamucil Fiber Thins?
The 21st century is all about options. This is even true for constipation related products. Maybe you find taking fiber pills inconvenient. Maybe you just don't like swallowing capsules. If this is the case you can try crunchy fiber snacks known as fiber thins.
5. Is It Safe To Take Fiber Supplements For Constipation?
To be fair, it is optimal to get fiber from real food like vegetables. But yes, fiber supplements are safe to take. Fiber can help normalize bowel function and help to prevent constipation. If you are a health nut the main thing is to avoid the unnecessary chemicals added as flavoring. If you are willing to spend more this can be a good path to explore.
6. Is Generic Fiber As Good As Metamucil?
Well, it depends on the brand of course. As with any health product you want to make sure it comes from a trusted manufacturer. Equate is a widely used and respected off brand product line. It can be trusted that the generic product will offer similar benefits to Metamucil. The packaging even states that they are similar!
7. How Long Does It Take For Equate Fiber Powder To Work?
I always wait too long before taking my fiber powder. I don't know why I do this. I am busy traveling and I wait until I am already constipated. The good news is that fiber supplements work relatively quickly. They take about 24 hours to kick into action. This will vary to some extent person to person. You are only one day away from larger and softer stools!
Equate Fiber Powder Therapy