Hilton Garden Inn Kauai Review – Location, Location, Location
I am a big Hilton guy. I have visited Oahu over ten times in the last few years. I have settled on the Hilton Waikiki as my favorite location in Oahu. Recently, I had the privilege of visiting the island of Kauai for the first time. I booked a few days at the Hilton Garden Inn. It is one of the two Hilton properties located on the island of Kauai. Overall, I have mixed feedback on the hotel. Read the Hilton Garden Inn Kauai review below for an in depth analysis.
Related: Hilton Waikoloa Village Review – A Dreamlike Vacation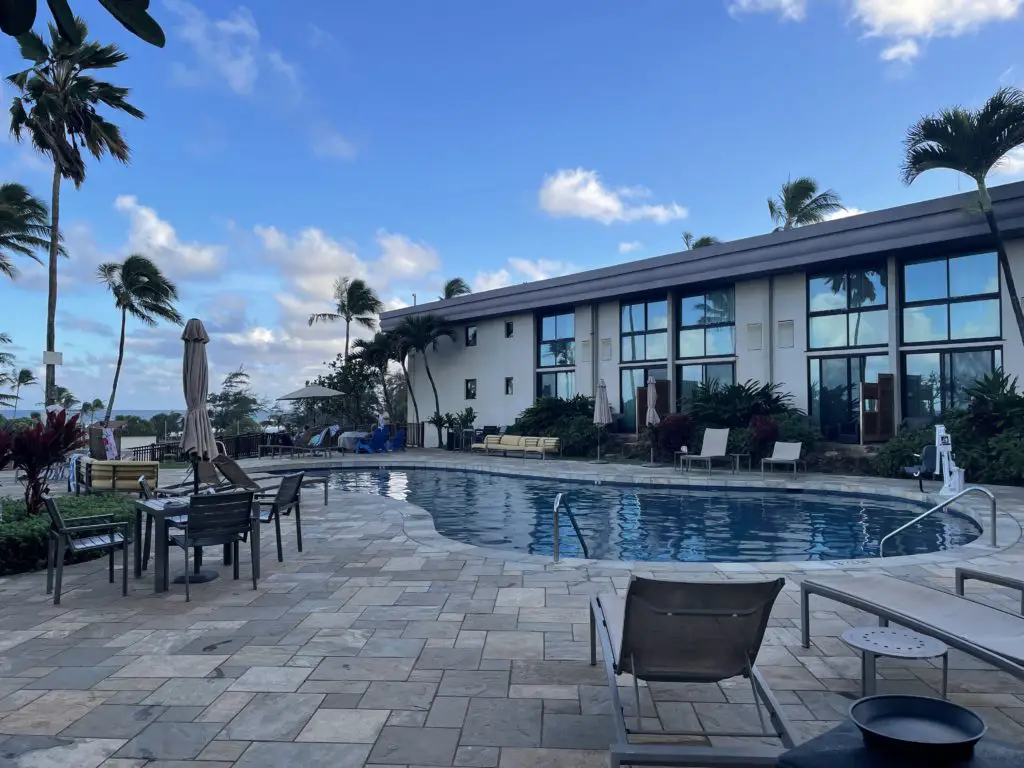 What Is The Address For The Hilton Garden Inn Wailua Bay Kauai?
The location is the best part of this property. The two hundred and sixteen room hotel is located at 3-5920 Kuhio Hwy, Kapaʻa, HI 96746. The property is next to a public park with premium beach access. I was able to find a quiet private spot along the beach to unwind and enjoy the scenic view of Wailua Bay.
The hotel building and rooms are due for some major renovations. They are noticeably outdated. The windows were foggy and the paint was peeling on the exterior. This does lead to the same majestic vibes of other Hilton beach resorts. The foggy windows were a bummer. I had a partial ocean view but could not really enjoy it without a balcony or windows that opened up.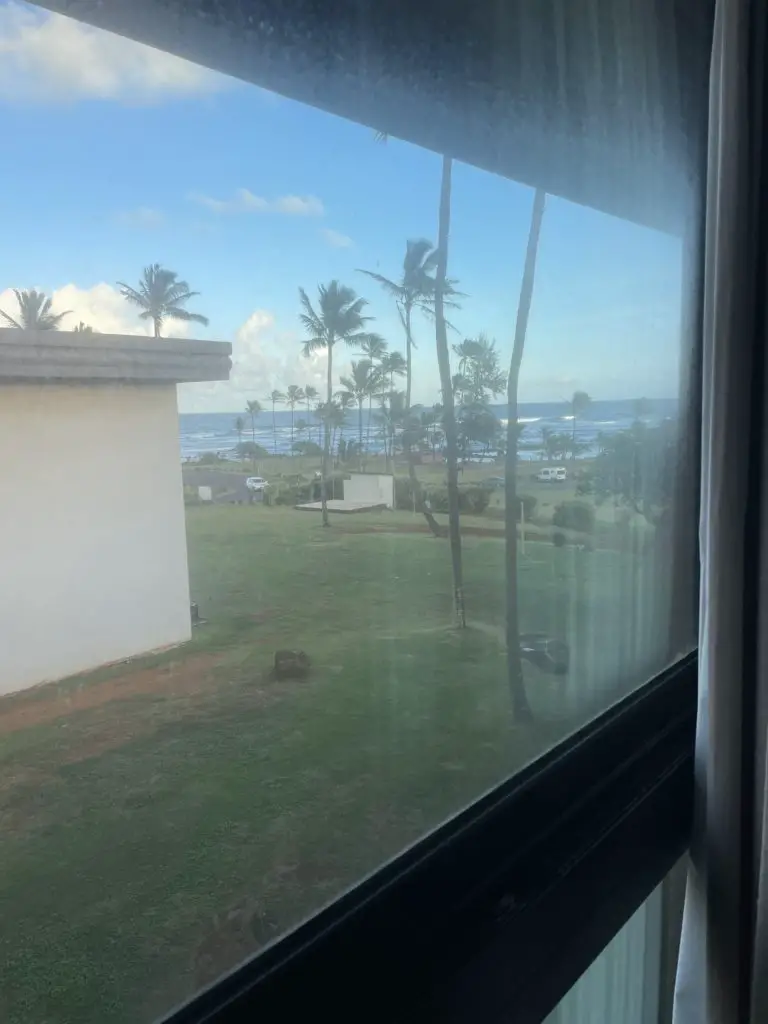 The pool was especially disappointing. I came in on a Saturday. It was a long flight from Seattle. I was excited to relax after getting my rental car and making it to the property. I threw on a swimsuit and flip flops and headed down to the pool. I was looking forward to sipping on my complimentary Mai Tai and soaking in some sunshine.
I was shocked. The pool was tiny and underwhelming. It was far from the beach and outdated. It was equivalent to the pool you would expect from a motel located right off a main freeway. I decided not to even bother swimming. A resort doesn't need the best pool in the world to be enjoyable. Though, I do have some basic expectations when traveling to an exotic destination like Kauai and paying a premium.
Mamahune's Poolside Tiki Bar And Restaurant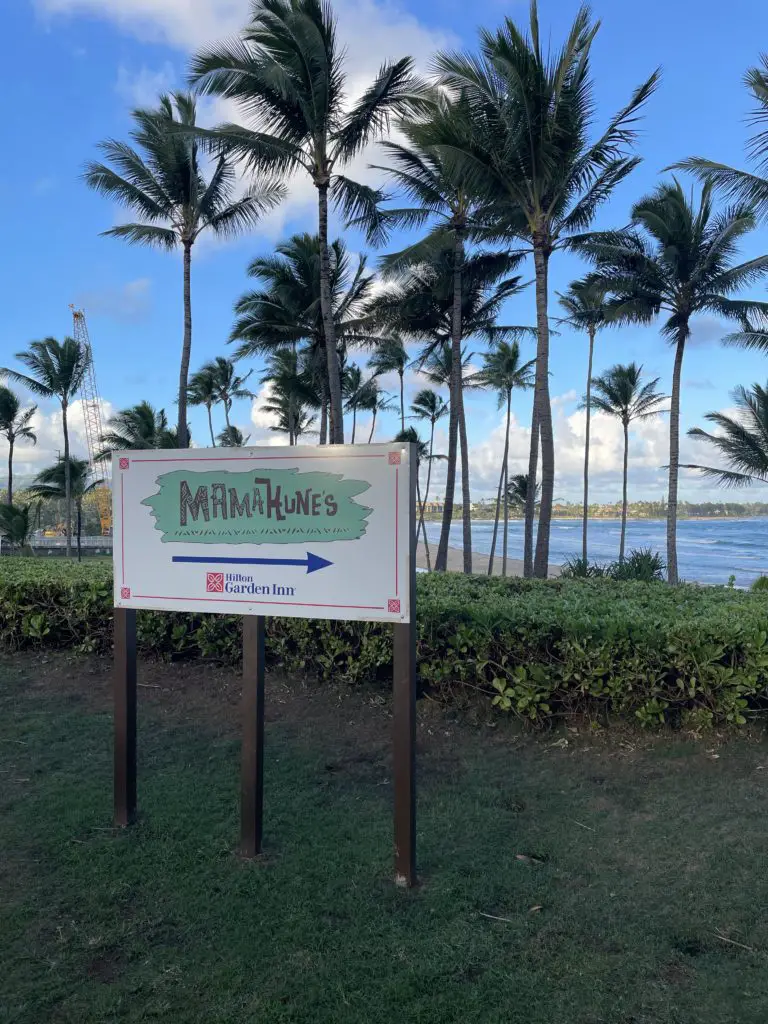 I grabbed my beverage at the poolside bar and then headed down to the beach. The Hilton Garden Inn Kauai restaurant is called Mamahune. It is retro-inspired tiki bar and restaurant that offers contemporary Hawaiian cuisine, handcrafted cocktails, and picturesque views of Kauai's Wailua Bay. It was alright. I had to wait in line to order food which was sort of annoying. I do give credit to the service staff who were exceptionally friendly.
Over the course of trip I ate poke nachos, a poke bowl, a hummus dip made out of edamame, and a burger. In terms of Hilton hotel food, I have seen better. The meals were all similar. It was either poke dumped on some rice or the same exact poke dumped on some chips. It seemed more like a poolside concession stand than a true restaurant. To be fair, this is a Hilton Garden Inn property not a proper Hilton resort.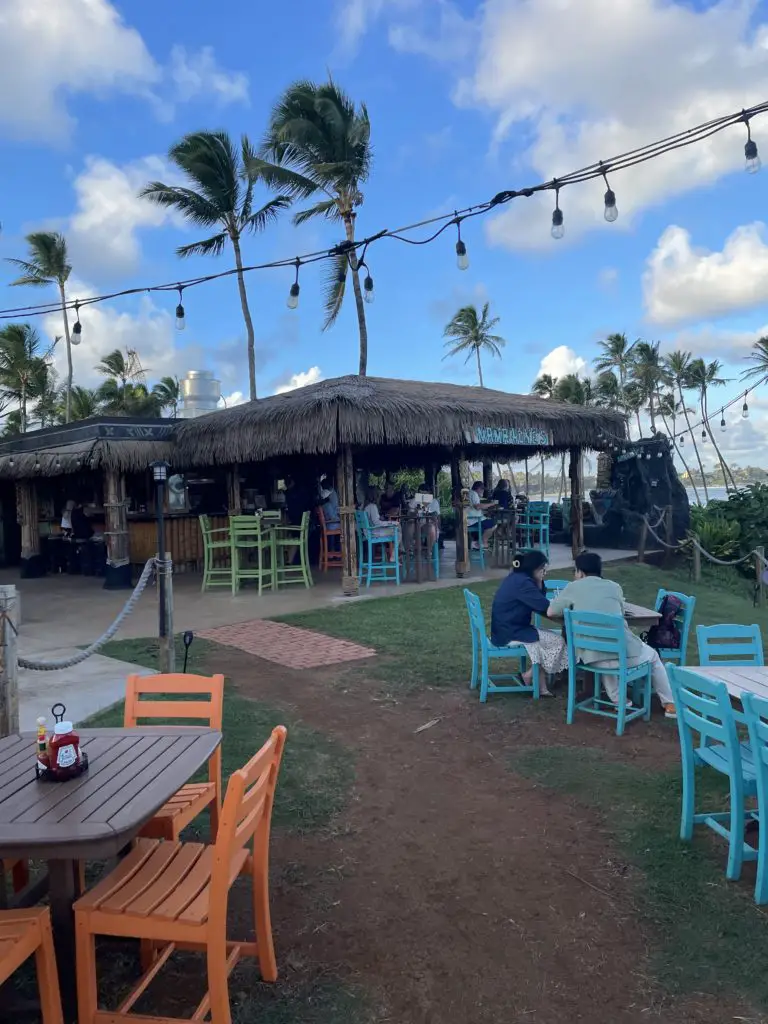 Okay, now to some of the highlights. Again, overall I enjoyed my stay. I got to drive north to the Napali coast and do some of the best hiking of my life. The views of the lush vegetation along the coastline were unbelievable. I was expecting massive crowds and was pleasantly surprised to have plenty of solitude along the trails. We will get to all of this in a minute.
Hikinaakala Heiau
The best part of my time at this Hilton property was watching the sunrise on the beach. The mega resorts are usually so crowded. This was not the case here. I loved the ability to walk around, look at the roosters, and stare out into the ocean every morning.
Related: Hilton Waikiki Beach Review – The Best Hilton In Honolulu
A trip to Kauai is definitely the type of trip for a couple with children. I saw many young couples with a babies who were probably enjoying their first vacation together. I agree that a Hawaiian vacation is the perfect trip for families. In this case, ideally I would want to be at a property that is more of a resort. I want a premium pool and multiple restaurants options if the plan for the vacation is to lay by the pool and munch on food. I understand that this is simply my preference. 
How Close Is The Beach At The Hilton Garden Inn Kauai?
The beach access at the Hilton Garden Inn Kauai was incredible. I was able to walk off the property and be directly at the beach. At most resorts, the beach space is small and always crowded. This is the only hotel where I have been able to find my own private section of the beach any time of day. I brought along my journal, a novel, and spent hours laying on the beach listening to the waves. This fact alone would make me consider visiting again.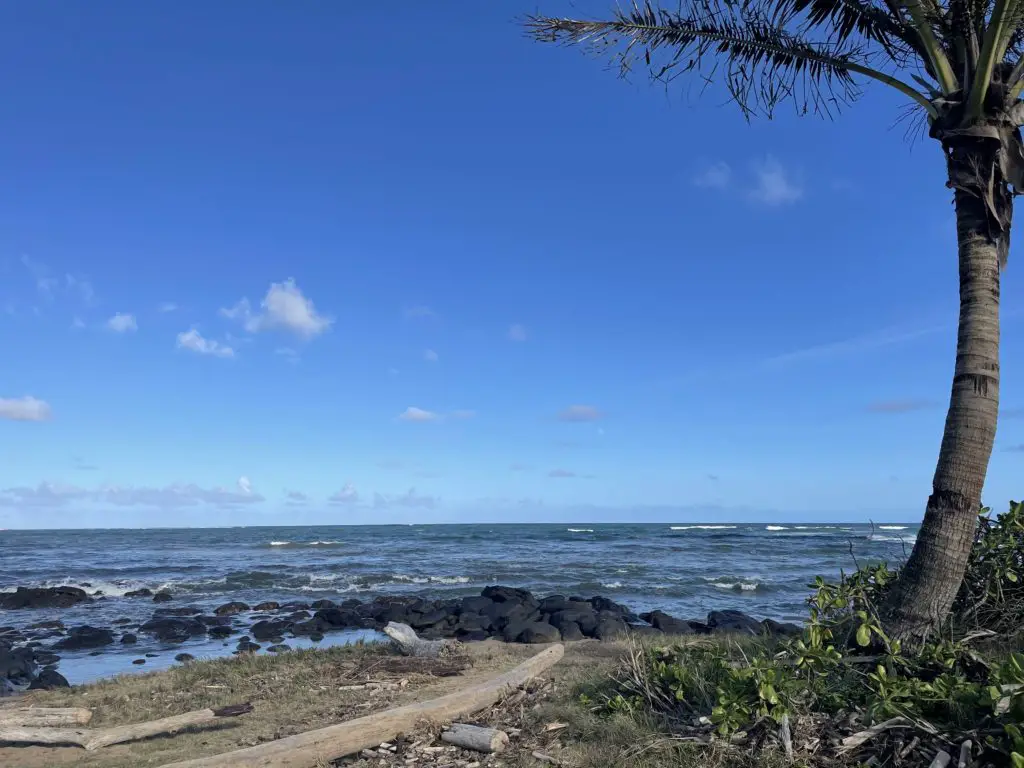 What Are Some Of The Property Amenities?
Free parking
Fitness center
Two complimentary Mai Tai beverages per day
Snorkeling
Bicycle rentals
Beach towel
Hilton Garden Inn Kauai Breakfast Menu
So what perks were available for Hilton Diamond members? Well, every guests receives a voucher for two complimentary Mai Tai drinks per day. Unfortunately, breakfast is not included. Hilton Honors members get a $10 food credit per person per day. This is now standard at Hilton Garden Inn properties. It only pays for about half a meal. At standard Hilton resorts you can usually get a whole meal out of the food credit. The dollar amount of the food credsit is designed to be smaller at the lower tier properties.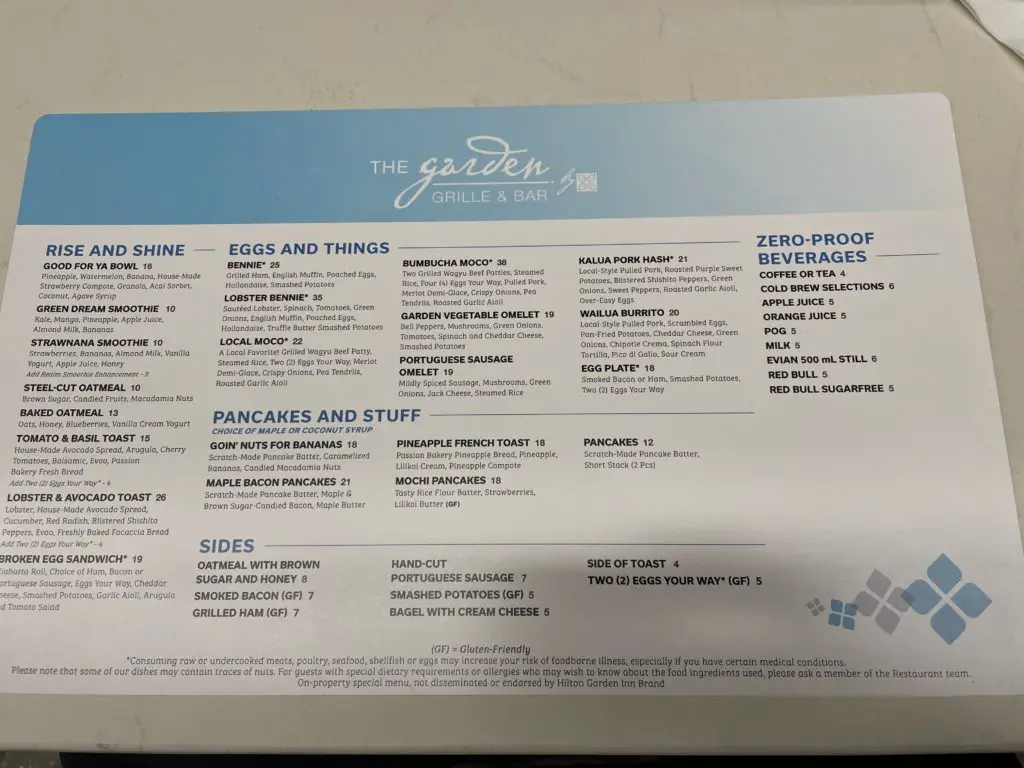 Now for some good news! This is the first time I have stayed in Hawaii without paying a ridiculous parking fee. Typically, I see parking prices in the $45-60 per night range. This property offers self parking and there are plenty of spots. This makes it so much easier to grab a cup of coffee and get on the road for an early morning hike.
North Shore Shuttle To Hā'ena State Park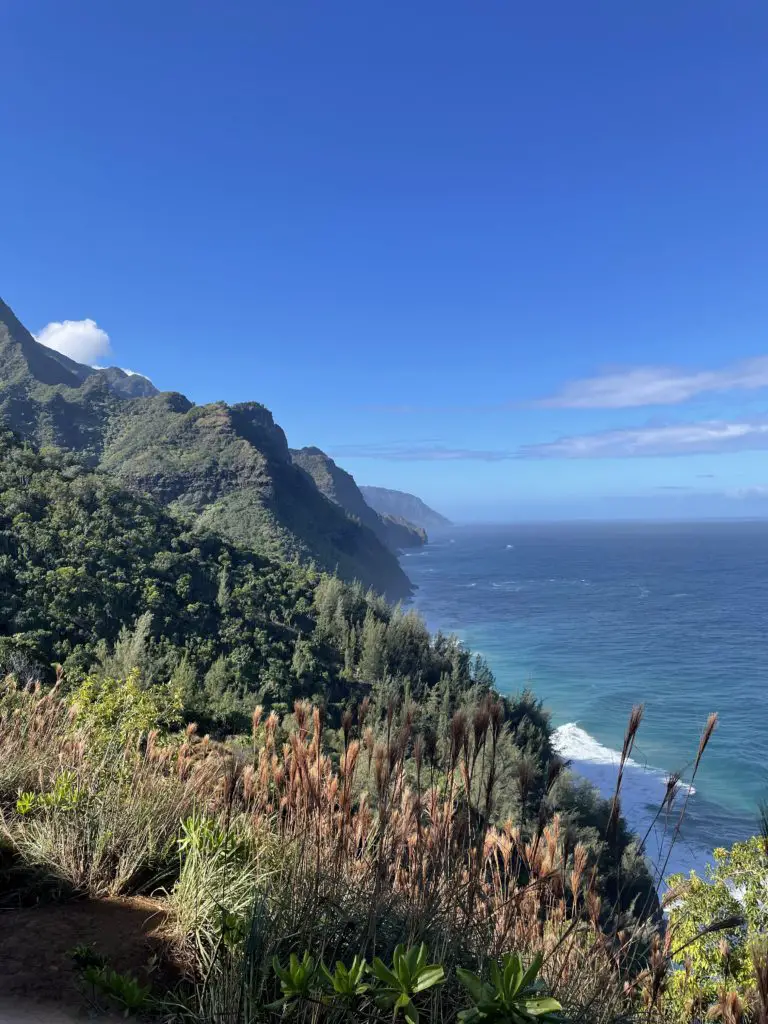 A Kauai trip would not be complete without hiking the Napali coast. I made my reservations last minute and there were not any parking passes available for Haena State park. So I booked the Haena North shuttle service. Initially, I was not looking forward to this. In hindsight, it worked out great. You park at the Waipa Park & Ride. Then the shuttle taking you to the trail head runs every 20 minutes. There is even audio narration on the shuttle bus.
Related: Hilton Los Cabos Review – A Perfect Vacation
Hilton Garden Inn Kauai Tripadvisor Feedback
Are you curious to see what other guests have to say about the hotel?
Pros
A good location to explore the north and south side of island
Walking distance to Lydgate park
Free parking
The beach access is fantastic
Cons
Limited food menu
The windows in the rooms are smudged so you can't see the ocean very well
Everything needs some updating
There are no balconies to enjoy the ocean view
You have to wait in line to get food
Small pool
Hilton Garden Inn Kauai Review By Stuff Suitcase