Hilton Los Cabos Review – A Perfect Vacation
I should go to Mexico more. A single direct flight. The shuttle service pulling an ice cold corona out of the cooler as they greet me. A quick 15 minute ride to the resort before I check in and run down to the pool to order a margarita from the swim up bar. Now this is paradise. The Hilton Los Cabos offers breathtaking views of the ocean from a newly remodeled infinity pool. Along with multiple on-site restaurants offering American, Mexican, and Italian cuisine. There is a good reason it ended up on my list for the Best Hilton Resorts 2020. Read my detailed Hilton Los Cabos review below.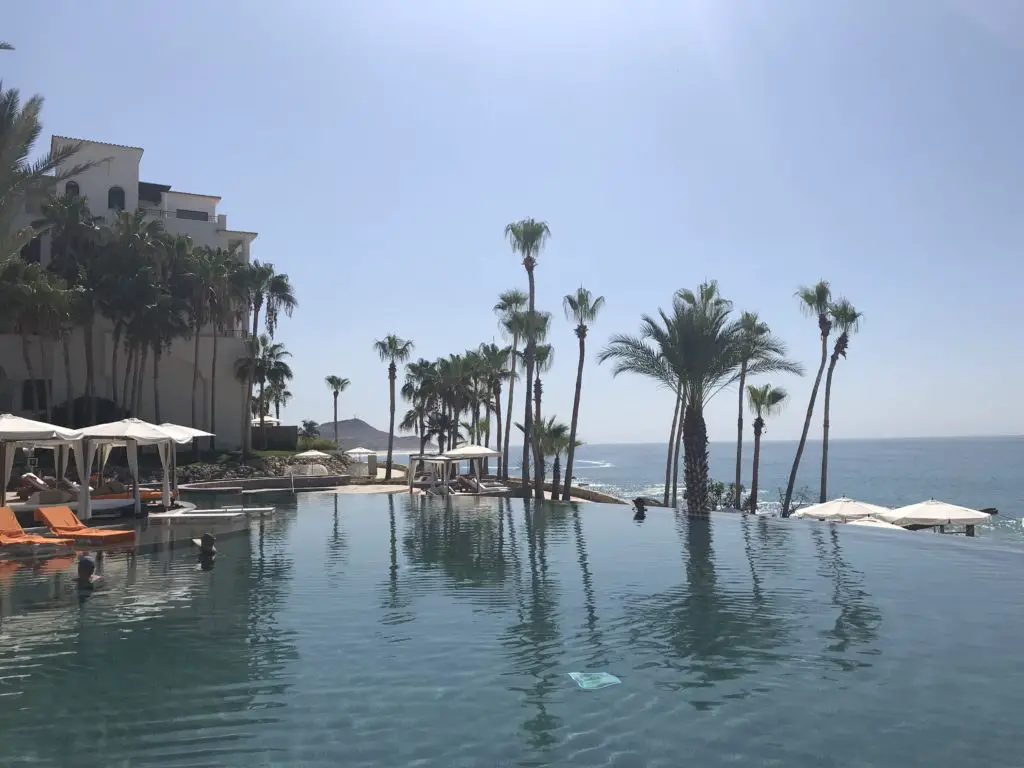 Hilton Los Cabos Location
The Hilton in Cabo is located on the tourist corridor about 17 minutes from the aiport. The tourist corridor is a 20 miles, four-lane highway surrounded by the desert and coastline of the Sea of Cortez. It connects San Jose del Cabo and Cabo San Lucas. The Hilton is right in the middle of this corridor and about 15 minutes from each town.
Airport Transportation Cabo San Lucas
There are many options to get from the Los Cabos International airport to the Hilton Beach Resort in Los Cabos, Mexico. I prefer to use Uber to get around in Los Cabos. Even though it is technically illegal due to a conflict with the local taxi association, I have used it many times without issue. I do use shuttle service to get from the airport to my initial destination. Then I use Uber to get around and to get back to the airport when I am headed home. Most recently I used the shuttle services from Cabo San Lucas Tours. A one way airport transfer was only $15 per person. They wait for you outside the airport in bright orange shirts and make sure you get to your destination promptly.
Hilton Honors Point Redemption
The Hilton Los Cabos is a four star property with amazing amenities. So you would expect to pay a premium whether in Hilton Honors points or cash. Typically, the point redemption rate is around 70,000 points per night. This is on the high side in comparison to an average Hilton, but expected for a premium property like Hilton Cabo. Due to COVID-19 this was recently reduced to 52,000 points per night. I took advantage of the Hilton special where you can book four nights, and get the fifth night free. My total five night stay only cost 208,000 points, and this included a free multi-course continental breakfast for two every morning. Not a bad deal!
Hilton Los Cabos Review – Hilton Hotel Restaurants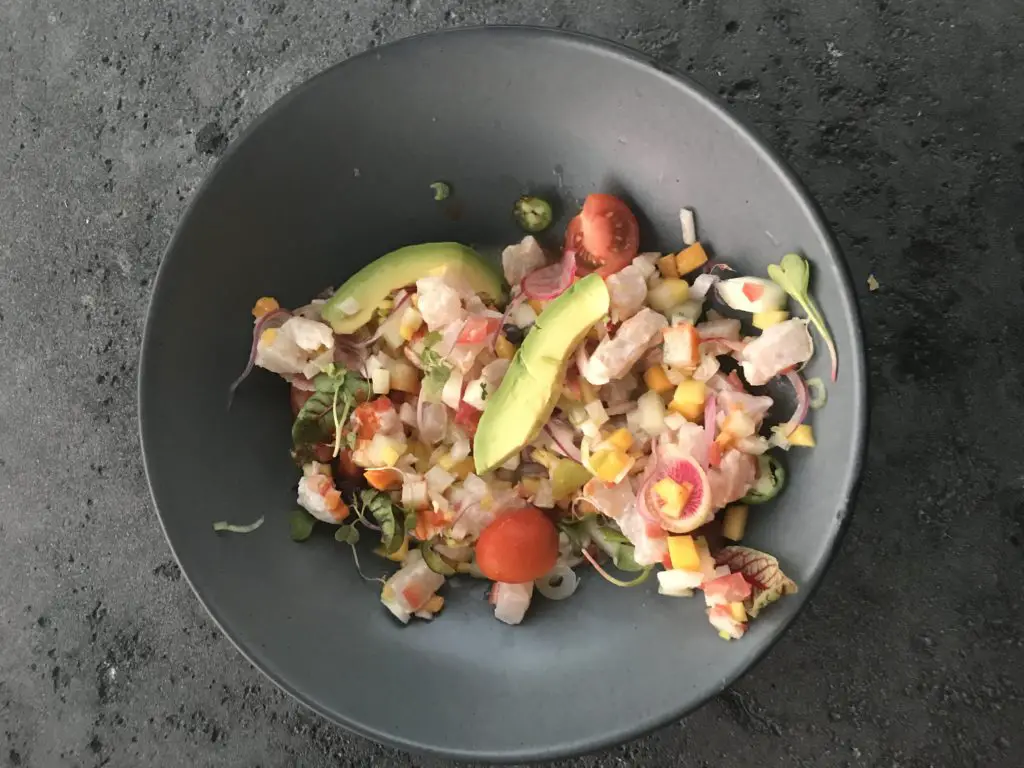 If you do not feel like leaving the resort there are a variety of food options available on-site. El Meson offers farm-to-fork breakfast and sea-to-table dinner all with a pool view. If you get tired of Mexican food, Vela, on the ground floor offers elegant Italian cuisine. Azul is the lobby bar and home to Los Cabos' largest tequila collection. And don't forget the poolside American Mexican comfort food from Madero. Madero is beautifully designed swim up bar where you can grab a mojito while never leaving the pool.
Traveling To Mexico
COVID-19 is having an impact everywhere, and Cabo is no exception. As of July 2020, the menus are more limited than usual. But you will still find all the classics. The Hilton Los Cabos Beach & Golf Resort has taken every precaution to make guests feel safe. Hand sanitizer is offered upon entering any of the restaurants. The seating in established with social distancing in mind. The staff wear both facemasks and face shields. Throughout my stay, I saw the Hilton team regularly wiping down and disinfecting tables, chairs, and the pool furniture.
Hilton Infinity Pool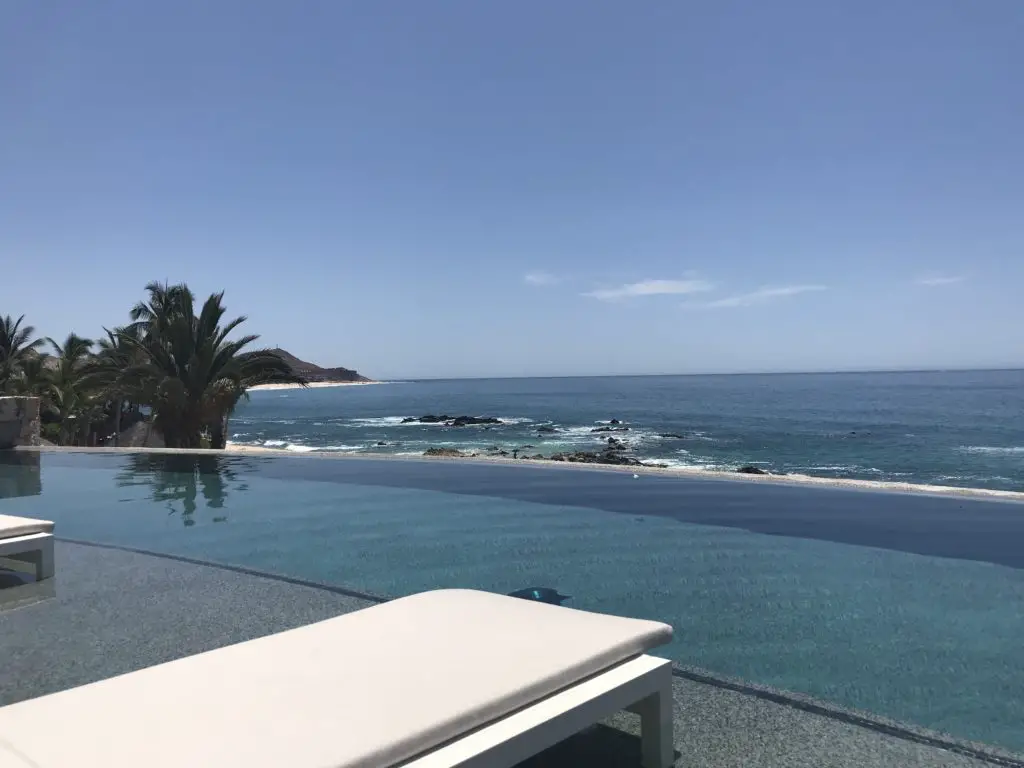 This may have been my favorite part of the resort. I saw the infinity edge pool described on the hotels website prior to my visit, but thought nothing of it. What a cool design! With the Sea of Cortez in the background the infinity pool provides the perception that the pools goes on forever, out into the ocean. This is so much better than staring at a big concrete wall!
There is actually more than one pool at the resort. There is the main pool that is near the swim up bar. Then there are additional smaller pools to each side of the resort. With one being specified as adult only for those trying to escape the noise of children and maybe read a book.
Hilton Los Cabos Review – Hilton Diamond Member Benefits
As a long time Hilton Diamond member I have gotten accustomed to the amazing perks. My favorite being resort properties that have Diamond lounges or Executive lounges. Typically you get to eat a complimentary breakfast away from the crowds, can stop back by for a mid day snack and beverage, and then return for appetizers and cocktails in the evening. Unfortunately, the Hilton Los Cabos does not have a Hilton Honor lounge.
I can't complain, though. I was upgraded to a junior suite with a stunning view of the Sea of Cortez. The balcony was even large enough to include a cabana for a mid-day nap. Also, I was provided a complimentary continental breakfast throughout my stay. At first, I was disappointed that I would have to pay extra for eggs, meat, and any hot items. About $10 extra to be exact.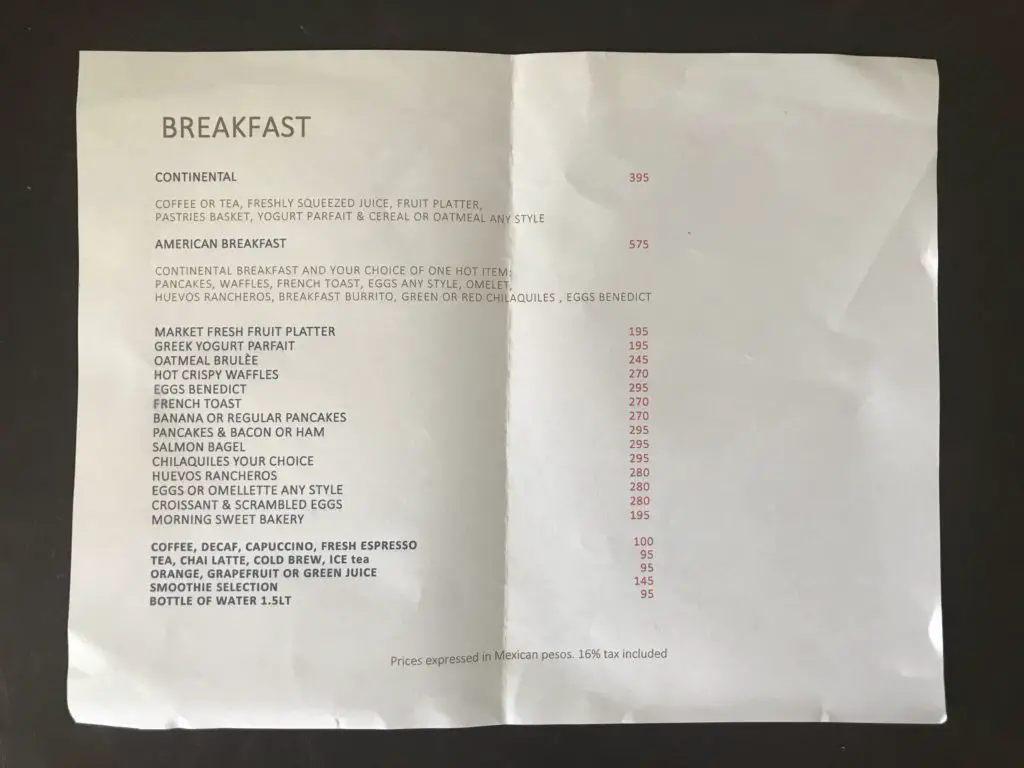 After my first breakfast, all my concerns subsided. This wasn't your Motel 6 type of continental breakfast. It included fresh squeezed orange juice, perfectly heated pastries, a yogurt parfait, oatmeal with nuts, fruit, brown sugar, and cinnamon, and a platter of fresh topical fruit. After this amazing spread, there was no need for any eggs or bacon.
Due to COVID-19, the breakfast was provided with table service rather than as a buffet. Even though it was included as complimentary for Diamond members, there was still a 15% service fee. It was understandable considering the level of service required with all the new sanitation and social distancing protocols in place.
Hilton Amenities
Cabo Kids Club & Baby Sitting Services
Two Deluxe Pools with Swim-Up Bars
Unique On-Site Restaurants
Tennis Courts
Movement Studio & Fitness Center
Eforea Spa
24-hour Room Service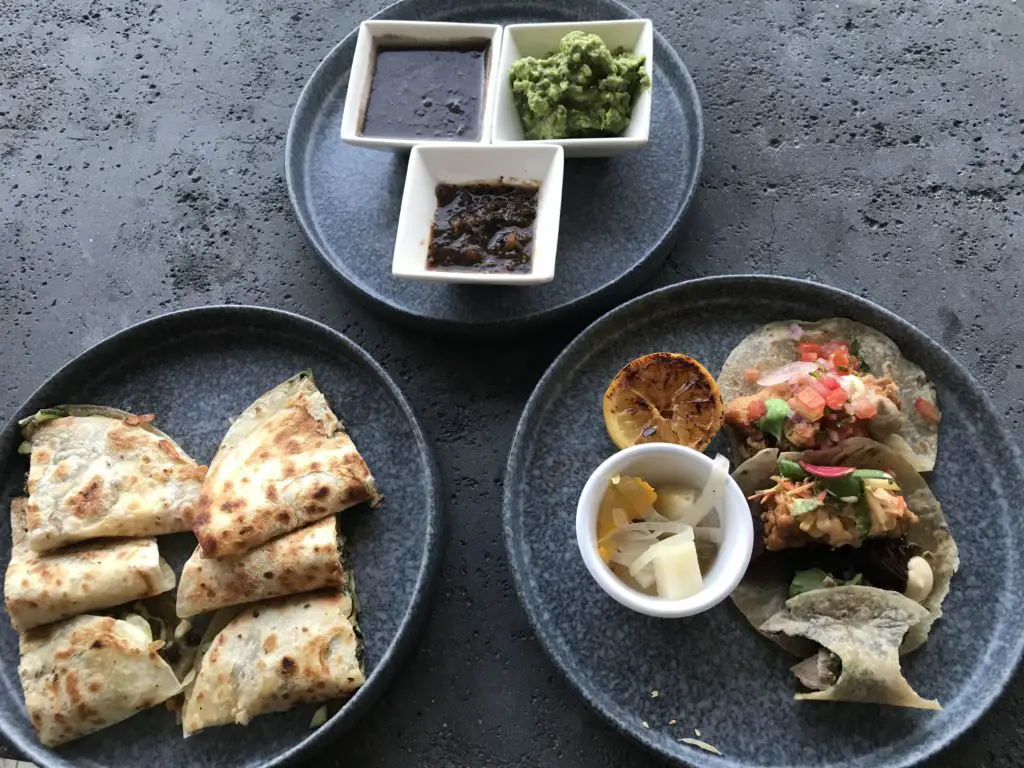 Hilton Los Cabos Review – Hilton Los Cabos Vista Club
I didn't quite understand the Hilton Cabo Vista Club until I was on-site talking to other guests that visit frequently. The Vista Club is separate from Hilton Honors. If you pay a premium for a Vista Club room, then you get the additional perks that are included with this package. The first perk is preferred seating by the pool. The cabanas with premium beach views are blocked off for Vista guests only. This wasn't a big deal during my visit because the hotel was at low capacity, but I could see this being kinda annoying for non-Vista guests if the place was packed.
The Vista rooms offer the best views on the property. Some of them even have a private dipping pool on the back balcony! In normal times there is a Vista lounge on the top floor with snacks, appetizers, and drinks available at no cost. Due to COVID-19, rather than the lounge buffet, these guests were brought complimentary snacks by the pool, such as guacamole.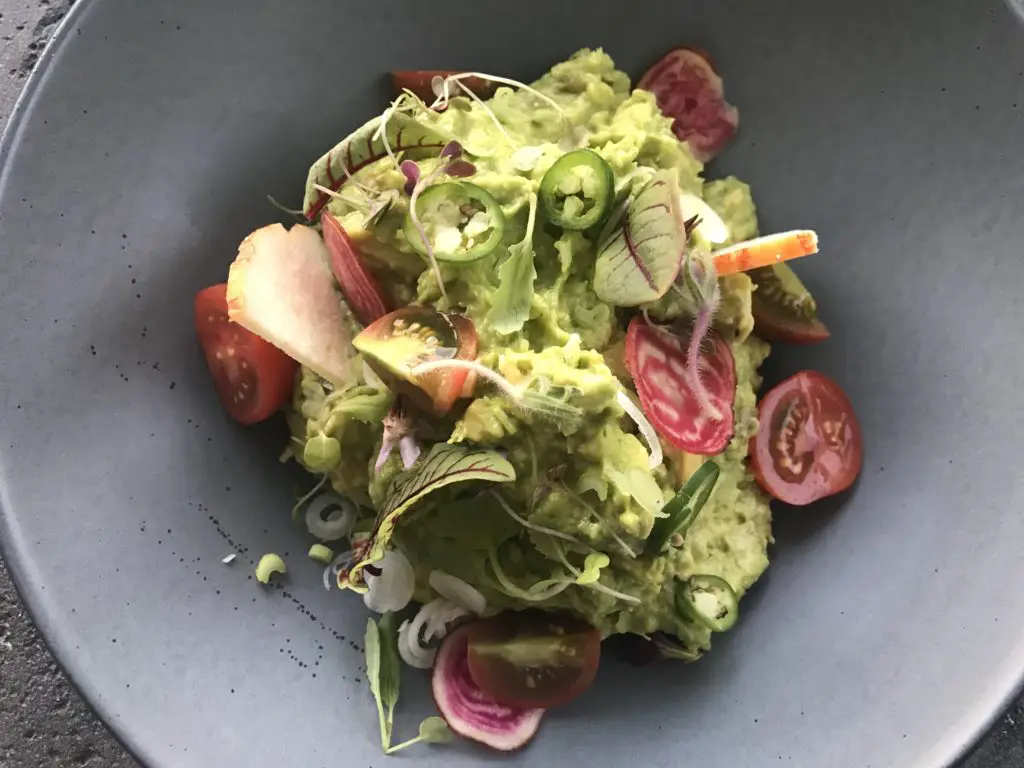 Hilton Los Cabos Review – Rooms
The rooms were extremely nice, but not out of this world. Being a Hilton Diamond member I was upgraded to a junior suite at no charge. As I said previously, the large balcony was the highlight of the room. The interior of the room had been modernized, which I can't say for all Hiltons. As some of them are still stuck in the 1980's. The downside was it was a little on the small size. There was only two of us and we spent most of our time by the pool, so that was not a problem. But for a family, it would have been tight. If I am getting picky I like the resorts in which the suites have a full separate room. Rumor has it that some of the Vista Club rooms include this setup!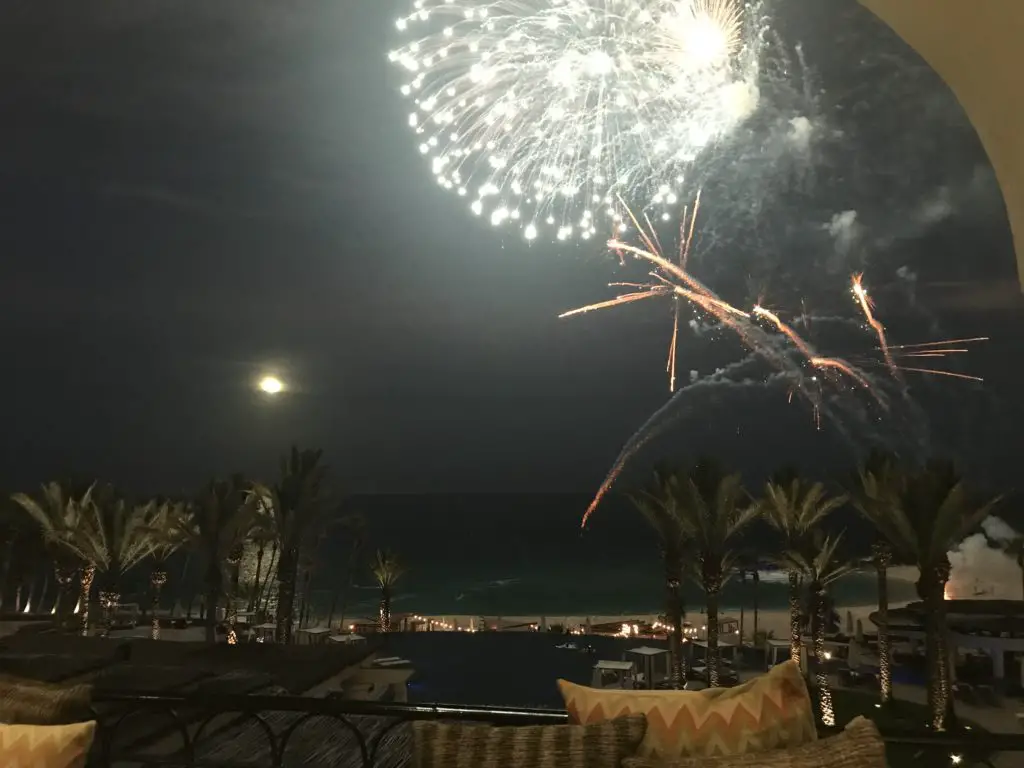 Swimmable Beaches In Cabo
Baja California is the northern half of the Baja Peninsula. It is bordered on one side by the Pacific Ocean and on the other side by the Sea of Cortez. Cabo is at the southern tip of the Baja California Peninsula. Many travelers do not realize that many of the gorgeous beaches in Baja California are not actually swimmable. The beach outside the Hilton is known by many names including Playa Bledito, Hilton Cove, and Tequila Cove.
Hilton Los Cabos Beach & Golf Resort – Beach Access
The resort has direct access to Hilton Cove, a beautiful private beach, and one of the only swimmable beaches in Los Cabos. The sand is harsh on barefeet and the waves choppy, but is is nice, quiet escape. I recommend the beach more for a walk, rather than to swim in. The waves were rather fierce if you have a family with children wanting to play in the water.
Best Restaurants Cabo San Lucas – Restaurants Near Hilton Los Cabos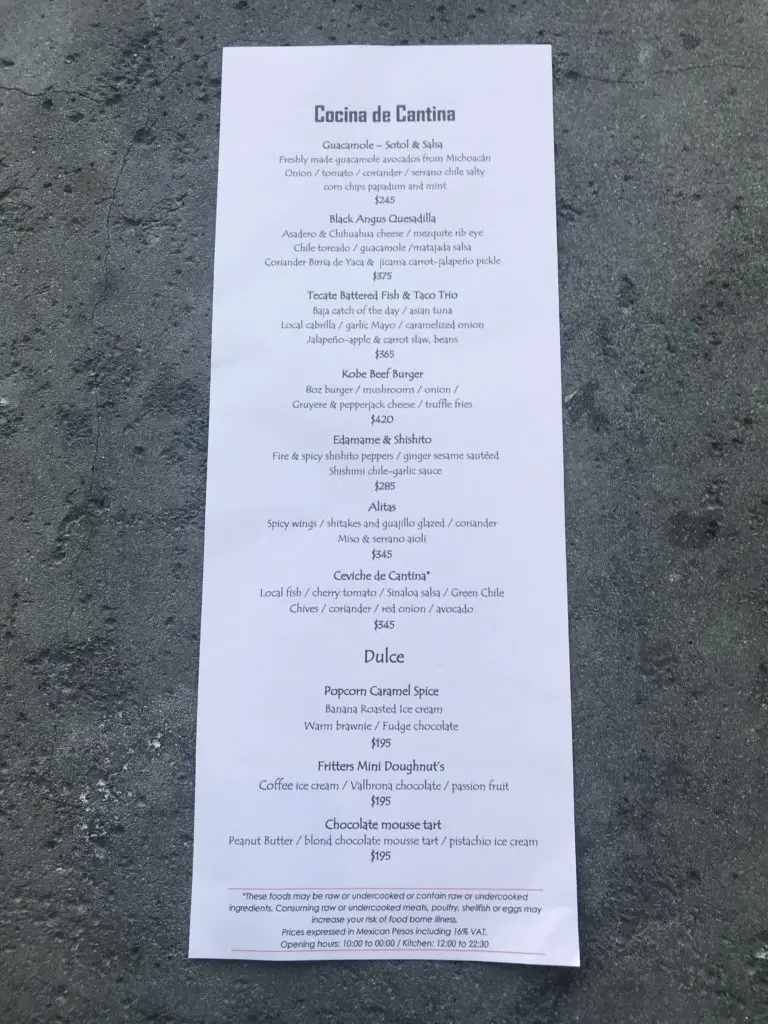 The Hilton Los Cabos is a 15 minutes Uber from Cabo San Lucas and San Jose de Cabo. While there is controversy around Uber in Los Cabo I used it without issues. They will pick up directly from the Hilton and provide safe, reliable service. It is only about $10 for the 15 minutes ride into the city, which means you can break away from the resort for a nice dinner in town. These are the restaurants I recommend in Cabo San Lucas. They were open as of July 2020.
La Chatita Restaurant & Bar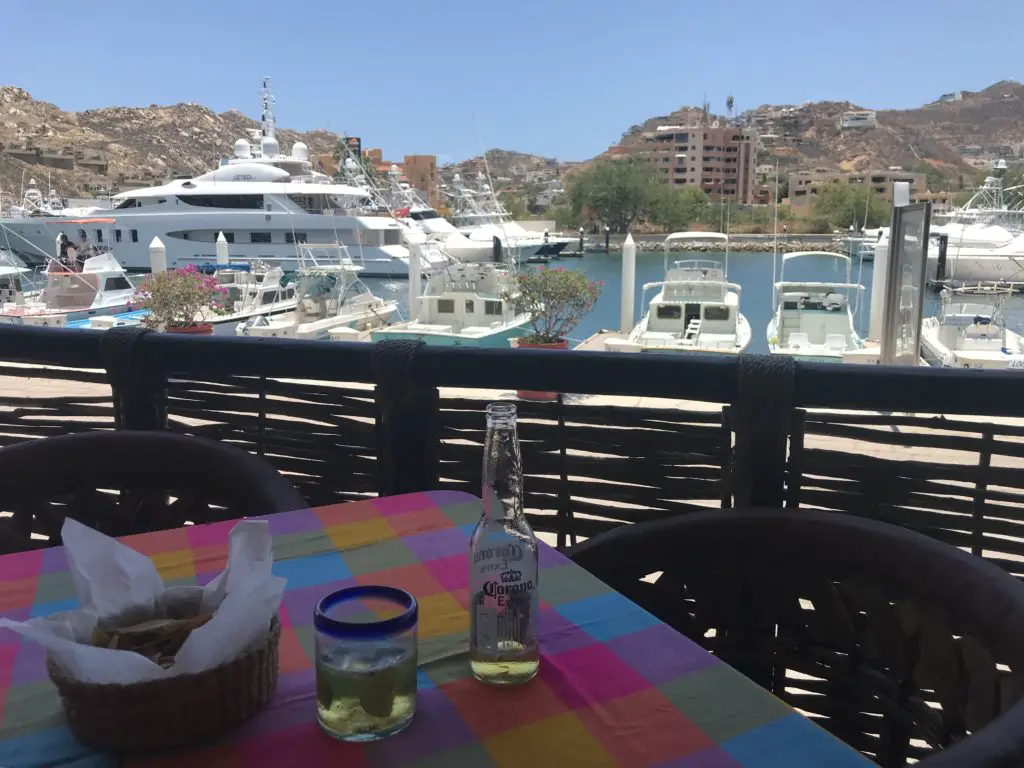 This is the classic Mexican food you are hoping to get on a trip to Cabo. The restaurant sits in the classic tourist area along the pier in downtown Cabo. They offer large portions of fish tacos, fajitas, and the other mouth watering Mexican classics. Please do not forget the guacamole! With Corona beers only being about 45 pesos (around $1), take your time, people watch, and enjoy the view of the boats and water.
Maria Jimenez Restaurante Mexicano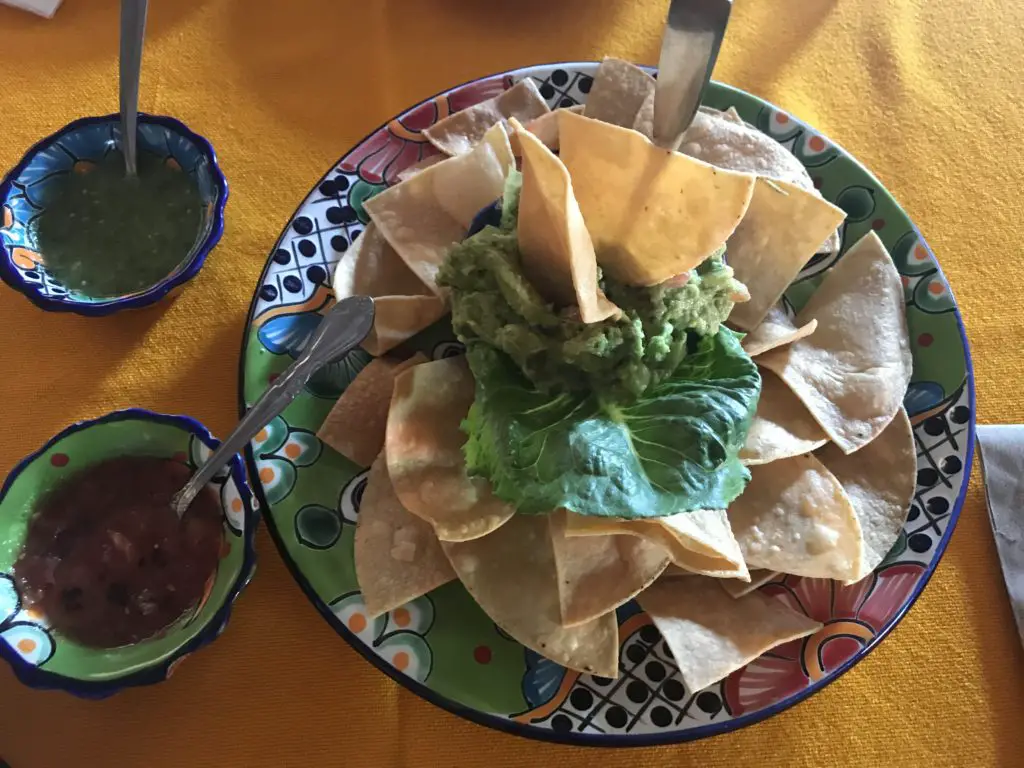 Maria Jimenez Restaurante Mexicano is downtown, but a little bit away from the pier with all the tourists. It has a simple, but elegant charm and is a great spot to break away for a romantic dinner. I got started with the guacamole and then tried the chicken enchiladas. Fantastic food, and reasonable prices. I can confidently say that this was the best guacamole I had all trip.
Daikoku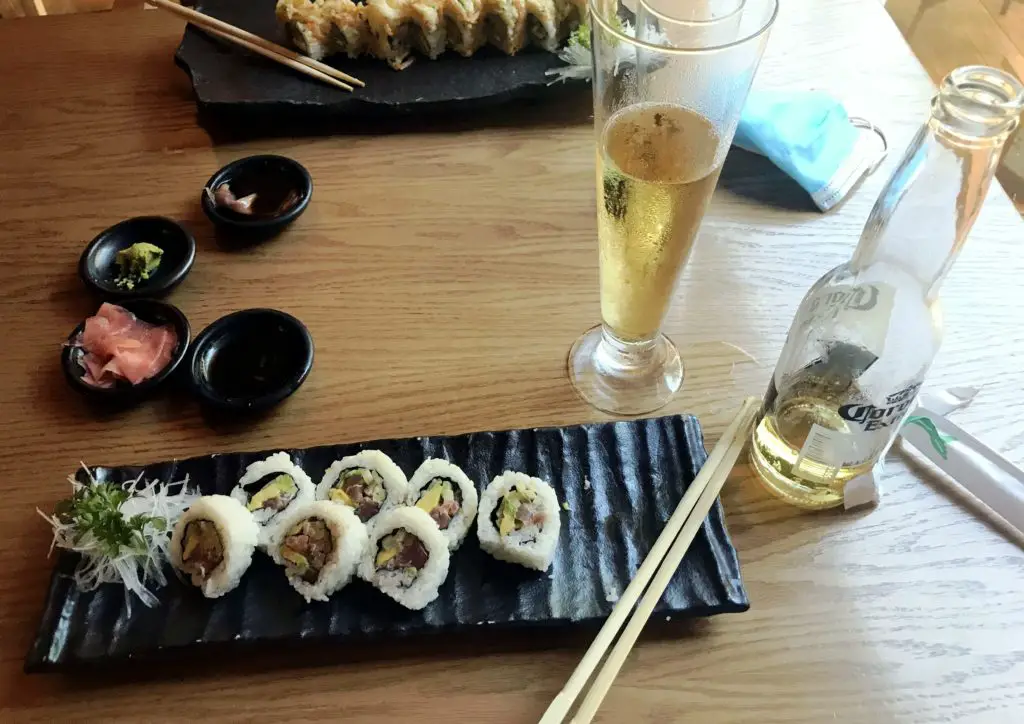 My guess is that on your trip to Cabo you first eat some tacos, then a quesadilla, then a burrito, maybe some nachos, and then are ready to take a break. At least that was the case for me! Daikoku is a vibrant Japanese restaurant downtime with a zen vibe and glass floors with sand beneath. You can mix things up with noodles or sushi. Again, enjoy a budget friendly Corona or Pacifico to wash down these rolls.
Hilton Los Cabos Tripadvisor
Hampton Inn Los Cabos
If you are looking for a more budget oriented lodging option in Cabo check out the Hampton Inn and Suites. Right now it is only about $59 or 18,000 Hilton Honors points. It may not have the luxurious amenities of the Hilton Los Cabos Beach & Golf Resort, but the location is good.