Wusthof Vs Shun: The Ultimate Knife Review
I have been on cookware kick recently. The goal is to make my time in the kitchen more pleasant. Cooking does not have to be a chore. It can be something that is truly enjoyable. Part of this equation is investing in high quality gear. Kitchenware is one area to not cheap out on. In this article we take a detailed look at the popular Shun vs. Wusthof knife brands.
What Is The Difference Between European Vs Japanese Kitchen Knives?
When it comes to kitchen knives, there are two main styles to choose from: European and Japanese. Both types of knives have their own unique characteristics and are well suited for different tasks and preferences.
European knives are typically made in Germany, France, or Italy and are known for their sharpness and durability. They are made from high-carbon stainless steel and have a thicker, more robust blade. The edge of the blade is typically sharpened at a steeper angle, which makes them ideal for chopping and slicing. The handle is usually made from a durable synthetic material and is designed to provide a comfortable grip.
Related: Save Money With Ross Pots And Pans
Japanese knives, on the other hand, are known for their precision and sharpness. They are usually made from harder steels like VG-MAX or VG-10. They have a thinner, more delicate blade than European knives and are typically sharpened at a shallower angle. The handle is usually made from a material like wood or Pakkawood.
European knives are great for heavy-duty tasks like chopping through bones or cutting through tough meats, while Japanese knives are best for delicate tasks like slicing smoked salmon or sashimi. Japanese knives are best for precision tasks like peeling and trimming fruits and vegetables.
Wusthof Classic Vs Wusthof Gourmet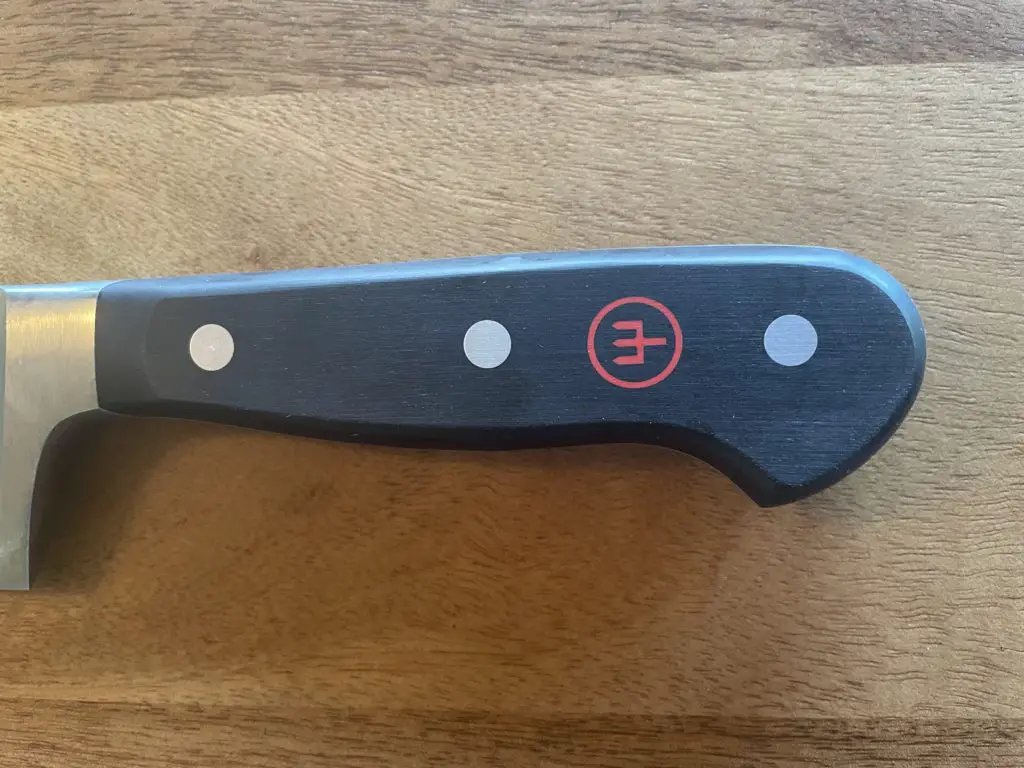 Don't get confused. They make look similar but there is a big different between "Classic" and "Gourmet" kitchen knives. When it comes to European kitchen knives, Wusthof is a well-known and respected brand that offers a wide range of options for home cooks and professional chefs. Two of their most popular lines are the Wusthof Classic and Wusthof Gourmet. The Wusthof Gourmet is their entry level knife set and the Wusthof Classic is their standard product.
One of the main differences between Wusthof Classic and Wusthof Gourmet is the way they are constructed. They both use the same metal. But the classic is forged and handmade and the Gourmet is machine-made and stamped. The Gourmet is less resilient than the Classic. Another difference between the two lines is the handle design. While they look similar, the handle of the Wustof Classic is made with a higher quality material.
In general, Wusthof knives carry a lifetime warranty against manufacturer defects.
Related: The New Retail Trend – Premium Store Brands
Shun Classic Vs Shun Premier – Which Is Better?
Let's start with price. Shun Premier knives are about 25% more expensive than the Classic product. Is this worth it? I don't think so.
Both products are made from VG-MAX steel, a proprietary blend of steel that is known for its edge retention and sharpness. The knives feature a full tang construction which adds balance and strength to the knife. Also, both products are handmade in Japan and both products are forged. They are essentially the same knives other than few little design differences. The Shun Premier has a hammered finish on top that keeps food from sticking. The main difference is small aesthetic details like the trim and logo.
The Shun Classic and Shun Premier knives both offer a life time warranty and life time sharpening!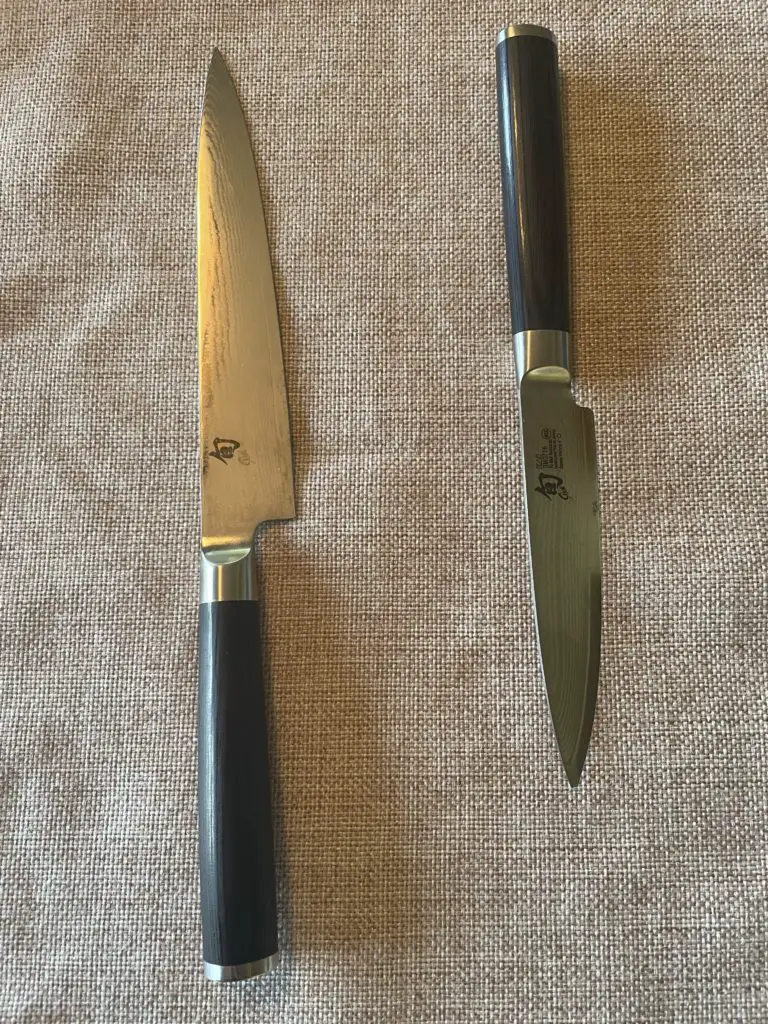 Shun Classic Vs Wusthof Classic — What's the Difference?
Shun Vs Wusthof of According To Reddit
Wusthof knives are known for their durability and versatility, while Shun knives are known for their precision and sharpness. Reddit users have also noted that the design and aesthetics of Shun knives are more elegant and refined compared to Wusthof knives. Also, the handle design of Shun knives is more comfortable and ergonomic than the Wusthof products. But you will pay more for this! Reddit users have reported that Shun knives are more expensive than Wusthof knives. Though, loyal Shun users feel the extra cost is worth it for the improved precision and sharpness.
Related: Dollar Tree Soup For The Frugal Minded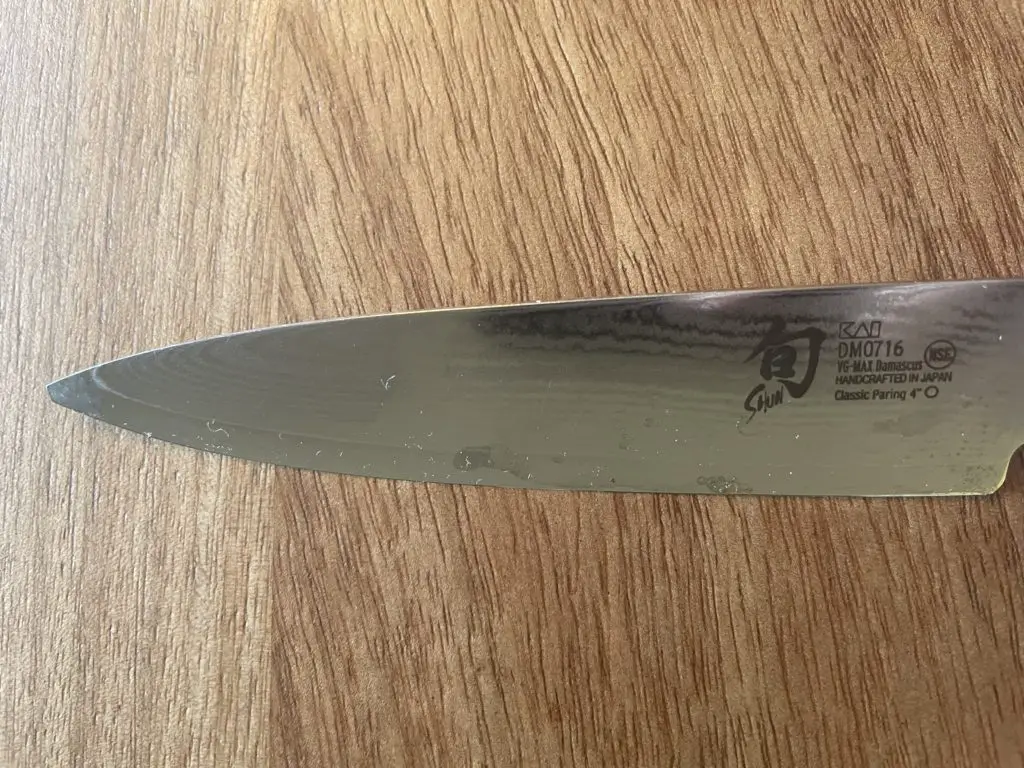 What Is The Best Knife Set For The Money?
The Off Brand Guy is all about durability and longevity. For this reason we have selected the Wustof Classic Nine Piece Block Set as the best knife set for the money. This set includes the three essential knifes. A chef's knife, a paring knife, and a serrated knife. Though, many knife experts recommend purchasing knives individually rather than in sets. Based on my experience, Shun knives are too delicate. I have two Shun knives and tips have broken off of both.