8 Reasons To Take A Prague Solo Travel Adventure
The Off Brand Guy has been living large these days. I have spent a month in Europe so far this year! I visited Prague, Budapest, Vienna, and even spent one night in Dublin. Prague in the Czech Republic was my first stop. I found the city to be a perfect destination as a solo traveler. Did you know it was ranked as one of the most inspirational cities for writers? Here are eight reasons you need to take a Prague solo travel adventure.
Why Should I Take A Prague Solo Travel Adventure?
There are many reasons to travel solo. Traveling alone allows you to step outside your comfort zone and face new challenges independently. It fosters personal growth, boosts self-confidence, and helps you become more self-reliant. Also, solo travel gives you complete control over your itinerary. You can choose where to go, what to see, and how long to stay at each destination without having to compromise. I really appreciated this aspect. My previous international travel adventures had been rigidly planned with the objective of squeezing in as much as possible. It have to say it was nice to wing it for once. I woke up and did whatever I wanted to in the moment.
Contrary to what some might think, solo travelers often find it easier to meet new people. It's common to bond with locals or even other solo travelers on similar journeys. This surprised me. I wasn't intending to meet new people. Though, I am going to be realistic. Most solo travelers are college kids in their early twenties or recent retirees. Still, through a pub crawl and a group castle tour I walked away from the trip with some new friends.
There is a hugely underrated reason for traveling solo. It is cheaper! You can be intentional with your spending and cut back when it feels right. When traveling with a companion you have to take into account their preferences and make compromises. This can run up the bill. On a solo trip you can embrace your inner cheapskate when it feels right. Prague is known to be one of the cheapest cities in Europe!
Related: The Best Packing Cubes On Amazon
Is Prague Good For Solo Travelers?
Prague is great destination for solo travelers for a couple of reasons. It is safe, easy to walk around, and English friendly. It is a very approachable city even for those without a lot of European travel experience.
Prague is a safe city for both solo male and female travelers. Violent crime is relatively low, and the city is considered one of the safest in Europe. As with any big European city, just be vigilant about petty crimes like pickpocketing. Many people in Prague, especially those working in the tourism industry, speak English. Signs and information in English are common, making it easy for solo travelers to navigate and communicate. Also, the city center is relatively compact and walkable. This makes it convenient to explore the main attractions on foot. I got around the entire trip with only walking and a Hop On Hop Off Bus ticket.
How Many Days In Prague Is Enough?
I spent three days and four nights in Prague. I found this to be the right amount of time. I wandered at a leisurely pace and got to see all the main attractions. In general, I would recommend two to five days depending on your travel goals. If you are trying to cover as much ground as possible you could hit the big stuff in two days. Make sure to visit the iconic landmarks like Prague Castle, Charles Bridge, Old Town Square, and St. Vitus Cathedral.
What Is The Best Time Of The Year To Visit Prague?
I am biased. I don't like the combination of heat and crowds during Peak travel season in Europe. In my opinion Spring is the best time in visit Prague. The weather starts to warm up, and the city comes to life with blooming flowers and trees. The crowds are generally smaller than in the summer, making it a pleasant time to explore the city's attractions and enjoy outdoor activities. If traveling during the heart of summer, plan to pace yourself and take some midday breaks inside the hotel.
Related: Cheap Samsonite Luggage At Ross Dress For Less
What Does Reddit Have To Say About Being A Solo Traveler In Prague?
I love getting travel advice from Reddit. This is where you can get the reals tips without any fluff. Here are the most important things I learned from Reddit:
Prague is not the type of city to have such a strict schedule. It's quite small, most of the appeal is wondering around.
Prague is one of the few cities of it's size and history that was not heavily bombed and destroyed during WWII. Do you know why?
Reddit users recommend checking out the YouTube videos from Honest Guide. If you like this sort of thing check out Drew Binksy's videos. He is my favorite travel vlogger.
Best Things To Do In Prague Alone
1. Take A Solo Stroll On Charles Bridge
I made it to about twenty different countries throughout the last ten years. I got to say, taking a morning stroll on Charles Bridge with a cup of coffee ranks up their pretty high my list. I visited in March when the weather was just right. Europe can get overbearingly hot during the summer months. In March the crowds were light and the weather was mellow.
The view from Charles Bridge is breathtakingly. It is a medieval stone arch bridge that crosses the Vltava river in Prague. It seriously looks like something out of a picture book. I felt like I was in a fairy tale. Plus, there is some serious history to read up on you walk across the bridge and enjoy the views. Believe it or not construction on the bridge started back in 1357. It connects old town Prague with the side of the river with Prague Castle (you can make this out in the distance in the picture above).
This isn't one of those tourist attractions were you have to get tickets and wait in line. It is a pedestrian bridge open to the public. Grab some coffee or ice cream from one of the street vendors and get walking! Just a side note, you will see Trdelnik shops everywhere on this stretch. Trdelnik a tasty pastry. To be honest, it is more for tourists. It is not something most Czech people eat.
2. People Watch In Old Town Square
Old Town Square in Prague is majestic. It includes beautiful gothic buildings and a medieval astronomical clock. I enjoyed this meal of sausage and dumplings right from the Old Town Square. Yes, it is a tourist trap. The meal was overpriced. And I had to desperately work to keep the birds out of my food. But it was worth every penny. This was my first Prague solo travel day. Nothing like a mid day beer to celebrate being on vacation.
Also, make sure to find some non tourist places to eat. I had good luck talking with the younger folks working at my hotel. I asked them about which local places they would grab lunch at. I got a couple deli recommendations. The quality of deli meat is amazing in Europe. Look at that beautiful sandwich above. It was only $5!
3. Blend In With The Crowd Around The Prague Astronomical Clock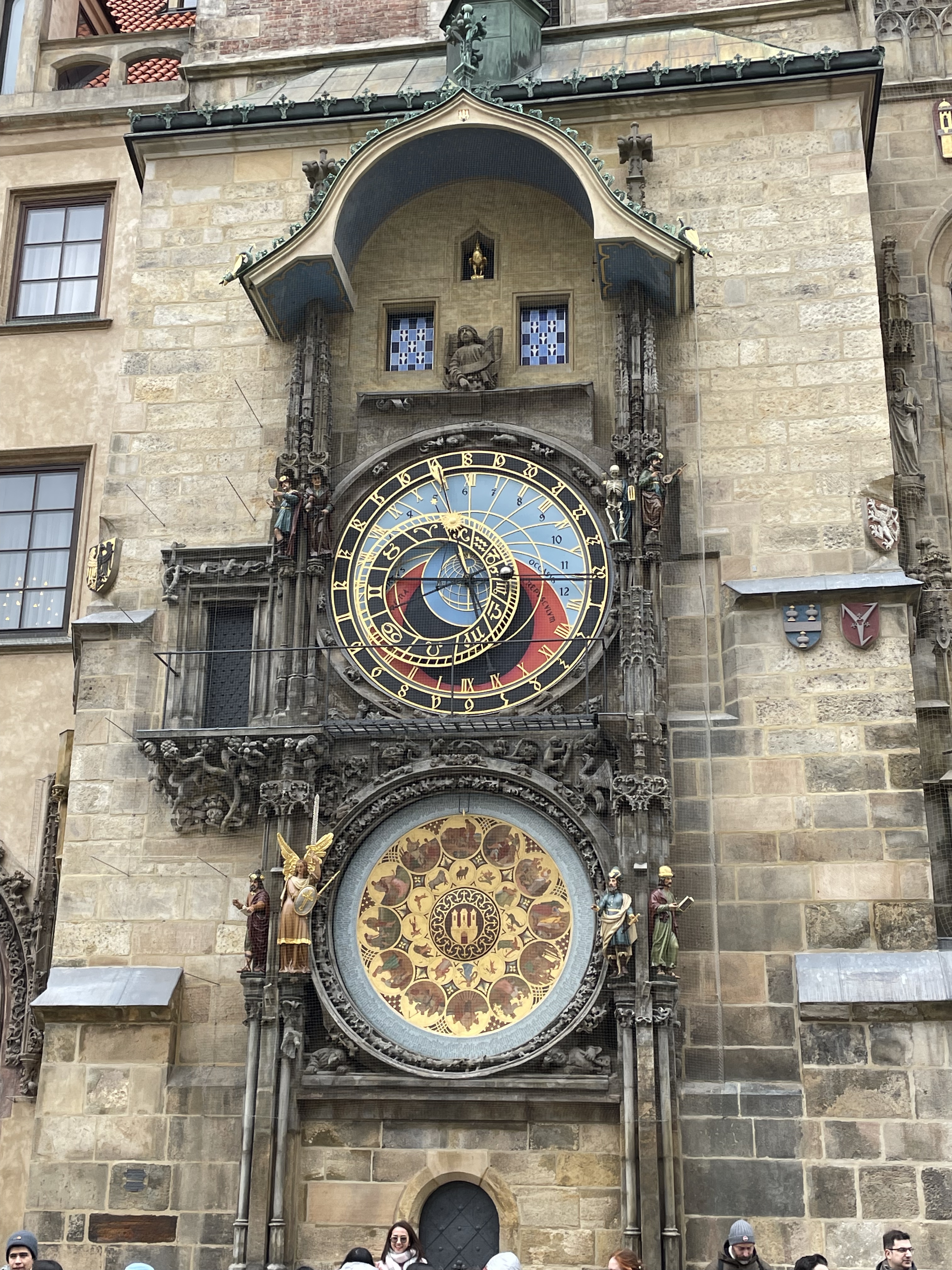 The astronomical clock is a crowd favorite. It was built in 1410 making it the third oldest astronomical clock in the world that is still in operation. There are two blue doors that open to reveal the "The Walk of the Apostles". Between 9 am and 9 pm, each hour, on the hour, the statues become partially animated. My favorite figure was the skeleton. The skeleton or a grim reaper features an hourglass, which rotates as a symbol of measuring lifetime. Make sure to get a video!
Related: Hilton Waikiki Beach Review – The Best Hilton In Honolulu
4. Take A Solo Trip To The Prague Castle
There are many reasons to visit the Prague Castle on a Prague solo travel adventure. The historical importance, stunning architecture, panoramic views, and ceremonial changing of the guard. I got soaked by the rain on my visit and I still enjoyed every moment. I have seen a lot of palaces and castles during my travels. But not many of them date back to the 9th century. The castle demonstrates a blend of Romanesque, Gothic, Baroque, and Renaissance influences. The level of detail of the castle is unbelievable. Also, the castle holds the infamous Bohemian Crown Jewels. Make sure to read up on this before you visit.
This was the only main attraction that was a bit out of walking distance for me. So I took the Hop On Hop Off bus to get there. There are many ways to get around in Prague. Uber is available and relatively cheap. And the city has a good public transportation system.
5. Drink Away Your Loneliness With A Pilsner Urquell
I am a big beer guy. Mostly, IPAs. I was surprised how much I liked the Czech Pilsner Urquell. This stuff is readily available and priced right. I usually spent $2 or $3 for a big beer. The Pilsner Urqueel is poured with a thick head of dense, wet foam. On my first night, I thought all the foam in my beer was a mishap.
Here is the thing. The foam is flavorful. It has a creamy taste to it. The foam protects the lager from oxidation, sealing in freshness and flavor. Czech's are proud of this beer. It has a deep history going back to 1842.
6. Meet New Friends At The Prague Pub Crawl
A Prague solo travel adventure wouldn't be complete without some nightlife activity. Prague has a popular nightlife scene just like most European cities. It is a great way to go check out a few spots with other solo travelers. Tickets for the Prague Pub Crawl are around $34 and they even throw in some free alcohol. The age range of my group was about 20-35. We played beer pong, visited two or three pubs, and then ended the night at the Ice Pub.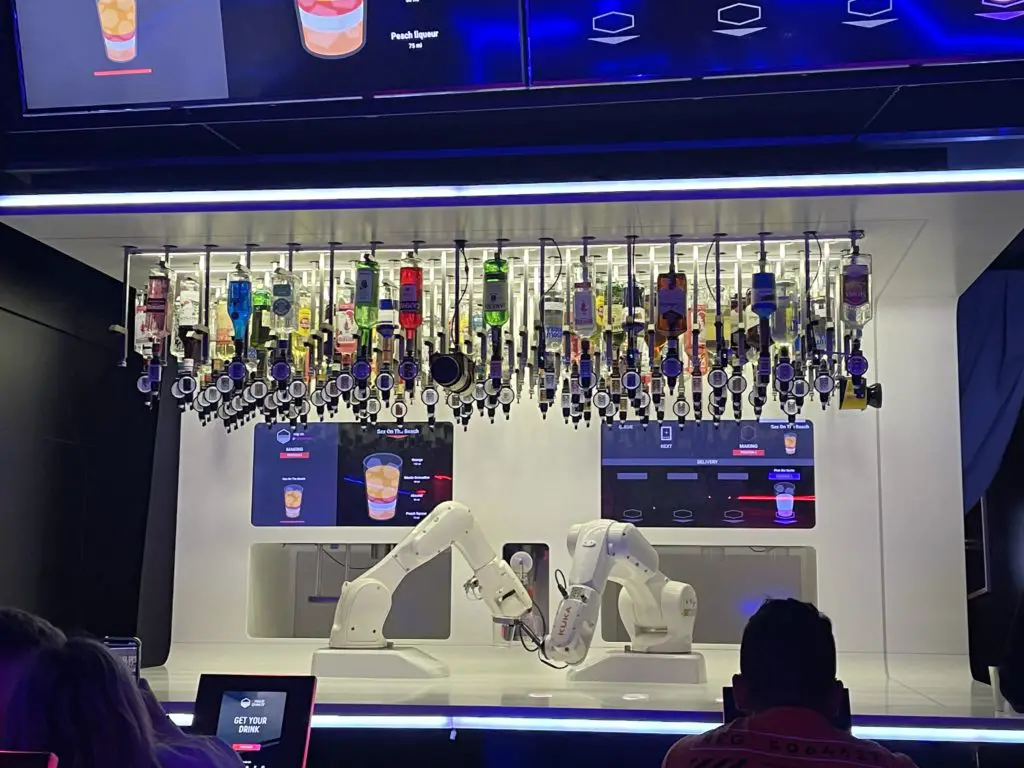 7. Chill Out At Ice Pub (Prague)
I always thought Ice bar's were a gimmicky tourist attraction. It makes me think of Las Vegas. Over priced and unnecessary. But I have to admit, I had a good time at the Ice Pub Prague. It was the final stop on our pub crawl. The walls, bar, seating, and even some decorations are made entirely of ice, giving you the sensation of stepping into a winter wonderland, regardless of the time of year. The ice sculptures and frozen decorations inside the pub create a stunning backdrop for photos. Also, the Ice Pub often offers a selection of creatively themed cocktails served in ice glasses. The place was massive with multiple floors. It had a dance floor, a robot making drinks, and of course the famous ice bar room.
Related: Natural World Kenya Safaris – The Adventure Of A Lifetime
8. Get Around With The Prague Hop-On Hop-Off Bus Tour
The Prague hop-on-hop-off bus tour provides a convenient way to see the major sights of Prague without the hassle of navigating public transportation or dealing with traffic. You have the flexibility to create your own itinerary. You can spend as much time as you want at each stop, exploring the attractions that interest you the most. Don't expect too much from the commentary. I like these tours to get an overview of the city and for general sightseeing.
Make sure to get the option with the boat tour and the Jewish quarter walking tour. The city is beautiful from the water even for someone on a Prague solo travel adventure. You can purchase tickets ahead of time from websites like Viator. I ended up purchasing mine right outside the but stop in the main square for the same price. Tickets are in the $30-50 range depending on how many days you choose.