Equate Pomade Review For The Stylish Man
In this post, I thoroughly detail an Equate Pomade review for Walmart's hair products, along with comparing the major name brand men's pomades.
What is pomade? Pomade definition: Pomade is a waxy or oily substance use to style hair as an alternative to hair gel. Unlike gel, it does not dry out or harden hair.
Men's Pomade Brands Reviewed
| | | | | | | |
| --- | --- | --- | --- | --- | --- | --- |
| | Suavecito  Firme Hold | Murray's | Equate Styling Fiber | Equate Pomade | American Crew Fiber | American Crew Pomade |
| Price | $11.99 | $13.25 ($4.42) | $6.42 | $6.42 | $10.19 | $5.40 |
| Size | 4oz | 3oz x3 | 3.8oz | 3.8oz | 3oz | 1.75oz |
| Price Per Oz | $3 | $1.47 | $1.69 | $1.69 | $3.40 | $3.09 |
| Base | Water | Oil | Water (Wax) | Water | Water (Wax) | Water |
| Container Style | Screw Top | Pop Top | Screw Top | Screw Top | Screw Top | Screw Top |
| Manufactured | USA | USA | USA | USA | USA | USA |
| Main Ingredient | Beeswax | Petrolatum | Beeswax | Lanolin | Beeswax | Lanolin |
| Hold Type | Firme | Heavy | Strong | Medium | Strong/High | Medium |
| Scent | Unique, Masculine | Extremely Subtle | Smells Like A Barber Shop | Extremely Subtle | Masculine | Citrus, Fruity |
| UPC | 859896004018 | 074704100007 | 681131135139 | 681131135122 | 603029058849 | 738678174067 |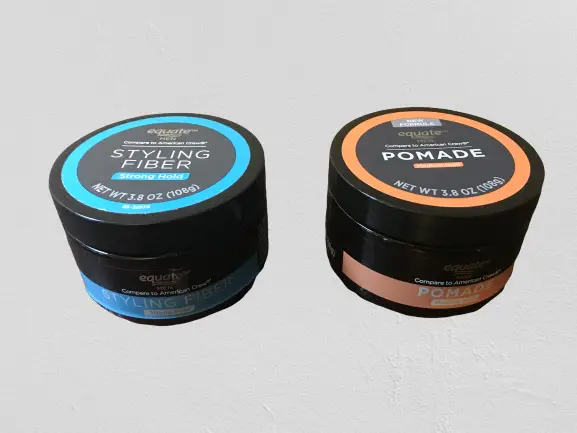 This is my current go to. I was tired of paying over $10+ for a small container of men's hair product. When I stumbled upon the Equate men's pomade offering at Walmart, I could barely contain my excitement. According to Walmart, it is formulated to provide a thicker, more textured look with a matte finish.
The Equate fiber could be considered the Equate pomade strong hold. It gives a firm hold, closer to what I could accomplish with an oil based product like Murray's, but without the residual grease. I highly recommend this product. I have seen some reviews state that this pomade does not last as long as the name brand, and that it can leave flakes. I have never experienced this. I applied it eight hours ago and just checked, still a nice, strong hold.
This can be considered the Equate medium hold pomade. It is Walmart's take on a traditional medium hold pomade. The classic go to for most pomade users. Unlike the fiber which is waxy, this texture is more similar to gel. According to Walmart's website, it's formulated with lanolin and olive, castor and sunflower seed oils for added conditioning. It provides smooth control with shine.
The product is easily scooped up into your fingers so it can be easy to over apply. So be careful. It goes on smoothly and the outcome is better than gel products. In my opinion, the main difference with Equate Pomade is a lighter hold than the Equate fiber product.
Suavecito Pomade Firme Hold Review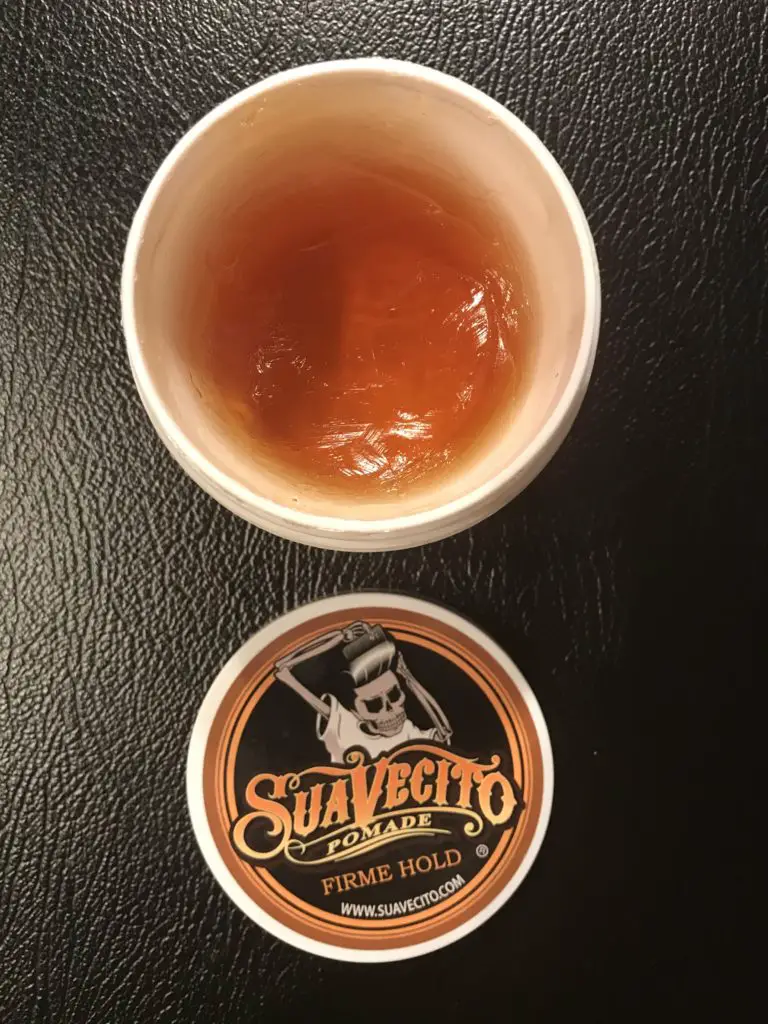 I have at times made this my go to. It is on the cheaper side for a quality, water based pomade. Just after briefly feeling the texture of this product you can tell it is better for long term hair health. 
In other words, it feels water based. A refreshing masculine scent and easy wash out make it a solid choice. It can be purchased online in quantities of three for additional savings. Make sure to order directly from the manufacturer to avoid issues with fake Suavecito Pomade hair products on Amazon.
I prefer the Suavecito Firme Hold variety because my preference is for a tighter hold. The Suavecito Pomade Original Hold also comes highly recommended by loyal users.
Murray's Superior Hair Dressing Review
This is a classic. Your grandpa's pomade. An old-school oil based, petrolatum product. It is extremely effective but has the tendency to linger in your hair and can be more challenging to wash out. Also, it is extremely thick and can be more difficult to apply.
I've always worried about the long term of use of an oil based product. Does it lead to hair health issues? Will it make me go bald? I've never desired to take the risk. The upside is it doesn't get any cheaper than, Murray's!
Murray's has added to their hair product portfolio over the years with Murray's Edgewax and Murray's Beeswax. Check these out if you become more particular with your pomade needs.
American Crew Fiber Review
This is the name brand fiber product, with a wax-like texture. It is sold in many salons at up to $20 per container. Like many of the men's pomade brands reviewed it works best when applied on slightly wet hair.
It has an excellent hold that lasts all day, and in my experience does not harden hair like cheap hair gel products. It is very versatile and for those who desire a stronger hold. Though, I do not see any difference in performance to the Equate Styling Fiber from Walmart.
American Crew Pomade Review
This is a classic. A flexible, medium hold pomade that works well with all hair types, in theory, and offers a high shine appearance. Most folks first gravitate towards a pomade like this to avoid the stiff, crustiness of cheap hair gels. While it is more cost effective to purchase at Amazon over a local salon or barbers, in my opinion it still remains overpriced.
Equate Pomade vs. American Crew Pomade
Out of the men's pomade brands reviewed the Equate Styling Fiber product was my overall preference, with a more firm hold. It does the job and at a reasonable price. It is currently available for purchase on Amazon.com and Walmart.com.
Equate Pomade Reddit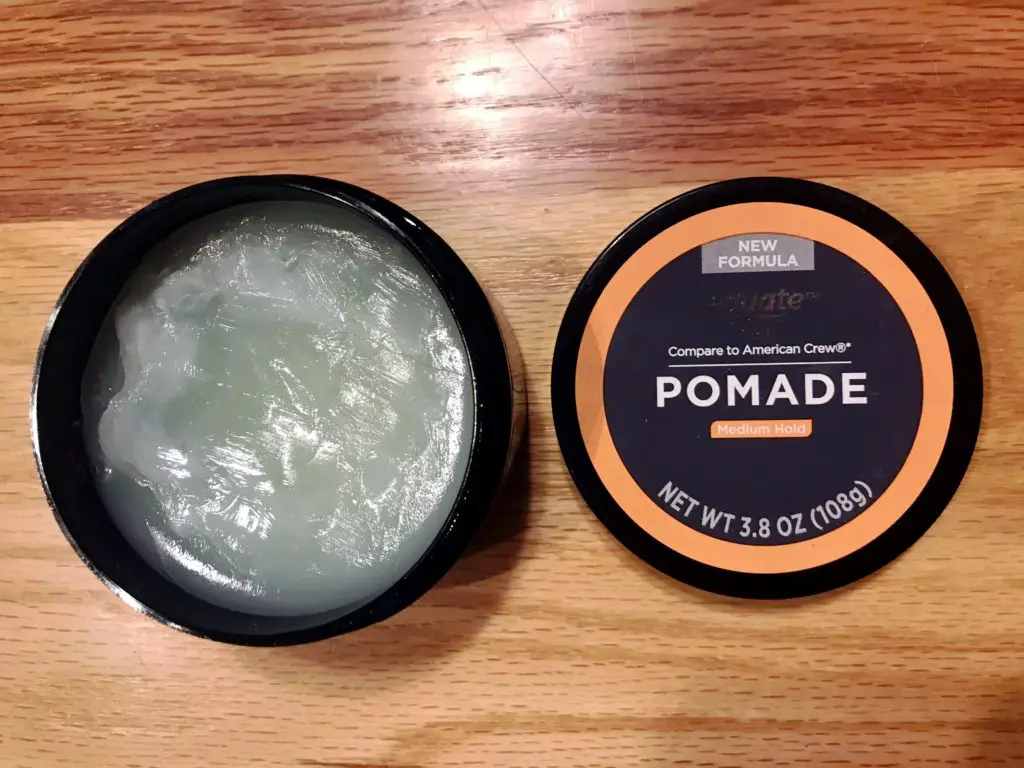 For additional suggestions and recommendations check out the discussion around my Equate Pomade review on Reddit. Fellow pomade enthusiasts shared that Target has their own house brand hair pomade, Goodfellow. Lastly, for those pomade aficionados we explore a two pomade combo approach for stylish outcomes.
Apply Pomade To Wet Hair
The age old question of when to apply hair products. The general consensus is that pomade is easiest to apply when hair is slightly wet. This especially holds true when applying thicker, or more oily based hair products. If you are open to using multiple products, a hair spray can be useful in conjunction with pomade, for this very reason.
Suave Styling Paste
If you found this article interesting, check out my review of Suave Styling Paste.